February 15, 2008 - 10:00 pm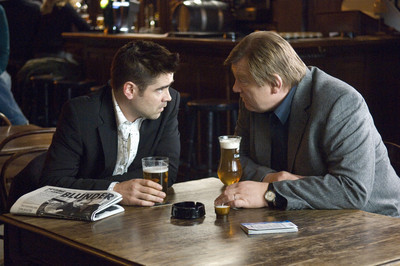 Quentin Tarantino doesn't make movies like "In Bruges" anymore.
He doesn't have to — not when so many other filmmakers are happy to do it for him.
Not many of them are as distinguished as writer-director Martin McDonagh, an Irish playwright who's received trans-Atlantic acclaim for such stage hits as "The Beauty Queen of Leenane," "The Pillowman" and "The Lieutenant of Inishmore."
Onstage, McDonagh mixes blood and banter, finding dark comedy in violence, vengeance and abusive family relationships.
Onscreen, "In Bruges" (the opening-night attraction at this year's Sundance Film Festival) attempts a similar balancing act, focusing on a pair of hired Irish killers, Ray (Colin Farrell) and Ken (Brendan Gleeson), who channel Laurel and Hardy as they create — and try to clean up — yet another fine mess.
To be accurate, it's Ray who creates the mess — in this case a botched London hit — and Ken who must shepherd him out of town until the heat dies down.
Them's orders from headquarters — and from their profanity-addicted boss, Harry (better known to one and all, thanks to his cockney accent, as 'Arry), who instructs them to bide their time in the medieval Belgian town of Bruges and await further instructions.
'Arry's always loved Bruges, you see, and has considered it a fairy tale vision since he first (and last) visited there as a boy.
Ken, a soulful sort despite his thuggishness, likes Bruges well enough, exploring medieval bell towers and pondering paintings by Flemish masters — especially those depicting all manner of medieval torture and death. After all, Ken knows a bit about such things — although shooting someone at point-blank range is so much more efficient than flaying him alive.
As for Ray, the prospect of an extended stay in this picturesque Belgian backwater fills him with childish dread. At least until he crosses paths with a movie crew filming a Fellini-esque fantasy featuring a diminutive actor (Jordan Prentice) — don't call him a midget, he warns Ray; he's a dwarf — and, on the sidelines, Chloe (Clémence Poésy), a fetching drug dealer who takes a shine to our wayward boy.
Alas, the feckless Ray just can't keep from screwing up — a distressing tendency that prompts the trigger-tempered, trigger-fingered 'Arry (Ralph Fiennes) to come charging over from London to revisit Bruges and clean up Ray (and Ken's) latest not-so-fine mess.
As "In Bruges" illustrates, McDonagh has a definite knack for scabrously profane dialogue — and Farrell, Gleeson and Fiennes take palpable delight in flinging their characters' tough-guy zingers with throwaway ease.
The director (who won a 2006 Oscar for the live-action short "Six Shooter," which also featured Gleeson) revels in the title city's storybook look, running his characters past quaint canals and turreted towers as though they were starring in a photo album's worth of Bruges snapshots.
In the process, McDonagh alternates between 'round-the-town travelogue footage and seemingly endless banter between Ray and Ken. Somehow, I have the feeling that combining the two would have been a lot more effective, not to mention more economical, storytelling.
There's also more than a trace of smug self-satisfaction throughout "In Bruges," as though McDonagh were perched, just out of camera range, and boasting to everyone within earshot, "Aren't I perceptive? Aren't I clever?" Possibly — but you're not as perceptive and clever as you think, because if you were, we wouldn't be focused on you, we'd be concentrating on your characters and their moral dilemmas.
Similarly, the playwright-turned-filmmaker has trouble balancing the movie's twisted humor and explosive violence, creating glaring shifts in tone that make watching "In Bruges" a wild, if only sporadically satisfying, trip.
At least we're in good company, even when the movie veers off from the main story line (which is often — too often) to explore one of its frequent detours.
Gleeson, who's usually a supporting standout, relishes a chance to stretch out in a leading role, ably conveying the conflicts and contrasts within the world-weary Ken.
And Farrell — fresh from his persuasive performance in Woody Allen's "Cassandra's Dream" as a well-meaning screw-up who's in waaaaaay over his head — once again demonstrates an appealing dim-bulb naivete. Ray may be a hired killer, but in his heart of hearts, he's not a bad lad.
At least he feels something when he makes a mistake — which is more than we can say for 'Arry, played with deliciously unhinged menace by the usually mannerly Fiennes. (Clearly, playing Lord Voldemort in the Harry Potter movies has kept Fiennes' villainous instincts finely honed.)
Separately and together, these off-kilter killers prove reasonably diverting, and occasionally more than that.
Yet, even amid the flying f-bombs and flying bullets, they seem to enjoy their visit to Bruges a lot more than we do.
Contact movie critic Carol Cling at ccling@reviewjournal.com or (702) 383-0272.
movie: "In Bruges"
running time: 107 minutes
rating: R; strong bloody violence, pervasive profanity, sexual references, drug use
verdict: C+
now playing: Suncoast
DEJA VIEW
"In Bruges" is the latest in a long line of movies with sardonic, pistol-packing pals. A few more all-star action teams:
"48 Hrs." (1984) — In this mismatched-buddies smash, a grizzled cop (Nick Nolte) and a sassy inmate (Eddie Murphy) track the convict's ex-partner.
"Lethal Weapon" (1987) — An almost psychotic detective (Mel Gibson) teams with a straight-arrow veteran (Danny Glover) in this top cop adventure.
"Midnight Run" (1988) — Robert De Niro and Charles Grodin make an inspired team in a comic cross-country chase that finds a bounty hunter and an accountant on the run from cops — and mobsters.
"Pulp Fiction" (1994) — In between jobs, hit men (John Travolta, Samuel L. Jackson) trade philosophical musings in Quentin Tarantino's influential thriller.
"Men in Black" (1997) — Mr. Smith (Will) and Mr. Jones (Tommy Lee) partner up to police alien scum in this snappy sci-fi romp.
— By CAROL CLING