Keeping up with Harris' alien center
August 21, 2013 - 8:50 am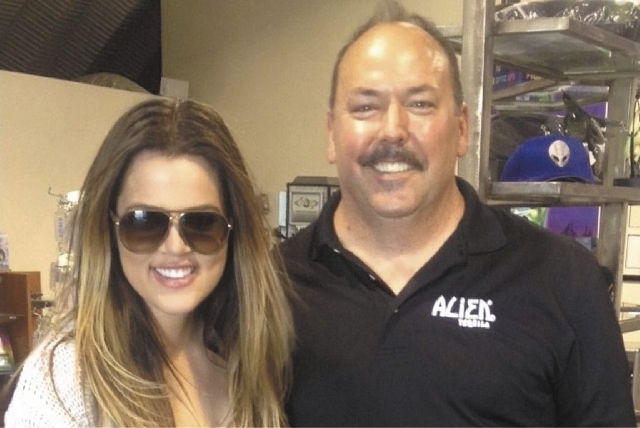 Khloe Kardashian has a UFO story, but her stepfather, Bruce Jenner, isn't buying it.
"She told me she saw lights," said Las Vegas ufologist George Harris, who recently gave the Kardashian family a tour of his Alien Research Center near Area 51 .
Most of the family, except for Kim Kardashian and her mother, Kris Jenner, took part in the filming of a "Keeping Up with the Kardashians" episode about two weeks ago.
Harris, a Las Vegas restaurateur, former mayoral candidate and paranormal enthusiast, said Bruce Jenner "was a curmudgeon. He didn't believe in any of it. He thought it was all nonsense."
Harris' alien center, built in 2001, is about 100 miles northwest of Las Vegas along the Extraterrestrial Highway. A three-story metal alien stands in front of the center, which is operated by Harris' niece.
"A lot of like-minded people come up," said Harris, who said his interest was piqued during his stint in the military. "One of my jobs was to interview people who thought they were abducted by aliens. The military will never admit some of the stuff we did. They just admitted there is an Area 51."
Harris said he's had out-of-body experiences and possesses "a high clairvoyancy. That's not a fortune teller. I can see things before they happen. I can see somebody walk by and tell if that person's going to die in three months."
During the two-hour filming, Harris broke out a bottle of his Alien Tequila and passed around shots to the Kardashian family.
Bruce Jenner, said Harris, was "a little cranky, but he sure raised some nice kids."
The group included his son Brody Jenner and stepchildren Kourtney and Rob Kardashian and, no doubt, the next reality show Jenner-ation, his teen children, Kylie and Kendall Jenner.
Harris said he's prepared for pooh-poohing when the episode airs.
"I'm sure they're going to poke fun at it. They (the producers) came back and had people dressed as aliens."
But, he said, after chatting with Khloe for 45 minutes, "she truly believes in this stuff," he said.
Harris is a former chairman of the Clark County Republican Party and a former finance chairman of the state GOP.
SIGHTINGS
Actor Matthew Perry of "Friends " fame, with friends at the Mob Attraction (Tropicana) on Tuesday. … Kristin Cavallari, with her dog Bardot at the FN Platform trade show Monday at the Las Vegas Convention Center. … Star chef Tom Colicchio, in the kitchen at his Heritage Steak restaurant, which opens this week at The Mirage. … Boxing champion Floyd Mayweather Jr., back at N9ne Steakhouse (Palms) for the second night in a row on Monday with beefy bodyguards and a large entourage. … American country music singer Brett Eldredge, donning a faux fur coat, a Russian hat and gloves to check out Minus 5, the ice bar at Mandalay Place. … Designer Marc Jacobs, at his Marc by Marc Jacobs store (Forum Shops) on Monday evening. He was in town for the launch of his cosmetics line.
THE PUNCH LINE
"According to a new report, Tulsa, Oklahoma, has the lowest rent in the country. Yeah, nice try Tulsa, but we're still not moving there." — Conan O'Brien
Norm Clarke's column appears Sunday, Wednesday and Friday. He can be reached at 702-383-0244 or email him at norm@reviewjournal.com. Find more online at www.normclarke.com. Follow Norm on Twitter @Norm_Clarke. "Norm Clarke's Vegas," airs Thursdays on the "Morning Blend" on KTNV-TV, Channel 13.