LOCALS ONLY: Cellists set to rock out at free show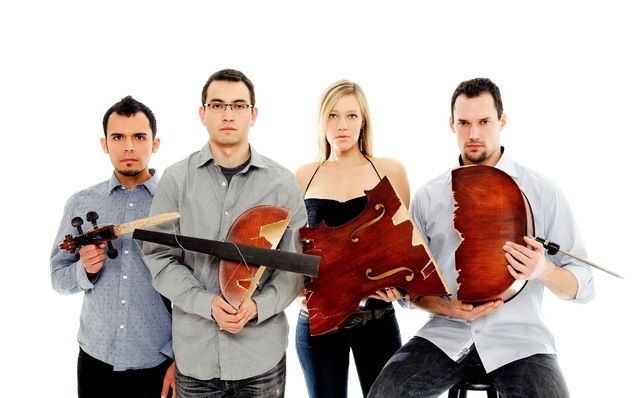 The words "cello rock band" may sound like an oxymoron, but that isn't stopping the members of Break of Reality.
The group — cellists Patrick Laird, Laura Metcalf and Adrian Daurov and percussionist Ivan Trevino — will play a free concert at 7 p.m. Wednesday at Green Valley High School, 460 Arroyo Grande Blvd. in Henderson.
Since the stop is part of the band's Music Education Tour, a $5 donation is suggested. All proceeds will benefit the school's music program. The band also will lead educational workshops at the school.
For more information, see breakofreality.com.
For art's sake
If you're into the arts, and have ideas regarding the future of same throughout Southern Nevada, you can share your views at the Nevada Arts Council's local arts town meeting, scheduled for 6 p.m. Tuesday at the Winchester Cultural Center, 3130 S. McLeod Drive. For details, call 702-455-7340 or check out nac.nevadaculture.org.
Four-course dinner
Sammy's Social Club at Sammy's Restaurant &Bar, 1501 N. Green Valley Parkway in Henderson, will have its second event: a four-course dinner featuring the vino of Franciscan Estate Winery. It starts at 7 p.m. Wednesday; on the menu is a jumbo lump crabcake, brie and truffle oil thin-crust pizza, pappardelle Bolognese and sticky toffee pudding, all paired with wines. It's $50, and you can call 702-567-4000 for reservations.
Psych-rock show
The coed septet features members of the Brian Jonestown Massacre, so expect lovingly crafted, hook-heavy psych rock that you'll be humming in the days that follow when Joel Gion &The Primary Colours come to town at 9 p.m. Monday at Beauty Bar, 517 Fremont St. Tickets are $5; call 702-598-3757.