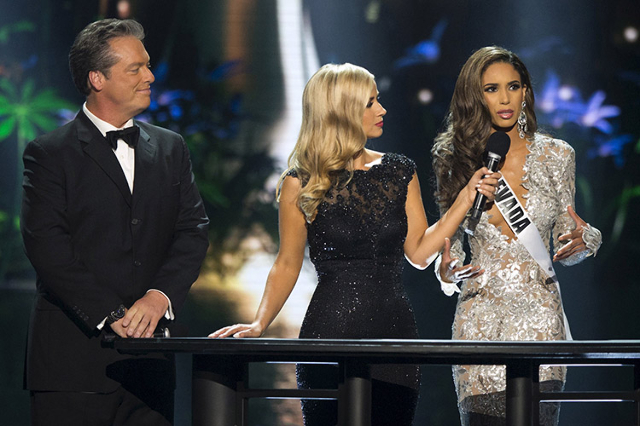 The Miss Nevada USA Cinderella story of a year ago turned into a nightmare in 2015.
Last year, Nia Sanchez, a Californian who won the Nevada title, went on to give the state its first major pageant winner.
Brittany McGowan, another Californian who moved to Las Vegas to qualify for the Miss Nevada USA pageant, was in position to give Nevada back-to-back winners. She made the top five, but then came the Q&A, and the wheels came off the carriage.
McGowan, who had nearly tripped onstage earlier in the evening, was asked what she would do to improve race relations.
"€œWhat I would do to improve race relations,"€ she said, "€œis get more races grouped together and be able to be with each other … in a non … ,"€ she said, pausing again.
"€œI think we need to do is bring … we need to be more accepting of each other and bring people together. That'€™s what I think we need to do."
It wasn't the worst response of the final five. Miss Rhode Island Anea Garcia won that ignominious honor.
When asked if she thought political correctness was hurting this country, her answer was: "That'€™s a very good question. I think that it's a balance of both. We need the people to remind us — especially politicians –€" to remind us what to do and when to do wrong."€
Yes, that'€™s what she cluelessly said. Incredibly, she finished as second runner-up.
McGowan'€™s stumble cost her. She ended up third runner-up behind Miss Texas and Miss Rhode Island. Miss Oklahoma, Olivia Jordan, was the winner.
McGowan was third runner-up in Nevada last year, fourth runner-up in the 2012 Miss California competition and top 10 Miss California in 2013, 2011 and 2010.
It was another strong coaching performance by Nevada state director Shanna Moakler.
I twice requested an interview with Sanchez through Miss USA channels to get her thoughts about Donald Trump's comments bashing Mexican immigrants. Mexico responded to those comments by pulling out of Miss Universe next year, and others resigned.
Sanchez stayed on to crown the new winner.
Moakler said she and Sanchez "felt the need to support the Miss America organization, which has been around for 64 years. I know Nia wanted to be there for the contestants as well and for the new queen to have her rightful crowning."
As far as rumors that she might be moving on, Moakler said she has no plans to leave the Miss Nevada USA pageant.
THE SCENE AND HEARD
Jeff Beacher of "Beachers Madhouse"€ is back in Las Vegas after attending his second epic wedding in four years. He was in London last week for the Friday wedding of Nicky Hilton and Brit James Rothschild of the Rothschild banking dynasty. It was held in Kensington Palace. Four years ago, Beacher was invited to the Petra Ecclestone-James Stunt wedding in Rome, which reportedly cost $15 million. Hilton and Rothschild met at that wedding, which was held in the same 15th-century Italian castle where Tom Cruise and Katie Holmes were wed.
SIGHTINGS
Cuban star Yasiel Puig of the Los Angeles Dodgers, with friends at Marquee in The Cosmopolitan on Monday. … UFC superstar Conor McGregor, arriving at Foxtail Pool at SLS on Sunday with his featherweight championship belt a day after his win over Chad Mendes. UFC Octagon Girl Arianny Celeste also partied at the venue. Former NBA player Lamar Odom was in a cabana with friends. … New England Patriots party hound Rob Gronkowski, with his brother at Rehab at Hard Rock Hotel on Sunday. Also there: Three 6 Mafia DJ Paul and VH1'€™s "€œDating Naked"€ star Michael Pericoloso. … Kim Basinger, best known for her roles in "€œL.A. Confidential"€ and "€œ9½ Weeks," dining at rm seafood in Mandalay Bay on Friday. … Dominique Moceanu, a member of the Olympic Gold medal-winning 1996 U.S. women's gymnastics team in Atlanta, dining at Crush in the MGM Grand on Friday. … Jesse Buss, director of scouting for the Los Angeles Lakers, with a group at Andrea's in Encore on Friday. … Motley Crue frontman Vince Neil, at the Hard Rock Hotel's pool to watch Nelson perform. He was with cast members from his recent appearance on ABC'™s "€œCelebrity Wife Swap." … Washington Redskins wide receiver Pierre Garcon, with friends at Tao (Venetian) on Friday … UFC announcer Bruce Buffer at Crush on Thursday. … Former NBA player Rick Fox, filming an episode of "œRick Fox After Dark"€ on the High Roller at The Linq on Thursday. .. Actor James Wood, in town for the World Series of Poker, dining with friends at Public School 702 in Downtown Summerlin. … Magic and circus legend Franz Czeisler, better known as Tihany, celebrated his 99th birthday at the home of Annee Nounna. Guests included Siegfried & Roy, Lance Burton, Jan Rouven, Pia Zadora, Wes Winters and Anthony Ruivivar.
THE PUNCH LINE
"Donald Trump'€™s Miss USA Pageant was last night. The title went to the contestant who was meanest to Miss Mexico." — Seth Meyers
Norm Clarke's column appears Sunday, Monday, Wednesday and Friday. He can be reached at 702-383-0244 or email him at norm@reviewjournal.com. Find more online at normclarke.com. Follow Norm on Twitter: @Norm_Clarke