Beat heat at four-day Las Vegas Film Festival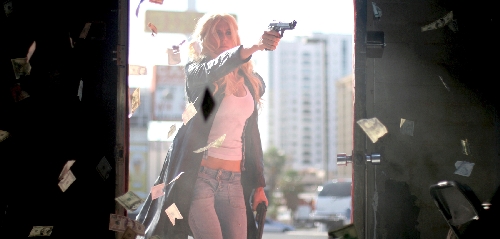 You've got the better part of a day to get the sniffles. Maybe develop a tickle in your throat. Fling yourself down the stairs if need be.
Whatever it takes to get Friday afternoon off.
"I'm excited that they chose our movie," Las Vegas native Cerina Vincent says of the fifth annual Las Vegas Film Festival. "I wish we had a better time slot."
"MoniKa," which Vincent calls "a violent, edgy, action, revenge thriller with a bit of a supernatural element," will be shown at 3 p.m. Friday at LVH, 3000 Paradise Road, the home for all festival screenings.
And while the former beauty queen turned scream queen still has plenty of family and friends here, she understands it may be difficult for fans of her work – most notably the spoof "Not Another Teen Movie" and Eli Roth's horror breakthrough, "Cabin Fever" – to turn out on a Friday afternoon.
"I expect people to take off work to come support our film," she says with a playful, breathy giggle.
Festival screenings kick off at 11 a.m. today with the sci-fi thriller "Avarice" and continue through 7 p.m. Sunday with the frustrated-waiters comedy "Servitude."
(For a complete schedule, go to www.lvfilmfest.com.)
In between, there will be panels, parties, features, documentaries, shorts and a block of movies curated by the San Diego Asian Film Festival. Also on tap are curiosities such as "Frankie Go Boom" (10:30 a.m. Saturday), a romantic comedy of sorts best known for five of the most terrifying words in cinema: Ron Perlman as a woman.
The burly "Sons of Anarchy" star, who portrays a transsexual named Phyllis and shares some awkward encounters with his TV co-star Charlie Hunnam in the film – "Anarchy" fans will never again look at the biker drama the same way – is scheduled to attend.
He'll join the festival's Indie Icon Award winners Lea Thompson, who stars in the drama "The Trouble with the Truth" (8 p.m. Friday), and Louis Gossett Jr., in town for a 30th anniversary screening of "An Officer and a Gentleman" (3 p.m. Saturday), as the weekend's highest-profile celebrities.
"This event is intended to bring the community together … all walks of life, all different backgrounds," says executive director Milo Kostelecky.
"We want every film to have some type of an effect on the audience, so they can walk away and say that they learned something from it or it changed their life in some way."
Of this year's selections, which were made by a panel of 70 local judges, Kostelecky says the acclaimed reggae documentary "Marley" (2:10 p.m. Sunday) is generating the most buzz.
But the one thing the Las Vegas Film Festival is short on is Las Vegas films.
One of the four segments of "Flat Daddy" (9:30 a.m. Sunday), a documentary about military families, focuses on Henderson's Marina Vance.
And student filmmakers from the University of Nevada, Las Vegas (noon Saturday) and the College of Southern Nevada (noon Sunday) each get a block of shorts.
"We prefer to try to have some more," Kostelecky says of Las Vegas-based films. "We just didn't have a very large selection to choose from this year."
Which is where "MoniKa" comes in.
"It sucks you into this sort of dreamlike world," Vincent says of the drama in which she portrays the title character who is "kind of a badass with a gun."
The one-time "Power Rangers Lost Galaxy" star, who talks about her "heart connection" with the city, was thrilled when the script was reworked to allow for filming last June in and around downtown.
"It was really cool to see the whole production come together in my hometown and have, like, my dad come to the set," she says. "I'm usually in some random country or in the middle of nowhere."
Things quickly turned into a family affair. Vincent was a co-executive producer, a cousin was a production manager, and her brother helped find some of the locations.
As a result of "MoniKa's" ties to the community, the screening, which she'll attend as part of a Q&A session, should have plenty of local support.
Assuming people can make it there in the middle of the day.
"It's a Friday afternoon. It's hot. People wanna sit in a movie theater," she reasons, with what sounds like equal parts hope and resignation.
"Right?"
Contact Christopher Lawrence at clawrence@review journal.com or 702-380-4567.
Preview
What: Las Vegas Film Festival
When: Today-Sunday
Where: LVH, 3000 Paradise Road
Tickets: $10 per screening, $75 per day, $150 for a festival pass (702-463-4707 )
Schedule, information: lvfilmfest.com