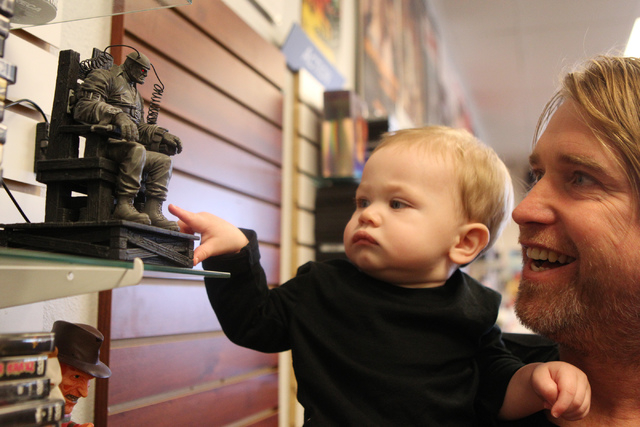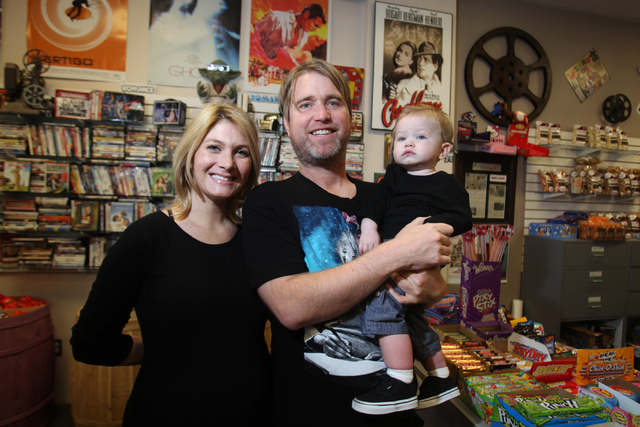 In a time when video rental kiosks and online movie streaming are popular, Henderson native Trevor Layne and his wife, Katie, still keep it old school by running a brick-and-mortar video store.
With classic movie posters plastering the wall and barrels full of vintage candy, Movies & Candy, 10895 S. Eastern Ave., Suite 160, offers customers DVD and blu-ray rentals from new releases to cult classics.
"We get all sorts of eccentric movie fans, from 2-year-olds to 110-year-olds, male and female," Layne said. "It's really a cool demographic because we attract kids because of the candy and the old kids because of the movies. It keeps us all young and nostalgic."
To compete against the convenience of rental kiosks and Internet streaming, Layne receives new releases about 30 days before Redbox and Netflix.
While nearly 30,000 films line the walls, on the rare occasion a customer doesn't find what he's looking for, Layne said he can purchase movies upon request.
"We have movies organized by genre, and then we have sections of the best from each decade, from 1920 until now," Layne said. "If you look in the '50s, you'll see Marilyn Monroe and Elvis. The '90s have Jim Carrey and the 2000s have Will Ferrell. It's interesting to watch the different decades and see what was hot then."
In addition to films, the business also offers a wide selection of candy and soda from all decades.
"We have about 200 varieties of retro and vintage soda, stuff you can only get at this shop," Layne said. "We also have hundreds of different kinds of candy that we buy by the barrel."
A private movie theater in the back sports a 150-inch projector, couches and bean bags. The room can be rented for $10 a person, which includes all-you-can-eat popcorn.
"We're trying so much to just be about fun," Layne said. "We want to be a place you can come and forget about everything. You just check your attitude at the door and have fun with some movies."
Henderson resident Donna Namchek said she discovered Movies & Candy during a leadership meeting with Girl Scouts of Southern Nevada.
"Every year the Girl Scouts in our area have an event for World Thinking Day, where each troop represents a different country," Namchek said. "Our brownie troop last year chose Brazil, so we went to Movies & Candy to watch 'Rio' to get them excited about representing Brazil. The girls loved it."
In addition to hosting parties, Namchek rents movies for her children during their school breaks.
"The owners are really friendly and accommodating," she said. "They go out of their way and genuinely make you feel wanted, which sadly such few businesses do anymore."
Self-described as a longtime movie buff, Layne started the business by scouting for films at pawn shops and on Craigslist and "flipping them" on eBay and Amazon.
"I was in real estate at the time, so I went from flipping homes to flipping movies," Layne said. "I was mailing like 80 packages a day, and that's how I tested the market."
But when brick-and-mortar movie rental shops began closing, Layne felt passionate to keep industry alive.
"When Blockbuster and Mark's Video started closing, I was a big-time customer that now had no place to go," Layne said. "So, I started dreaming of opening a shop because I figured I would try to pump some life back into the dying business."
Since opening, Movies & Candy has added about 5,000 to 10,000 rentals and provided service to about 10,000 customers.
"People still want to come touch and read the movie boxes. They're still tangible here," Layne said. "A family can't gather around a computer screen the same way they can around a movie screen. The experience is so different."
Movies rent for $3 for new releases or $2 for older films. Throughout December, candy is $10 for 2 pounds.
The shop is open from noon to 9 p.m. daily. For more information, visit moviesandcandy.com or call 702-241-8888.
Contact Henderson View reporter Caitlyn Belcher at cbelcher@viewnews.com or 702-383-0403.