Helicopter pilot dishes on years flying filmmakers around Las Vegas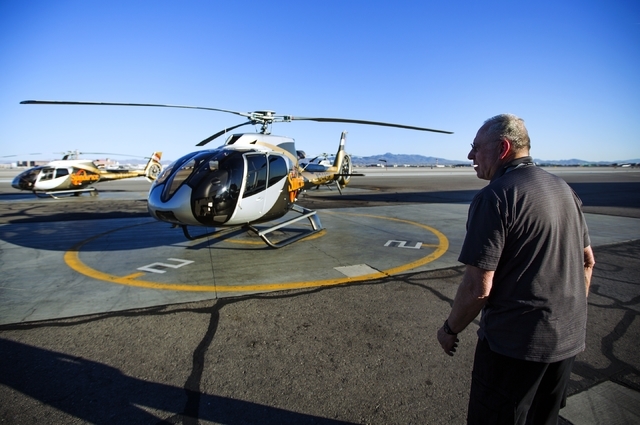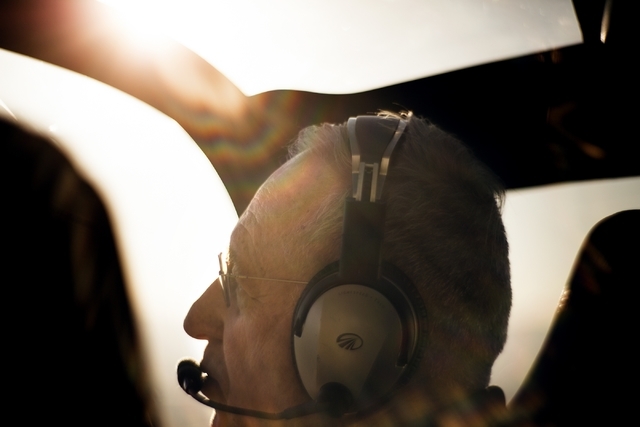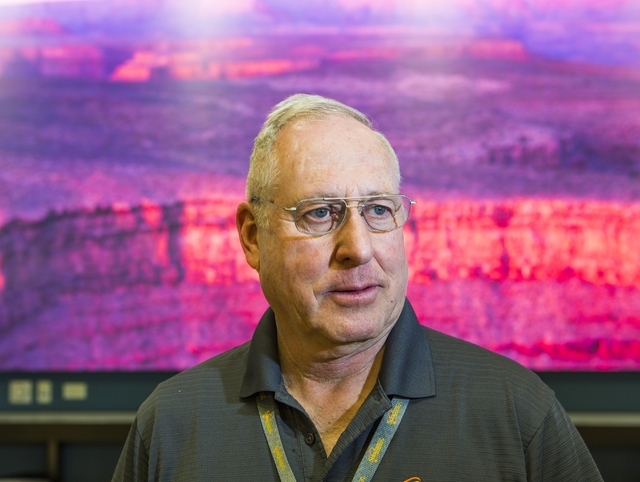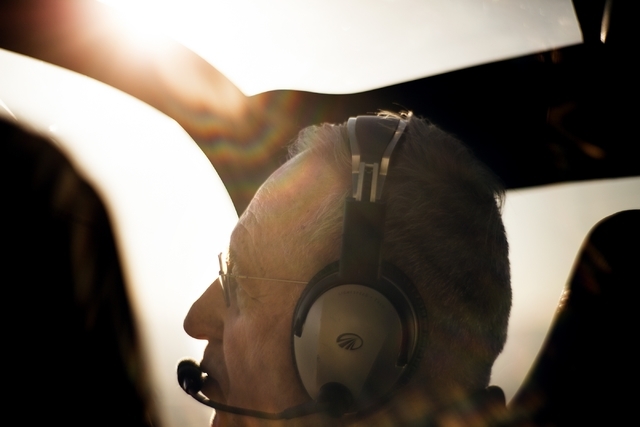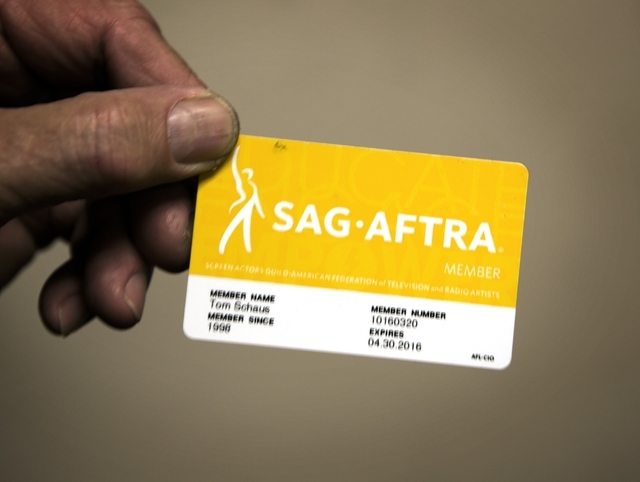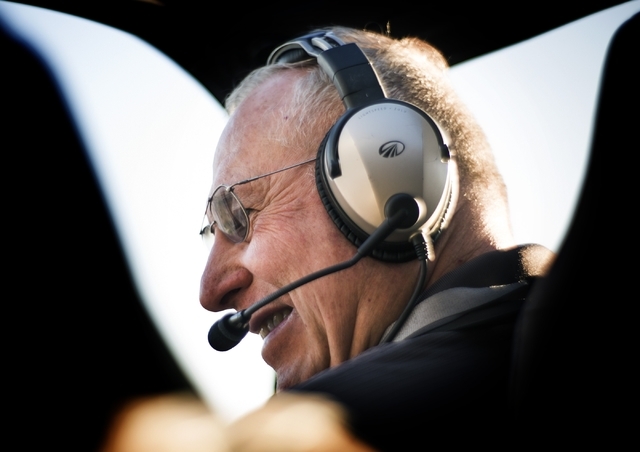 The coolest thing that has ever happened in a helicopter piloted by Tom Schaus was not when Steven Soderbergh operated a camera from the passenger seat during the making of "Ocean's Eleven."
It was when he flew Rene Angelil and Celine Dion privately for a celebration.
"Rene Angelil called me up and asked me to take him and Celine for a birthday event, and I arranged for three other helicopters to take the rest of the party up to the Grand Canyon," Schaus said, recalling one of his favorite trips in 47 years of piloting helicopters.
"(Dion) came to the helipad, and she said, 'Tom, Rene won't tell me where we're going.'" He replied, "I'm sorry, I'm sworn to secrecy."
Before showing celebrities and filmmakers around Southern Nevada for Sundance Helicopters, Schaus was attending Western High School, dreaming of the day that he would fly.
"I always wanted to be a pilot," he said in February at his Strip-located office. "My father was a pilot in WWII and flew airplanes, and he gave me my first airplane ride ever."
Seeking that aerial perspective drove Schaus to join the Army. He would serve for two years, but his training would be everlasting.
"I learned in the Army," he said of flying helicopters. "I did my graduate training in Vietnam in 1970," he joked.
"My helicopter was hit a couple times, but I wasn't."
Traveling the world was in his postwar plans, and as soon as he got out of the military, that is what he did.
"I wanted to work overseas. I wanted to travel and see places," he said.
He applied for a hundred helicopter pilot positions worldwide, he said, and only heard back twice. But one was located exactly where he wanted to be — in Australia.
"I loved the country, and I just thought that would be a fabulous place to go work."
It was, he said, and it wouldn't be the last stop on his international career helicopter ride.
Schaus, a newlywed at the time, worked in Peru for a total of 12 months, transporting crew members of a seismic exploration for oil companies.
"That meant I'd come into town maybe ten days or so out of every month, and then the rest of the time I'd be in the jungle," he said. "It was fabulous."
Then it was time to settle down. He did, returning to Las Vegas 30 years ago.
The grandfather of two and father of five is a family man but isn't missing out on any of the fun he once had.
At 135 mph, he hovers above places such as Las Vegas Boulevard, Zion National Park and the Grand Canyon a couple of times a week.
He has watched the valley transform over three decades.
"It's changed dramatically," he said of the view of Las Vegas from the sky. "Mostly the Strip, but then it's grown out, too."
"There's houses and stuff out where we used to mess around out in the desert and go shooting."
No one knows that view better than Schaus, who is frequently tapped by moviemakers filming in the area who need to put his knowledge to use.
Flying Soderburgh had many special moments, he said.
"Call the Bellagio. Tell them to keep the fountains running," the director said, according to Schaus. "And, they did," he recalled while flying over the hotel-casino in February, his chuckle coming through the helicopter headsets.
Another proud moment for Schaus, who has been a member of the Screen Actors Guild since 1998, came after he helped film a scene of "America's Sweethearts," during which he flew over John Cusack and Billy Crystal with Christopher Walken aboard.
"What was funniest about this, is when my daughter went to see the movie, she knew that I was flying the helicopter, so when she saw the helicopter land, Christopher Walken got out and for like three-tenths of a second you could probably see me, and she goes, 'There's my daddy, there's my daddy.'"
"I'm sure everybody in the theater thought that she was Christopher Walken's daughter," he said.
The buzz that surrounds him has little to do with the rotating wings on his charter helicopter and much to do with his professionalism and experience.
He doesn't let it go to his head.
"I tell everybody when I'm flying with them that I started two weeks ago, that I was an accountant, and I always wanted to do it." "Then, when that doesn't work, I tell them, 'Well, if I tell you how long I've been flying, then you'll want to know where my defibrillator is.'"
Schaus has no plans to retire but says when that time comes, he would love to return to where it all started in Vietnam.
"The training that we got in Vietnam is applicable to what we do now. What we did in Vietnam that we don't do now is probably take some more risks because we felt at the time people's lives were at risk."
"Our flights are not thrill rides," he said of Sundance. "It's a thrill to be up in the air, and to be flying in a helicopter."
Contact Kimberly De La Cruz at kdelacruz@reviewjournal.com or 702-387-5244. Find her on Twitter: @KimberlyinLV