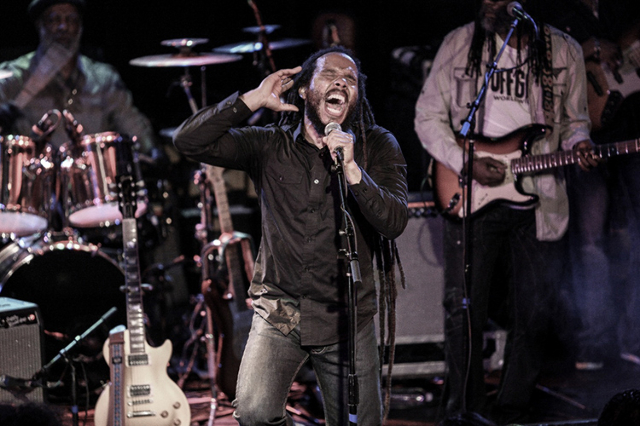 Odds are pretty good Nevada voters will give a green thumbs-up to recreational marijuana in November 2016. How will legal pot change Las Vegas?
Well, you could look at economic growth, and drops in crime stats, in weed-legal Colorado and Washington state as potential signs of things to come.
Or, you could ask the great reggae musician Ziggy Marley (performing Friday at Mandalay Bay Beach; $43) for weed wisdom, since he is known in the comic book world as "Marijuanaman."
"It might not be 'Sin City' anymore," Marijuanaman Marley said happily. "It might become 'The Righteous City.'
"And (marijuana) won't be criminalized, so you'll have less criminals," he said.
Like many marijuana advocates, Marley believes marijuana opens people's minds more to enlightenment and to "some stupid stuff" but also "very profound things."
"It makes you think differently. It's always good to get out of the 'Matrix,'" he said, alluding to the movie where we're living in where our brains are plugged into electronics.
"That's why it has been illegalized. They don't want you to think outside of that box that's created for us to live in," he said. "They want people to stay in that programmed state of mind, and marijuana can get you out of that programmed state of mind."
Marley is one of many weed icons performing in Las Vegas this summer, as venues already welcomed bands like 311 and Jurassic 5, while coming up are Stephen Marley (Aug. 4 at House of Blues), Wiz Khalifa (Aug. 7 at Mandalay Bay), and Slightly Stoopid (Aug. 14 at Cosmopolitan pool), aside from DJs and showroom stars who smoke regularly.
Marley is on a short summer tour. He has been spending his time, lately, writing music in mornings, and hanging with his kids.
"Regular, everyday experiences outside of show business are inspirational. I get inspired by life. I really enjoy just living," he said.
He's working on his next album, planned for release next year. It will mark a departure in that Marley normally avoids singing about politics while focusing on themes of love and life.
"The next record is going to be a little more aware of what's happening in the world, and not so much about my personal life," Marley said.
He won't sing overt political songs, but rather "political poetry," to encourage listeners to think about socioeconomic realities metaphorically.
Why is he turning this corner? Because people should work on solutions to dissolutionment with the world.
"We're still having wars. We still have racism. It's weird to me that we're still finding reasons to kill each other. After all these years of killing each other, we can't find another way?
"Something else is working underneath the current that we can't see, like a riptide pulling us to sea," he said. "We keep trying to swim against it, but there's a more calm, peaceful way out. I cannot believe that we're not finding that solution to that political and war mentality, that riptide.'"
So he's going to do his part with political poetry.
"I'll put it out in the music," he said. "I want people to smoke a spliff and think."
By the way, I asked Marley who he thinks is America's Weed Santa, the bringer of marijuana. Is it Snoop Dogg? Cheech and Chong? Bill Maher? Miley Cyrus?
"Probably Willie Nelson. He's like Santa," Marley said. "He's the hippie Santa. Willie's serious, man."
Contact Doug Elfman at delfman@reviewjournal.com. He blogs at reviewjournal.com/elfman. Find him on Twitter: @VegasAnonymous.