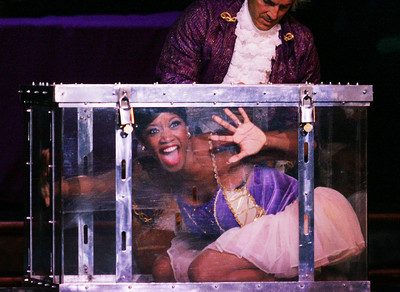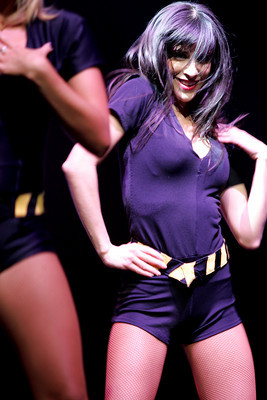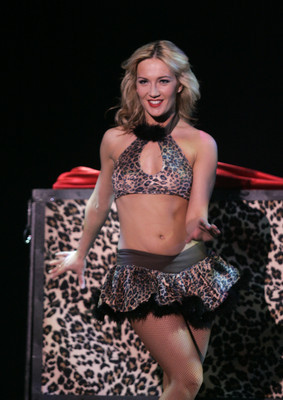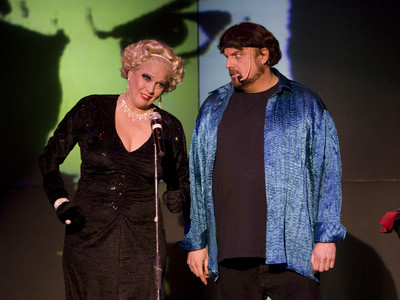 They receive none of the glory, but often perform most of the work — contorting their bodies to appear sawed in half or vanished into thin air, flipping secret levers at just the right moment.
"Assistants are the real magic stars of the Strip," says magician Nathan Burton. "They're the ones who do a lot of the magic part that's very difficult."
Glory isn't the only thing they come up short on, either. The job pays an average of $30,000 per year.
The time has come to introduce the real secrets behind four of the Strip's most prominent rabbit-pullers.
One thing it's hard not to notice is that each of our subjects is a beautiful woman. Burton explains why: "It's about misdirection. Who doesn't want to look at beautiful girls? Even girls want to look at beautiful girls!"
STEPHANIE MITCHELL
Lance Burton: "Master Magician"
Stephanie Mitchell is the senior assistant to Lance Burton, who has six.
"I'm the gorgeous one," she jokes.
During Burton's act at the Monte Carlo, Mitchell — who refuses to reveal her age, saying, "you'd freak out" — gets sworded 12 times, spins on a giant gramophone and emerges, alongside her co-workers, from a mirrored box.
"I love performing," the Santa Monica, Calif., native says.
Mitchell appeared in "Abracadabra" at the Aladdin, "Splash" at the Riviera, and with Siegfried & Roy when they debuted at The Mirage. Burton came to see her in "Glitz" at the Sands in 1994, looking to fill a vacancy.
"He was actually looking for a black girl for the show," Mitchell says. "I guess I can say that."
Mitchell — who says she is happily married with two young daughters — performs her own vanishing act later this month.
"I'm not leaving because I'm unhappy," she says. "I'm leaving because sometimes, you know when it's your time."
Mitchell is a part-time esthetician and manicurist at Destination Salon & Spa. But she would like to work full time in the entertainment department of a casino.
DORI BONILLA
Nathan Burton: "Comedy Magic"
Magicians refer to the end of a trick as "the reveal." One afternoon during Nathan Burton's act at the Flamingo Las Vegas, this term took on new meaning.
Dori Bonilla — charged with changing into 10 outfits (almost as many as Cher) in complete darkness backstage — emerged without underwear.
"The bottoms that go under my shorts got lost," she says.
The shorts were see-through. Burton whitened.
"He just looked at me, like, what the hell?" Bonilla reports. "It's an afternoon show!" (Sorry, guys. We know what you're thinking. The 30-year-old Puerto Rico native, who moved to Vegas in 2002, has a boyfriend.)
Bonilla is the focus of one of Burton's best-known illusions. Looking like Ugly Betty's less-attractive sister, she is squashed into a box labeled "Trash Compactor/Beauty Enhancer," then emerges ready to compete in Miss America.
Immediately following this trick, one can actually sense women in the audience wishing such a box into reality.
"Men, too!" Bonilla says.
OLGA KRYPNIKOZA
Dirk Arthur: "Xtreme Magic"
Olga Krypnikoza had one dream while growing up in Russia: "to be a showgirl." She even honed her hoofs at the prestigious Academy of Ballet in Voronezh.
After moving to Vegas 10 years ago, however, Krypnikoza found herself too short to reach her dream. She kicked it for a while in "American Superstars" at the Stratosphere, "X Burlesque" at the Flamingo and Charo's short-lived "Bravo" at The Venetian. But her height, 5-foot-5, shut her out of all showgirl auditions.
"What can you do?" asks the 29-year-old, who also has a boyfriend.
In 2005, Krypnikoza got a job locking Tropicana headliner Dirk Arthur into a trunk, switching places with him, and appearing from nowhere to fly a simulated helicopter.
"I never thought, 'I'm gonna be a magician's assistant,' " she says. "But I tried it, and I was good. I was fast, and I was the perfect size."
Being small is a plus when working with Arthur, the only regular Strip magician still employing big cats. Krypnikoza regularly shares quarters with tigers so close, she can feel the hot, stinky breath on her back.
"But they're tied down," she says.
And working with Arthur is a plus for Krypnikoza, because he uses dancing showgirls to occupy the crowd between every trick.
"So I'm doing what I want to do after all," she says.
PENNY WIGGINS
Amazing Johnathan
Penny Wiggins plays the ditzy sidekick who fouls up Amazing Johnathan's Harmon Theater show. Like her boss, she performs a real job while simultaneously spoofing it.
"There's really nothing I do that actually assists him," says Wiggins, who joined the show eight years ago. "I drop everything he asks for on the ground or say the wrong thing."
Fittingly, Wiggins, who is 47 and single, came not from a dance production but stand-up comedy. (She performed at the Comedy & Magic Club in Hermosa Beach, Calif., and still occasionally tickles funny bones at the Onyx Theatre.)
Wiggins' job duties read like a "Three Stooges" resume: getting stabbed in the head with scissors, hit in the head by a speaker and stapled in the eye.
Of course, this is all supposed to be simulated. But five years ago, a prop guy put out a real staple gun by mistake.
"Johnathan kind of figured something was wrong when I screamed and ran offstage," Wiggins says.
The staple punctured two holes in her right eyeball. Luckily, it was the white part, or she could have lost sight in that eye.
"There wasn't any blood," she recalls, "just this clear fluid coming out."
Wiggins missed the next three weeks of work but, astoundingly, finished that night's show.
"It's not like I had a choice," she says.
Now, the prop staple gun is clearly marked by a piece of electrical tape.
Contact reporter Corey Levitan at clevitan@reviewjournal.com or 702-383-0456.