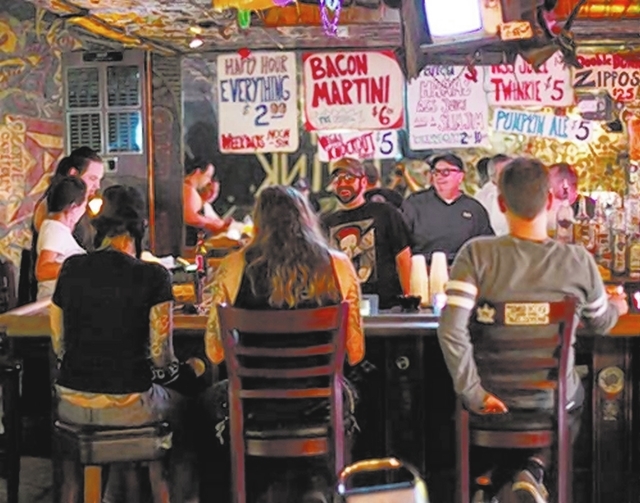 Double Down
Celebrate the 21st anniversary of Vegas' most venerable rock 'n' roll dive with The Objex, Tiger Sex, Thee Swank Bastards and At It Again at 10 p.m. Friday at the Double Down Saloon, 4640 Paradise Road. The show is free; call 702-791-5775.
Jordan Kate Mitchell
Jordan Kate Mitchell sings of drinking tequila, wielding sarcasm like a gun and not taking any of your crap. So don't give her any at 8:30 p.m. Friday at The Dillinger, 1224 Arizona St., Boulder City. The show is free; call 702-293-4001.
Open mic
Laugh until your beer squirts out your nose at the four-year anniversary of one of Vegas' longest-running open mic comedy nights, with free food and shots, at 9 p.m. Tuesday at Meatheads, 1121 Decatur Blvd. The event is free; call 702-482-7772.
Dinosaur Hypnosis
Learn how to spellbind a pterodactyl or just dig some bluesy, jazzy psychedelic rock with Dinosaur Hypnosis at 8:30 p.m. Thursday at Count's Vamp'd, 6750 W. Sahara Ave. The show is free; call 702-220-8849.
Hellbound Glory
They've toured with Kid Rock and The Supersuckers, and now Reno badasses Hellbound Glory are tearin' it up on their own at 8:30 p.m. Sunday at Vinyl at the Hard Rock Hotel, 4455 Paradise Road. The show is free; call 702-693-5000.
Contact reporter Jason Bracelin at jbracelin@reviewjournal.com or 702-383-0476. Follow on Twitter @JasonBracelin.