'Pawn Stars' Corey Harrison's Las Vegas bachelor pad just hit the market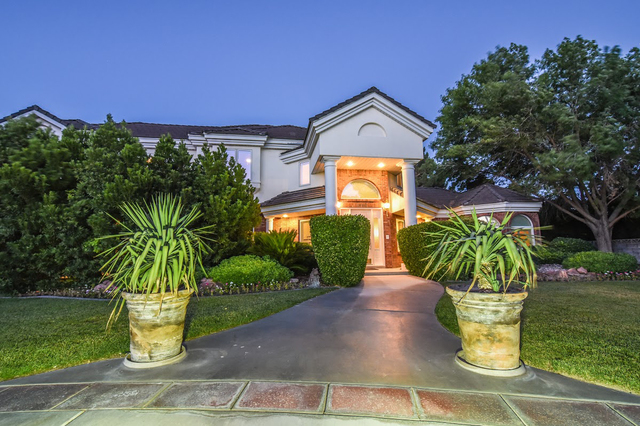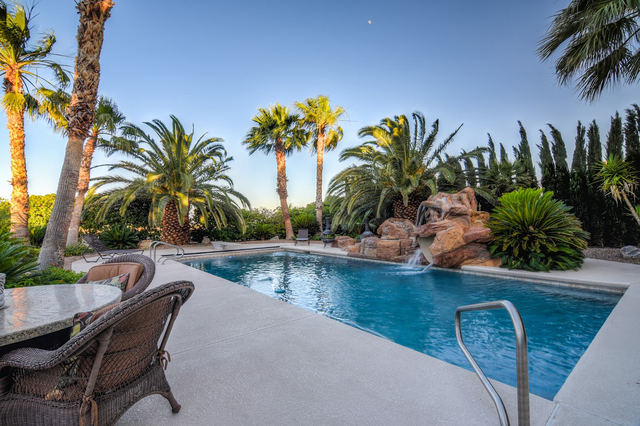 Reach deep in your pockets for $2.39 million if you want to buy "Pawn Stars" actor Corey Harrison's electric-gated, completely-walled-in, tree-lined, grassy estate.
Apparently, Harrison has been living on a fortress acre of a bachelor pad, which just hit the market.
But it's nice — the greenery, the pool, the water slide — and it has something you don't see much in Vegas: a basement.
As you know, our desert ground is so hard, you have to explode subsurface caliche (cemented calcium carbonate) to create a crater big enough to build a basement.
Harrison's house was built in 1993. He bought it in 2013 for a million bucks, then spent another half-million renovating it.
He has been using that basement as an entertainment complex, featuring a theater, full bar, kitchen with stainless-steel appliances, and leather-finished granite countertops.
Altogether, Harrison's home promises 7,069 square feet of living space; seven rooms; six baths; six garages, including a three-car garage/workshop; and extended circular front drive.
If you do the square-footage math, you will understand the rooms are big. The main bedroom is like a suite on the first floor of this two-stories-plus-basement abode.
It's way up in the northwest corner at 5860 N. Campbell Road, near Fort Apache and Ann roads. The nearest high school is Centennial.
Outside is a patio, fire pit, kitchen, pool area and extra parking for parties and auto toys.
Harrison just moved out. He bought his father's house in the same area, five or 10 minutes away, and now he has remodeled that home.
This part of town is where people with means have bought several acres to create their own spreads, says his real estate agent, Frank Napoli, of the Napoli Group at Berkshire Hathaway HomeServices.
Harrison has essentially been living in his own one-man HOA, so to speak.
TODAY IN NIC CAGE
Las Vegas-based actor Nicolas Cage is back in gossip news, this time for reports of being separated from his wife of 11 years, Alice Kim, mother of their son Kal-el, 10.
The couple split in January, and Cage was pictured in suit and tie by TMZ, puckering up next to a different woman in a kimono at a restaurant in Los Angeles, after taking a woman in a kimono (same lady?) to his friend Carrot Top's Luxor show on Saturday.
WOMAN MARRIED HERSELF
The other day, I told you about the guy who married his mobile phone at the Little Vegas Chapel. He's the husband. The phone is the wife.
I just found out a woman married herself at that same chapel on the same day.
Mike Kelley, who runs the chapel, says the phone-marrying guy was the first person who has married an inanimate object there.
But that same day, a woman married herself in a private ceremony. She was the only attendee. She was very sincere about the whole thing.
"The minister told me she seemed like she wanted to fulfill her needs first, in a positive sort of way," Kelley reports.
If this were the 1990s, you would expect Kelley's day at the chapel to be turned into a little romcom movie. But that can't happen in 2016 without superheroes or flying sharks.
Doug Elfman can be reached at delfman@reviewjournal.com. He blogs at reviewjournal.com/elfman. On Twitter: @VegasAnonymous