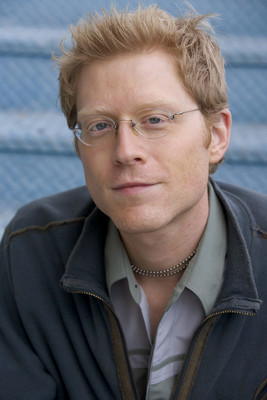 Here's to calmly, quietly, even serenely extending a musical middle finger to the mainstream:
To going against the grain, going insane, going mad, to loving tension, no pension, to more than one dimension, to starving for attention, hating convention, hating pretension, not to mention of course hating dear old Mom and Dad.
Sung a cappella in nearly angelic tones, it's an iron flip-off in a velvet voice. And as captured in online footage, the lyrics of "La Vie Boheme" that redefined defiance for a generation reared on "Rent" find an offbeat, ethereal resonance via a performer who understands the tune from every stylistic angle.
" 'Rent' speaks to people about the long-standing truths about the human heart and soul in a way that most musical theater doesn't do," says original cast member Anthony Rapp, who marries cozy conversation to musical interpretation in "An Evening of Words and Music," the latest entry in the "New York Stage and Beyond" series Saturday at Artemus Ham Hall at the University of Nevada, Las Vegas.
Rapp is most celebrated for creating the role of Mark, the filmmaker/narrator in "Rent," the live-and-love-in-the-moment musical whose long-running lease expires when it vacates Broadway on June 1 after a 12 year-plus stay.
"I'm going to go back and do something for the last performance, just not sure what yet, but we'll find some way to mark it," says the 36-year-old Rapp, whose resume also includes "A Beautiful Mind," "School Ties," "Dazed and Confused," "Hedwig and the Angry Inch" and the lead of "You're a Good Man, Charlie Brown."
Glimpsed in performance online, palms encircling a microphone as if in prayer while singing "Rent's" signature "Seasons of Love" — and its mathematical refrain of "five-hundred-twenty-five-thousand-six-hundred minutes" — Rapp relies on a soft-spoken, self-effacing charm that's nearly communal in its appeal, eschewing grandiosity for intimacy. His voice cradles and caresses the tune in all its tender beauty.
How do you measure — measure a year? In daylights, in sunsets, in midnights … In inches, in miles, in laughter, in strife … How about love?
"I want it to feel like a conversation with music," Rapp says about his show. "I sing some songs, share some stories. There are original things I've written, and covers of heroes of mine, like Elvis Costello and R.E.M." And of course, a few selections from a musical that soon will pass into the pantheon of Broadway legends.
"People fall in love with this music, and that's easy to do," Rapp says. "It's melodic, it's accessible, it's memorable, and its lyrics really mean something."
Meaning comes in myriad forms, and Rapp just might mine some from another of his notable stage roles, the titular, lovable everyboy of "Charlie Brown," as when poor ol' luckless Chuck tries to finally get his cursed kite aloft and escape that monstrous kite-eating tree. On the cast soundtrack, Rapp sings with an endearing blend of cautious optimism, dogged determination and just a twinge of dread:
Little more speed, little more rope, little more wind, little more hope, gotta get this stupid kite to fly. Gotta make sure it doesn't snag, doesn't droop, doesn't drag, gotta watch out for every little — whoops!
"If I do something from 'Charlie Brown,'" Rapp says, "it'll be in a little bit different context."
Life lessons, whether through the childlike eyes of "Charlie Brown" or the adult soul of "Rent," also found expression in the book, "Without You: A Memoir of Love, Loss and the Musical Rent," Rapp's reflections on growing up, catapulting to sudden stardom and witnessing his beloved mother's battle with adrenal cancer.
"Anthony Rapp's personal and professional lives were like warped mirror images," Entertainment Weekly wrote in a review. "As 'Rent' went from workshop to Tony-winning theatrical sensation, the actor watched his mother waste away. … His voice is unpretentious and unfailingly honest."
And no doubt equally compelling in "Words and Music."
That's a Rapp.
Contact reporter Steve Bornfeld at sbornfeld@reviewjournal.com or (702) 383-0256.
what: "An Evening of Words and Music with Anthony Rapp."
when: 8 p.m. Saturday
where: Artemus Ham Hall, University of Nevada, Las Vegas, 4505 S. Maryland Parkway
tickets: $35-$80 (895-2787)