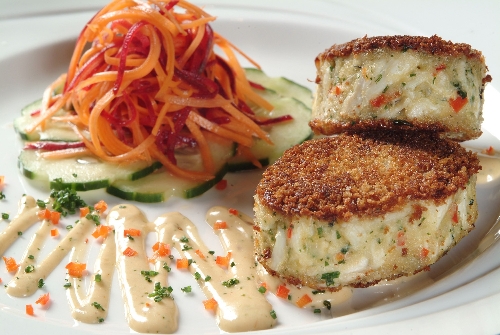 Five years ago, Three Square was a fledgling food bank that was trying to raise both funds and awareness about hunger in Southern Nevada. Its inaugural Restaurant Week, the goal of which was to do both, involved 51 restaurants.
Las Vegas has suffered through its share of challenges since then, but both the food bank and the annual event are thriving. This year, more than 120 restaurants plan to participate, and Restaurant Week actually is two — Monday through Sept. 11.
"We kept hearing that people were saying, 'Oh, I didn't get to go to all of my favorite restaurants,' " said Brian Burton, president and chief executive officer of Three Square, explaining the new two-week window.
Aside from the charitable aspect, Restaurant Week is a good time to go to those favorite restaurants — or those restaurants that normally aren't quite in the budget — because the special menus created for the two-week period are generally priced lower than the restaurants' regular offerings. Depending on the meal and the restaurant, they're $20.11, $30.11 or $50.11. (For a complete list, go to www.HelpOutDineOutLV.org or www.ThreeSquare.org.)
"I think that's what makes it magical," Burton said. "It's such a great value for the price point. They get a night out that's very, very special for them and their family or significant other, at the same time knowing that that meal cost is being directed into hunger relief locally. It just doesn't get any better than that."
Rick Moonen, executive chef of rm seafood at Mandalay Bay, has been a Restaurant Week supporter since the first year.
"I was tempered into the idea of Restaurant Week because we did it for many, many years in New York City," Moonen said. "I was already really excited about helping end hunger in the United States. There's a lot more than you could possibly fathom. Being involved in the food-service industry, having the luxury of such great products, I get to give back to the community."
Moonen said he has long supported Share Our Strength, which "takes more of a teach-a-man-to-fish approach. Three Square is more food disbursement. That's where it starts; therefore, I wanted to be a part of it."
In addition to donating money to Three Square for every Restaurant Week meal sold, Moonen said he invites his customers to make direct donations to the food bank.
"You get another reminder of why you're there," he said.
Burton said the company that's now MGM Resorts International "really was the catalyst that first year. We wouldn't have had a Restaurant Week without them." Indeed, a letter circulated by Three Square singles out MGM Grand food and beverage executives David McIntyre and Scott Hamilton for their early support.
But Burton noted that the event has moved well beyond the Strip, with the participation of suburban spots including Todd's Unique Dining, Petra, DW Bistro and Create. And the website enables users to sort restaurants by cuisine, location or the size of the donation to Three Square, which doesn't necessarily correspond to the price of the meal.
Burton, who started at Three Square on April 25, said he has had quite an introduction to Las Vegas.
"As a new member of this community, the thing that blows me away is just the amazing diversity of restaurants and the network of chefs and really how they rallied around the formation of Three Square food bank five years ago," he said, adding that the food bank building, which has a kitchen as its centerpiece, was finished in 111 days.
"To think that this food bank started from scratch and the major donors in the community and the grocery markets and the restaurants all coalesced so quickly behind it at a time when the economy was really starting to slide, that all says to me there was a great sense of urgency in getting out to meet the increased need in our community," he said. "It also spoke to the incredible compassion of the community. Becoming aware of hunger is a very real issue here in the valley — everybody realizing that we are part of the solution.
"Some causes are so far out in the future. Hunger is a solvable issue. This is something we can do together."
Contact reporter Heidi Knapp Rinella at hrinella@ reviewjournal.com or 702-383-0474.