Review: 'Les Miserables' features fine performances, impressive production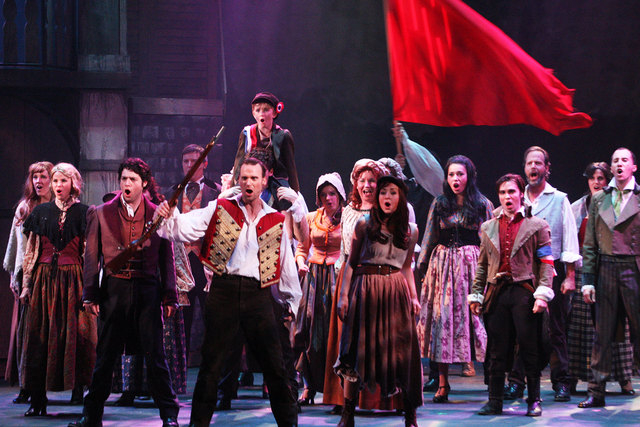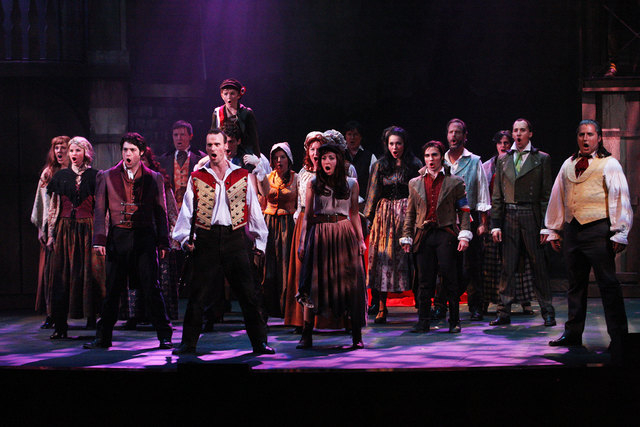 Fine performances and a fast pace highlight Signature Productions' impressive production of "Les Miserables" at the Summerlin Library and Performing Arts Center.
Monday night's first preview was rough around the edges and plagued by a few technical glitches. A preview is meant to test the water and provide audience feedback essential to a complicated endeavor such as this, and judging from the approval of the crowd, the production is only a few steps away from ready.
Signature Productions' mounting of Alain Boublil and Claude-Michel Schonberg's beloved musical "Les Miserables" comes at an auspicious time, since a revival has just opened on Broadway.
It is based on Victor Hugo's expansive 19th-century French historical novel, and its complex universal themes about the nature of human suffering resonate strongly today.
The narrative follows the tortured relationship between ex-convict Jean Valjean and his vengeful pursuer Javert. The story begins in 1815 with Valjean's parole from a long prison sentence, continues with the 1832 June Rebellion in Paris and ends with a joyful wedding and a few perfect deaths.
The crisp direction of Philip Shelburne created a sleek, fast-moving production with impressive visuals. With an abundance of material to cover, a fast pace is necessary.
The lighting design, by Erika Courtney, often threatens to upstage the show. With overwhelming effects and shadows enveloped in theatrical haze, it's like watching through the filter of a long-lost past, a haunting memory. Sepulchral rays both heavenly and oppressive shower down upon the characters, and the lighting reflects that they live in profound darkness.
The massive rolling set, by Gregory R. Crane Designs, is smoothly moved and manipulated to serve as different locales of the play. The sound design, by Steel Wallis, needs levels adjusted and suffers mostly from vocal clarity issues, with the orchestration sometimes overwhelming speech. But the ensemble performances are outstanding, with a cast able to rise to the emotionally wrenching demands of the piece.
As Valjean, R. Brodie Perry gives a nuanced performance, with vocals that soar but that sometimes get lost during his more subdued moments. During "Bring Him Home" he's nicely introspective, but opening up would give the audience more to connect with.
As Javert, Michael Vojvodich brings a controlled precision. He commands the stage with powerful vocals that both repel and draw us in. His ballad "Stars" is glorious and a highlight of the show.
As Fantine, Kirstin Maki throws herself into all the despair and defiance required of the tragic soul.
But the emotional impact of her solos, including the song "I Dreamed a Dream," suffer from garbled diction, and we don't feel the empathy that we should.
Michelle White as Eponine embraces the audience with her rendition of "On My Own," giving the ballad a heart-wrenching passion and a vocal coloring that makes it her own.
As the innocent Cosette, Jacqueline Walker has a purity of look and a sweet, angelic soprano, but she, too, suffers a lack of clearness in speech, with "In My Life" not stirring as it could.
Anthony Meyer as Marius is charismatic and charming and delivers a moving "Empty Chairs and Empty Tables."
As street urchin Gavroche, Will Haley provides poise that belies his young years.
And as jester Thenardier, Lou De Meis is most momentous during his song "The Sewer." He's a despicable pickpocket slithering about like a snake.
In addressing the universality of his masterpiece, Hugo explained that " 'Les Miserables' knocks at the door and says: 'Open to me, I come for you.' "
With its splendid presentation, Signature Productions invites you in.
REVIEW
What: "Les Miserables"
When: 7:30 p.m. April 2-5, 7; April 9-12; April 14; April 16-19; April 21; April 23-26 and 2 p.m. April 12 and 26
Where: Summerlin Library and Performing Arts Center, 1771 Inner Circle Drive
Tickets: $25 for previews on April 2-3; $30 for adults, $28 for seniors and students, $20 for children; www.signatureproductions.net
Grade: B