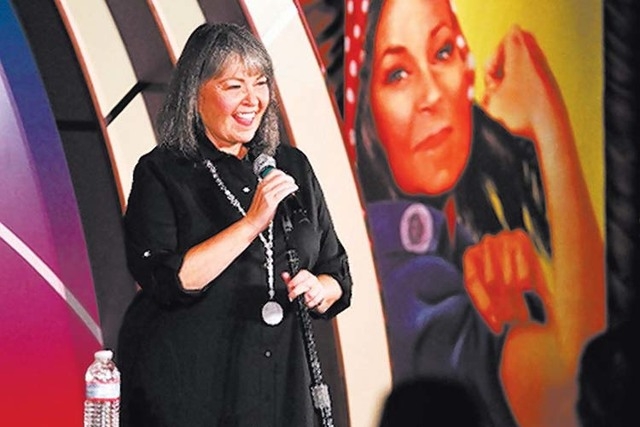 No matter how you vote today, Roseanne Barr has a message for you: If you don't like the political system, run for office and make it better.
Roseanne ran as an independent for president in 2012 and came in sixth.
I asked Roseanne — who performs Friday and Saturday at The Venetian — what lesson she learned as a candidate.
"Just not to give up. It's fixed, and rigged, and crooked as hell," Roseanne said.
"More and more, people will realize they are going to have to get out there and run for office themselves, if they care about the world, and they're not career politicians that are just criminals."
Roseanne said women — "especially grandmas" — can "get in there and fix it," as soon as they commit to the idea female politicians can "change everything that sucks."
"That's why I ran, to show people by example that if you care, you gotta take control, like you do with your kids," Roseanne said
"If you care about your kids, you don't just sit there on the couch helplessly going, 'I don't know what I can do.' You get in there and take control.
"That's what women have to do on the stage, and in the White House, and every other place," she said. "We want decent women."
By the way, Roseanne is a grandma with a taste for justice. She is launching a new show, awesomely called "Momsters: When Moms Go Bad," on Investigation Discovery soon.
"It's about bad moms, which I love, because you never get to see that," Roseanne said with delight.
What is it about the handcuffing of wicked moms she likes so much?
"Oh, I like how they get caught!" she said. "I like how police profile them. And the worst people always get caught. I just love that. They're so arrogant. … I like seeing smart-asses pay."
Roseanne also confirmed she will be a judge again for next season's "Last Comic Standing."
And she's happy to be back on tour after a long break, doing darker funny material, a sort of return to her "whole domestic goddess thing of being a mom and grandma."
"I've been scared to do it for some time, because I thought it was maybe too dark for people, but," she said, "people are just loving it, and I'm so happy."
Roseanne said she's glad to be part of The Venetian's all-female "Lipshtick" shows this weekend, since she tried setting up a women's show in Vegas "for a million years," which was met with resistance.
"This is our time," she said of women generally and women comedians specifically.
She's very excited about next year's "Last Comic Standing," because there are so many women trying out for it.
"And they're great, man. I've seen some great comics, male and female, but it's always cool to see new women," she said.
"I feel really proud of being one of those that was there first."
Personally, I believe more women are getting into comedy now, because they can post routines straight to YouTube, instead of jostling for time on hostile stages in L.A. and New York.
"Yeah, that's probably true too," Roseanne said.
And the more women who perform comedy well, the more audiences want to see women comedians.
"It's like 'Bridesmaids,' " Roseanne said of the female-comedy megahit. "They couldn't make a movie with women leads (before that), and now they can't get enough of women in big movie comedies. It's so great."
Doug Elfman's column appears on Tuesdays, Thursdays and Saturdays. Email him at delfman@reviewjournal.com. He blogs at reviewjournal.com/entertainment/reel.