Cirque du Soleil uses new technology to refresh its Beatles tribute
February 18, 2016 - 3:45 pm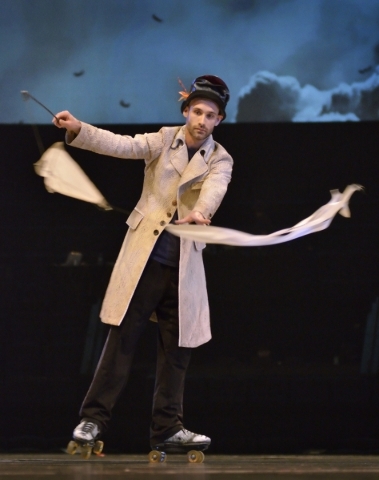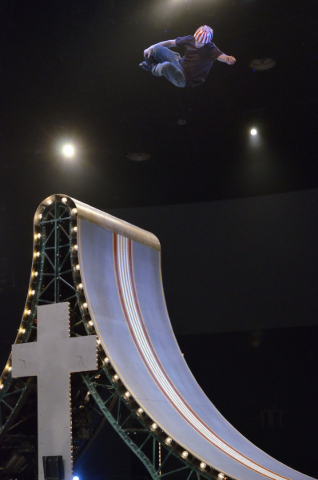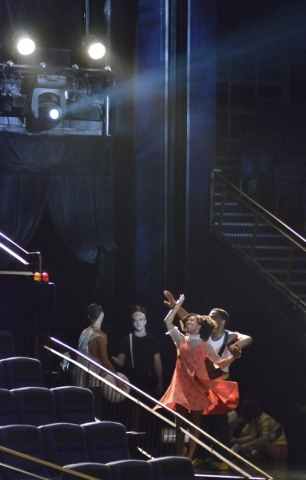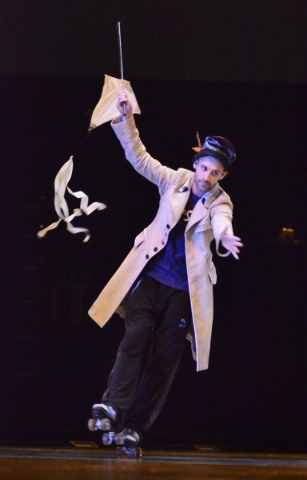 It's one thing to take a sad song and make it better. But a happy one? It makes the creators of "Love" seem awful hard on themselves.
When Cirque du Soleil began a one-by-one process to "refresh" its Las Vegas shows, it started with "Zumanity" last year and no one argued with that.
But next up, "Love"? It was an instant hit for Cirque and The Mirage in 2006, rivaling the water spectacle "O" for ticket sales on the Strip.
Granted, it would have been pretty hard to screw up a sanctioned use of the Beatles catalog, an unprecedented business venture that rose from the friendship of George Harrison and Cirque co-founder Guy Laliberte. But Cirque delivered on its end too, creating a suitably psychedelic fantasy world and grounding it in the real world of the Beatles and post-war England.
Still, "you're never happy with what you do," says Giles Martin, the music producer who gave the Beatles songs a new digital life working with his now-90-year-old father, George Martin, the band's original producer.
Though Martin and director Dominic Champagne continued to "clean" the show — as Champagne said of continued tweaks the year it opened — they eventually had to live with the fact that everyone else was happy with it. The two would "sit and complain about something and all of a sudden people were standing up applauding," Martin says.
Once when the two decided two years ago to work toward a 10th-anniversary makeover, "then we had to persuade everyone it was a good idea."
"We just said to ourselves, 'We can make it so much better,' " Martin recalls. "The show's beginning to look a bit old, a bit tired. And that's bizarre, because the Beatles never look old or tired. They've always managed to stay fresh," both in their run as a group and in their legacy, he says.
"We felt like it was huge injustice."
Even Paul McCartney, who early on urged the creators to keep doing their thing and not worry so much about pleasing him, expressed some doubts.
"I Am the Walrus" is "one of the most iconic and famous Beatles songs," Martin notes. "But the act was going on too long and it wasn't right at that time in the show. Paul even said, 'I don't know what the song is doing there. It seems out of context.' "
Thankfully, the Beatles had more than a few songs to choose from. "Twist and Shout" will replace "Walrus" when "Love" reopens Feb. 25 after a dormant stretch to initiate the makeover.
"We're touching almost everything," says Chantal Tremblay, the show's "director of creation" (or hands-on producer).
There are brighter costumes to make the show "a little less dark," Tremblay says, and Las Vegas-derived choreographers Napoleon and Tabitha D'Umo came in to set three songs.
The acrobatics have been punched up by listening to the requests of performers and coaches who said they could do more if given stage modifications. And a new a new duo trapeze act performing to "Yesterday" has a secondary purpose of being able to stand alone when needed to represent "Love" on TV or in special appearances.
But if Martin had to sum it up, he'd say there's simply more Beatles.
Literally, when it comes to the video screens. The original deal with Apple Corps., the Beatles' business entity, gave the production access to all the audio, from demo recordings and studio chatter — and hard-core fans can tell the Martins dug through every scrap of it — but not the Beatles' film and video archive.
Now they have, and the production is incorporating "images you've never before seen," Martin says.
"The presence of the Beatles is more there, because we see them," Tremblay says. Since the in-the-round configuration always made the video walls an afterthought, some of the images are now projected right on the stage floor.
Martin says that in the early days of the partnership, both sides were "almost standoffish." "Cirque wanted to retain their Cirque identity and the Beatles wanted to retain their Beatles music."
But the hands-on creators never drew such lines with one another. And now, "because the show's been so successful, and so loved, the Beatles and Cirque are much more open, and there's such a pride that this is the Beatles' universe we're in," Martin says.
Martin had one ear aimed at the "Love" reboot while he was working on last fall's "Beatles 1+," an audio-video reissue of the band's greatest hits and excavated promotional video. He reimported all the audio, and remixed it for the theater's 7,000 speakers, including new ones in the back of each seat.
"The vocals are much closer to you; the drums sound much fuller. The whole thing just sounds better," he says. "There are things I can do in this room you can do nowhere else in the world.
"I think when we did the show the first time around we were a bit too safe and treated it too much like a studio. And it wasn't sort of, live enough and vibrant enough."
The years also gave Martin enough perspective to let go of some of the most detailed work "not everyone noticed," such as a composite version of "Strawberry Fields Forever" beginning with a demo recording of John Lennon playing guitar in his house.
"I just thought, 'I missed the Mellotron,' " Martin says of the early synthesizer creating the opening notes. "I'd want to hear that in a theater this size. So I took out the complicated thing I did and replaced it.
"But you know what?" he adds. "The thing I did then is no longer new; it's 10 years old."
Even though the "Love" that reopens Feb. 25 will look and sound different, the creators want it to feel the same.
"We've been careful not to change the character of the show because it's so strong," Martin says. "The strength of the show is the heart of the show, and we need to make sure we preserve that."
Read more from Mike Weatherford at reviewjournal.com. Contact him @mweatherford@reviewjournal.com and follow @Mikeweatherford on Twitter.