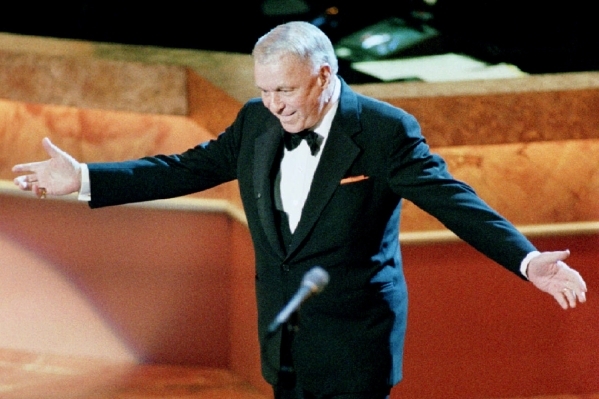 Former Las Vegas headliner and recording artist Vic Damone is convinced Frank Sinatra may have saved his life from a mobster.
Damone's daughter, Victoria, whom I've known since my man-about-town newspaper days in Denver, told me the story on Friday, after I asked if her father would confirm it.
She relayed the story after calling Damone, now 87 and living in the Palm Beach area.
The confrontation likely occurred in the late 1960s or 1970s when Damone was headlining throughout Las Vegas. Damone and his wife, Judith Rawlins, were part owners in a Las Vegas restaurant "when he was approached by a man he didn't know. The man said my dad owed a large amount of money," his daughter said.
"Dad dismissed him and the man, who said he was a bookie, wouldn't be dismissed. My dad called Mr. Sinatra and told him what was going on," she said.
Sinatra, out of town doing a gig, was concerned enough that he had Sammy Davis Jr. fill in for him, according to Damone's daughter. The next day, her father "was surprised to find Mr. Sinatra at the restaurant where dad was to meet the bookie."
After Sinatra met with the enforcer, "he indicated to dad that he should pay him." The man demanding the money had given Sinatra a secret sign, she said. Sinatra recognized the sign and understood he couldn't intervene, her father told her.
"Dad paid. It could have been quite dangerous if Mr. Sinatra wasn't there," she said.
It wasn't the first time Damone had a terrifying run-in with the mob. In his 2008 book, "Singing Was the Easy Part," he wrote about being dangled out of a window of a New York hotel by a thug. Damone had been engaged to the thug's daughter, the story goes, but he ended the relationship when she insulted his mother.
Damone stated in the book that his life was spared when, during a Mafia meeting to determine the singer's fate, New York mob boss Frank Costello ruled in Damone's favor.
Frank fest
There's much to love with all the superstar performances in tonight's CBS special "Sinatra 100 — An All-Star Grammy Concert."
But for a pure Sinatra moment, host Seth MacFarlane, nailed it with "Bewitched, Bothered and Bewildered." It'll give you shivers.
What you won't see (or hear): actor Jeremy Renner's reaction after needing several takes to introduce MacFarlane in a bar scene for "One for My Baby (and One More for the Road").
Renner, a 2009 Academy Award nominee for his gritty role as a U.S. Army bomb disposal specialist in "The Hurt Locker," swore like a sailor.
Turns out he was a late addition to the show.
The scene and heard
I'm hearing 10,000 fans are flying in from Ireland and another 8,000 to 10,000 from Boston, New York and elsewhere for Saturday's UFC 194 showdown between Ireland's Connor McGregor and Jose Aldo at the MGM Grand Garden.
On this day
Dec. 6, 2007: NFL star Adam "Pacman" Jones pleads no contest to conspiracy charges stemming from a February 2007 brawl at the Minxx strip club during NBA All-Star weekend. He receives probation, but in 2012 a Las Vegas jury orders Jones to pay $11 million to two Minxx employees who were shot by one of his buddies.
Sightings
Country legend George Strait, at Crush (MGM Grand) on Saturday chatting with MGM president Scott Sibella and Crush partner and bartender John O'Donnell. … Actor Tom Cruise, surprising longtime friend Jeff Gordon on Friday at the NASCAR Sprint Cup Series awards dinner at Wynn Las Vegas. Cruise presented Gordon, who retired after the season, with the Bill France Award of Excellence. Cruise later checked out XS nightclub with movie director, producer and screenwriter Christopher McQuarrie. … Luke Perry and Stephen Baldwin, hosting the rodeo film "8 Seconds" at the South Point on Saturday. Perry starred as bull rider Lane Frost and Baldwin portrayed Tuff Hedeman. … "Mike & Molly" star Melissa McCarthy and fashion designer Brian Atwood, in the crowd at Pia Zadora's show at Piero's Italian Cuisine on Friday for Zadora's Sinatra tribute, which runs for another week. … Designer Kevyn Wynn, unveiling her collection of cocktail slippers at the launch Tuesday at Wynn Las Vegas. Her father Steve Wynn attended with his wife, Andrea. Each of the seven styles of slippers is named after a female who influenced Kevyn's life, including her mother, Elaine Wynn and sister Gillian Wynn.
The punch line
"The good news about naming your daughter after an Instagram filter like Sierra, Willow or Lux is that she won't have to change her name if she becomes a stripper." — James Corden
— Norm Clarke's column appears Sunday, Monday, Wednesday and Friday. He can be reached at 702-383-0244 or norm@reviewjournal.com. Find more online at www.normclarke.com. Follow him: @Norm_Clarke