Smooth and cool Timberlake will melt hearts at MGM Grand Garden
November 29, 2013 - 7:57 am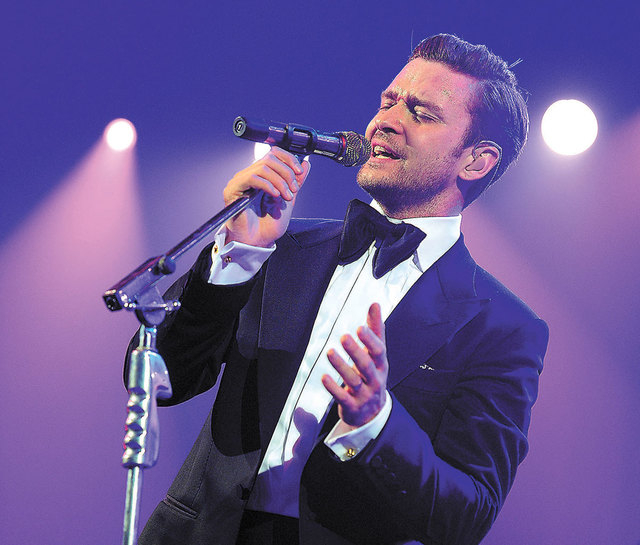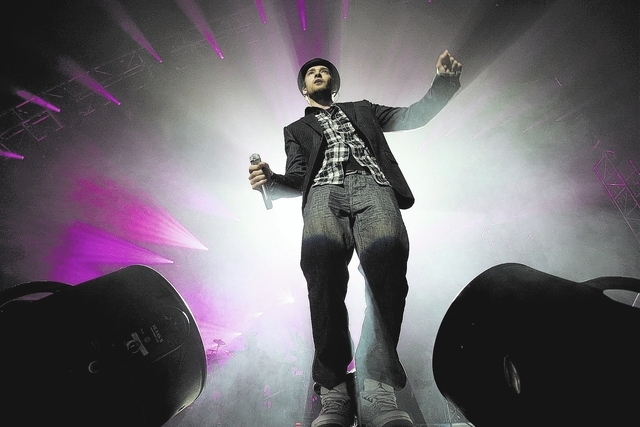 Justin Timberlake's the kind of guy who's just so damn smooth, he could land a lady at her mother's funeral.
She'd be all distraught and stuff, 'cause, you know, she's burying her mom.
And he'd be all like, "Hey, baby, know your mom's a corpse and all. Sucks. I know about loss. Just the other day, I lost my appetite. Granted it was after I ate a steak for lunch and chased it with a lobster tail, but still, I can relate to what you're feeling right now."
Then, he'd hit her with a line from one of his songs.
"If I had a pair of wings, I'd pick you and fly you far away from here," he'd sing from "Pair of Wings."
"And you'd put your worries upon my shoulders, my dear."
Next thing you'd know, her tears would be drying on the pillowcases in his hotel room.
Now, that's how it's done.
Timberlake's such a cool customer, the guy could pick up a girl just about anywhere.
Fellas, you can learn to do the same with a little help from JT, who has a song that can assist you with the ladies in any location.
Need proof?
Read on, and get educated on how to woo a woman in any setting, even formerly challenging ones such as these:
The emergency room
Don't let the fact that you're bleeding from the eyes spoil a potential love connection.
The emergency room is a great place to hook up with a future life partner.
So, the next time you're feeling sick and in the need of immediate medical attention, make the most of the moment with a little help from Timberlake's "Tunnel Vision."
"It might seem like I'm catching something," you'll say, trying to suppress a cough, as you make eyes with the comely burn victim next to you. "That's because it's true … I look around and everything I see is beautiful, 'cause all I see is you."
Yes, considering the setting, there will be plenty of sobbing, writhing in pain and vomiting — you know, just like any of your other dates.
A ladies dressing room
Women love surprises.
It's in their DNA, sandwiched between the gene that compels them to horde footwear like a doomsday prepper stockpiling cans of beans in a self-dug bomb shelter and the gene that enables them to tolerate dudes who spout tired cliches about their alleged love of footwear.
Now, it's time for you to cash in this winning genetic lottery ticket.
Here's how: Next time you're out scoring all the latest fashions at TJ Maxx and you see a sexy she-minx headed to the dressing room, be all suave like and sneak in behind her.
With the both of you framed in the dressing room mirror, hit her with a little poetry from Timberlake's "Mirrors":
"Aren't you somethin' to admire? 'Cause your shine is somethin' like a mirror," you purr, "and I can't help but notice, you reflect in this heart of mine."
Ohhhh yeah, what time is it?
Sex o'clock.
Taco Bell
Taco Bell is a walk-in aphrodisiac, a bonanza of both romance and bastardized, quasi-Mexican approximations of sustenance.
This isn't because the aroma of various meatlike substances mingling with the scent of lowered expectations forms some kind of pheromone.
No, it's because the only justifiable time to go there is at 1 a.m. when you're loaded and have no shame — the ideal circumstances for finding a soul mate!
So, without wasting another second, sidle right up to that sexy love panda in front of you in line and start peppering her with some sweet nothings from Timberlake's "Strawberry Bubblegum."
"You're delicious on your own," tell her as she's eyeballing the menu.
"Let me elevate your appetite," you continue, winking seductively, licking your lips, your tongue wagging like the tail of an agitated cat.
"My selection is the tasty kind," you say, sealing the deal.
Now, she's hungry for processed animal parts and love.
Rehab
What does addiction and this story's blind stabs at comedy have in common?
Neither is a laughing matter.
OK, so now that we've gotten that out of the way for any humorless prudes out there, don't be a nancy boy and let chemical dependency stop you from lightening the mood a bit — not to mention potentially scoring a co-dependent hottie — during your next trip to rehab.
"I'm just a j-j-j-j-junkie for your love," you're going to coo in the ear of that comely blonde at your next group therapy session, borrowing a line from Timberlake's "Pusher Love Girl." "My nicotine, my blue dream, my hydroponic, candy jelly bean. Can't you fix me up? I'm your number one fiend."
You may think that hitting on someone undergoing recovery is an act of poor taste.
Of course, it is.
But, then again, if good decision making was your thing, you'd have turned the page long ago.
Contact reporter Jason Bracelin at jbracelin@reviewjournal.com or 702-383-0476. Follow on Twitter @JasonBracelin.
Preview
Justin Timberlake
8 p.m. Friday-Saturday
MGM Grand Garden arena, 3799 Las Vegas Blvd. South
$61.60-$219.70 (800-745-3000)