Some movies best left to the imagination
February 20, 2014 - 12:31 am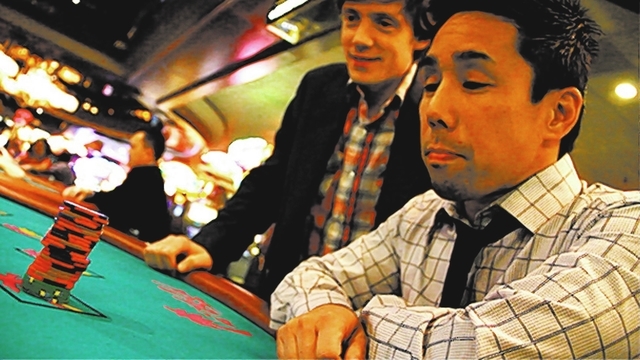 Plenty of terrible movies fit into that "so bad they're awesome" category.
"Unidentified" is not one of them.
The straight-to-DVD-and-downloads mess answers the never-been-asked question, "What would 'The Hangover' have been like as a found-footage alien encounter?"
Four friends head to Las Vegas for a guys' weekend — well, three friends and a nerdy co-worker/brother-in-law named Jodie who won't put down his video camera — and the results are wall-punchingly annoying.
The script, by first-time writer-director Jason R. Miller, has an improvisational feel. And not in a good way.
For every interesting line — "I realize that the rules of going to Vegas are interchangeable with the rules of 'Fight Club.' " — there are 50 more that sound like they couldn't possibly have been considered in advance, let alone written down. "For some reason, when I'm out of town, I poop, like, a lot," one character reveals. "But when I'm at home, I'll literally not poop for four days."
The guys check into the Golden Nugget — "Hey, look at the lights! And the numbers are all, like, movin' and stuff!" — hit a strip club, gamble too much and wander around downtown before heading off to "a high-stakes (poker) game for people with Down syndrome." Curiously, this game is taking place in one of those dark, abandoned, urban alleys that are so prevalent along Blue Diamond Road.
On their way out of town, some weird lightning strikes leave them stranded in the desert, where things finally start getting as close to interesting as they ever will.
Even then, though, a crucial part of "Unidentified" was filmed on a cellphone, then Jodie's video camera shot that footage, leaving it extra, super-duper murky.
You don't expect much from a movie that looks like it could've been financed with a couple of Groupons, but that's just silly.
At one point, one of the interchangeable characters asks Jodie why he's still filming.
The better question is, why'd he ever start?
Contact Christopher Lawrence at clawrence@reviewjournal.com or 702-380-4567.