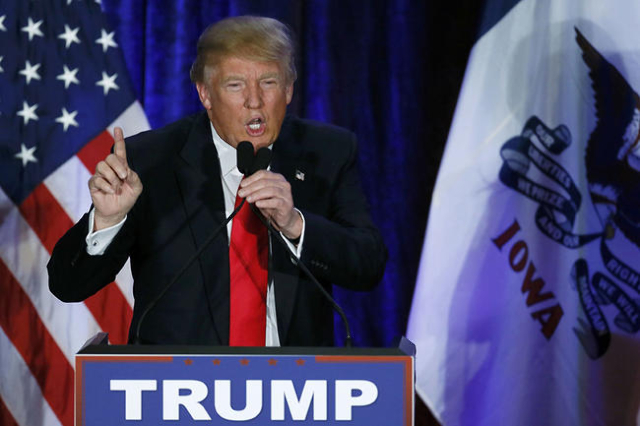 Phil Ruffin, the billionaire owner of the TI, talked on Tuesday about his $1 million contribution to the $6 million raised by Donald Trump for veterans via Trump's Fox debate boycott.
Ruffin, a veteran and a longtime friend of Trump, said, "I thought it was a good cause. Do you know that 22 vets a day die from suicide?"
In a wide-ranging interview, the normally media-shy Ruffin said:
* He's "a little disappointed about Iowa" after Trump, the Republican presidential front-runner, finished second, behind Ted Cruz in the Iowa GOP caucuses.
* On MGM Resorts' controversial move toward adopting a pay-to-park policy, Ruffin said he's going to "wait and see if it spreads. If it spreads, I'm sure I'll join the party."
* He would "love to see an NFL team here. It would be great, really help the city." But, "I guess I'd be in favor (of the stadium) if they got an NFL team first."
"Barring that," he said, "I'd like to see" the Las Vegas Visitors and Convention Authority's plan to build the $2.3 billion Las Vegas Global Business District on the 26-acre site of the Riviera. "We'd like that. It would be good for the north end (of the Strip). It's too risky to build (a stadium) and cross your fingers and see if the NFL would take Las Vegas."
* He's in the process of tearing down the former ultra-mansion built by casino mogul Gary Primm on celebrity-studded Tomiyasu Lane and once eyed by singer Michael Jackson as his base for a career comeback. Ruffin plans to transform the site into a park with horses and a baseball field for his two kids, Richard, 5, and Malena, 3, and their friends. Ruffin bought the Primm property last fall for $6 million. It is next door to Ruffin's residence, which he bought for $15 million in 2012.
Real estate agent Kristen Routh-Silberman, who handled both sales for Synergy Sotheby's International Reality, said the park "has the elements for an ultimate fantasy kids playground."
By the way, Ruffin has encountered an unexpected expense in developing the new property.
Primm helped Ruffin start a minifarm on his property by giving him chickens and a potbellied pig. "But we forgot to pen 'em up," said Ruffin, referring to the chickens, "and the coyotes got three of them. I'm going to have to build the fences higher."
The scene and heard
Elvis Presley's star on Las Vegas Boulevard has a new address. After seven-plus years in front of the Riviera as part of the Las Vegas Walk of Stars, Presley's new star was installed Tuesday in front of Mon Ami Gabi restaurant, near Englebert Humperdinck's star, in front of the Paris Las Vegas.
The star of longtime Riviera headliner Frank Marino, now at The Linq as the star of "Divas Las Vegas," was also installed Tuesday.
Stars for Frank Sinatra and Sammy Davis Jr. were also in front of the Riviera until it closed in May. The Las Vegas Walk of Stars coordinated the move with the Viva Las Vegas Club, which funded the first star for the $20,000 fee. …
Flashback: A year ago this week I got tipped that a big name on the Strip was in "serious discussions" to build a major arena to compete with MGM Resorts/AEG's $375 million, 20,000-seat arena. I speculated that the mystery figure was Sheldon Adelson, chairman and CEO of the Las Vegas Sands Corporation, parent company of The Venetian and The Palazzo.
I wrote that it "seems unlikely he could concede the new arena business" to MGM Resorts. Adelson clearly had bigger plans than an arena.
The Review-Journal is owned by a limited liability company controlled by the Adelson family, majority owners of the Las Vegas Sands. …
Jose Andres' Bazaar Meat restaurant at SLS has ordered 64 quarts of foie gras for Friday's Dine-N-Dash. The foodie fest is patterned after his annual Washington, D.C., restaurant crawl.
Seven SLS restaurants will be part of the culinary tour. Andres will be joined by special guest chef Curtis Stone and mixologist Rob Floyd. …
Mark Shunock, who has played Lonnie, one of the leads in "Rock of Ages," which was at The Venetian and is now at the Rio, announced on Facebook on Tuesday that he's leaving the show in four weeks. He's been with the show since it opened three years ago.
On this day
Feb. 3, 2001: The Las Vegas Outlaws defeat the New York/New Jersey Hitmen, 19-0, at Sam Boyd Stadium in the inaugural game of the XFL, the upstart football league founded by wrestling mogul Vince McMahon. The Outlaws finish 4-6 and the league folds after one season.
Feb. 4, 1987: Liberace, one of the most popular performers in Las Vegas history who lived in the city for much of his life, dies in Palm Springs, Calif., at 67. Mourners flock to his glitzy museum, which opened in Las Vegas in 1979. But it closes in 2010 and the artifacts of his bedazzled life go into storage.
Sightings
House of Blues headliner Carlos Santana, dining Monday with his wife, Cindy Blackman, at Mastrioni's, south Hualapai Way and Desert Inn Road.
The punch line
"New Barbies will come in different sizes and with more realistic body types. Not only that, the new Ken dolls come with beer googles." — Conan O'Brien
Norm Clarke's column appears Sunday, Monday, Wednesday and Friday. He can be reached at 702-383-0244 or norm@reviewjournal.com. Find more online at www.normclarke.com. On Twitter: @Norm_Clarke