Julia Louis-Dreyfus honored for career achievement in comedy
October 21, 2018 - 9:40 pm
Updated October 21, 2018 - 9:52 pm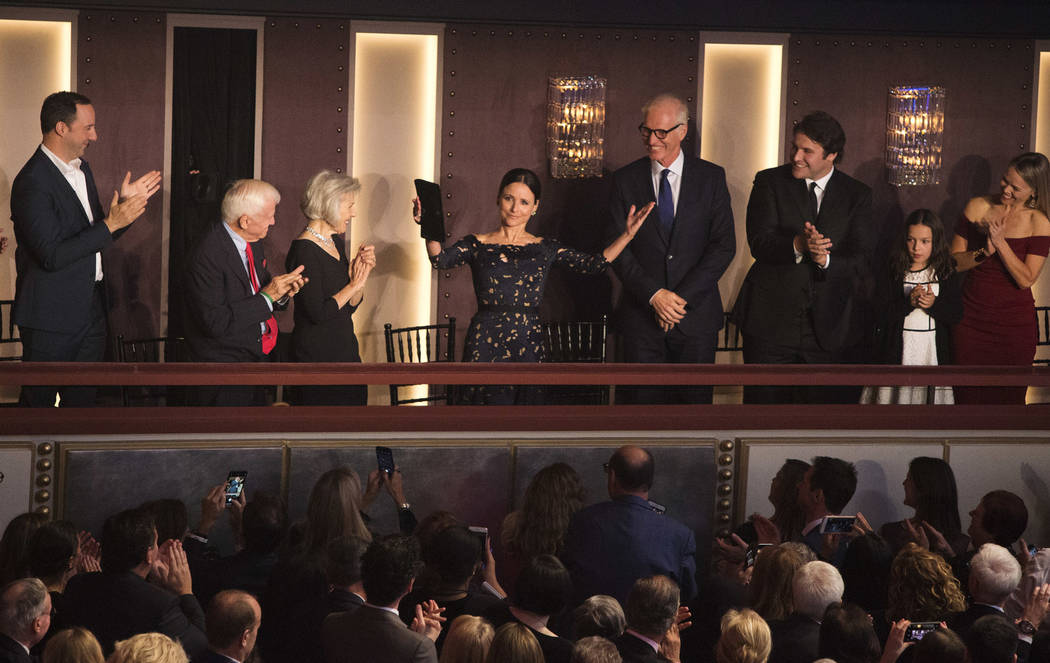 WASHINGTON — Julia Louis-Dreyfus is one of the best-known comedic actresses of her generation, and now she's been recognized with the Mark Twain Prize for American Humor for a lifetime in comedy.
She is the 21st person the Kennedy Center for the Performing Arts has honored with the award. Jerry Seinfeld, Stephen Colbert and 2010 Mark Twain recipient Tina Fey are among those offering testimonials to her talent.
Louis-Dreyfus accepted her award with an extended comedic bit and a few shots at new Supreme Court Justice Brett Kavanaugh.
The actress first drew laughs by repeatedly referencing her true life's ambition to be a respected dramatic actress — stopping in mid-speech to deliver a monologue from Shakespeare's "Merchant of Venice."
A native of the Washington suburbs in Maryland, Louis-Dreyfus is a graduate of the elite Holton-Arms school, alma mater of Christine Blasey Ford, who accused Kavanaugh of assaulting her at a high school party.
Louis-Dreyfus made a veiled but unmistakable reference to Ford's testimony_framing it around her performance at a high school presentation of the play "Serendipity."
"I can remember every single aspect of that play that night, so much so that I would testify under oath about it," she said, to a round of laughter and applause. "But I can't remember who drove me there or who drove me home."
Earlier, Fey paid tribute to Louis-Dreyfus at the award ceremony by tracking the similarities between their lives.
"We both started comedy in Chicago. We both moved on to 'Saturday Night Live.' We both lost our virginity to Brad Hall," referring to Louis-Dreyfus' husband and former SNL castmate sitting next to the honoree. Fey praised the "secret precision" of Louis-Dreyfus' comedy and her willingness to make her Seinfeld character so flawed.
"Julia let Elaine be selfish and petty and sarcastic and a terrible, terrible dancer," Fey said.
As celebrity guests arrived before the ceremony, Seinfeld recalled the first time he saw Louis-Dreyfus in action — and knew almost immediately she was a major talent.
His iconic sitcom, "Seinfeld," was still in the planning stages and producer Larry David knew Louis-Dreyfus from their time together on "Saturday Night Live."
Seinfeld said: "We had just two short pages of script, and we sat down to read the dialogue together. As soon as she opened her mouth, I knew she was the one."
Seinfeld also credited Louis-Dreyfus for having the confidence and strength of personality to hold her own on what he called "a very male show."
That confidence was evident very early for Louis-Dreyfus, who said she knew as a young child that she had a gift for comedy.
"The first time I really knew was when I stuffed raisins in my nose and my mother laughed. I ended up in the emergency room because they wouldn't come out!" Louis-Dreyfus said.
She shared her memory as she walked the red carpet on her way into the Kennedy Center Concert Hall.
Comedian and director Kumail Nanjiani grew up in Pakistan and never saw an episode of "Seinfeld" until he immigrated to the U.S as an adult.
"But I became a huge fan as soon as I moved here," he said.
The co-writer of the movie "The Big Sick" particularly recalls her iconic, slightly convulsive "Elaine Benes dance" on the show, which he credits to Louis-Dreyfus' gift for physical comedy.
"There are some comedians who think physical comedy is beneath them," he said. "But she was just fearless and ego-less."
The 57-year-old Louis-Dreyfus emerged from Chicago's famed Second City comedy troupe before joining the cast of "Saturday Night Live." Her best-known role is her nine-year run as Elaine Benes on "Seinfeld." More recently, her work as Vice President Selina Meyer on "Veep" earned her six consecutive Emmy Awards.
Production on the upcoming seventh and final season of "Veep" was delayed as Louis-Dreyfus received treatment for breast cancer. That season is currently in production.
PBS will air the Twain event on Nov. 19.