Wynn remembers Caesars' opening
August 3, 2014 - 11:21 am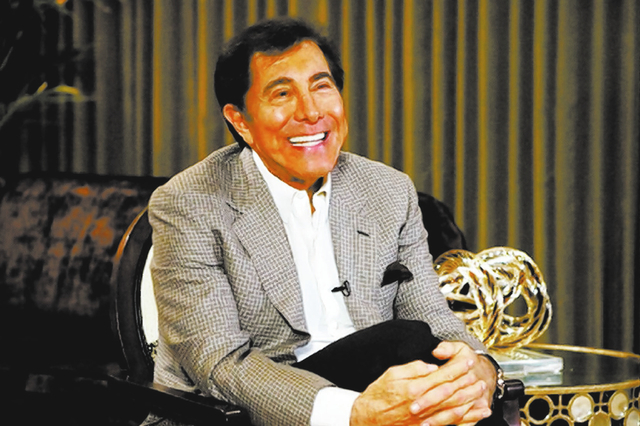 The night Caesars Palace opened, Aug. 5, 1966, Steve Wynn remembers getting a room so awful "it might have been used for political prisoners."
One night later, in a foreshadowing of Wynn's fast rise in Las Vegas, the 24-year-old bingo operator with big plans ended up in one of the most opulent suites.
Because of an airline strike, Wynn had flown in on a chartered flight from Maryland, where he was running his late father's debt-laden bingo operation.
He was in town for the opening of the bids for the construction of rooms at the New Frontier because he was an investor.
Caesars Palace was opening that night and, as luck would have it, Wynn had a ticket for the hotel's opening-night show in the 1,000-seat Circus Maximus showroom.
Crooner Andy Williams had the opening-night honors and walked onstage about 11 p.m. The A-list crowd included former heavyweight boxing champions Joe Louis and Jack Dempsey, TV show giant Ed Sullivan and Hollywood icons John Wayne, Gregory Peck and Anthony Quinn.
Wynn was there as a guest of a University of Pennsylvania classmate, Eddie Jacobson, whose father, Nate Jacobson was president of Caesars Palace, and a partner of hotel creator Jay Sarno.
"Caesars was really glamorous," Wynn said.
But there was nothing glamorous about his room.
"I had to step over rolls of carpet. They hadn't finished the place. The shower curtain wasn't up," he recalled.
The next morning he got a phone call that he was being relocated and a bellman was on the way up.
"He took me to the suite over the porte-cochere, No. 1066. Center suites are always the best," Wynn said in a telephone interview.
"I walked in and the telephone rang. The operator asked for 'Mr. Hoffa.'
Wynn said no.
"Is this James Hoffa's suite?" the operator asked.
No, said Wynn, adding he was just relocated to the suite.
The operator rechecked her information and discovered Hoffa had just left.
"I apparently had his room," Wynn said.
I asked Wynn if he ever met Hoffa, who, in 1958, became president of the powerful Teamsters Union, which used its pension fund to loan money to Las Vegas hotels, many of them mob-run operations.
No, said Wynn. Then he quickly changed his mind. "No one's brought that up for 30 years,'' he said.
"When I was a sophomore at Penn I shared an apartment with a kid who's father owned the Castaways here. They had a Teamsters mortgage."
Wynn's friend invited him over for Christmas dinner with his family. It was 1960.
"At that dinner was Jimmy Hoffa and there was this little kid, 8 to 9 years old, Jimmy Hoffa."
Little Jimmy became president of the Teamsters in 1999, 24 years after his father went missing on July 30, 1975.
Wynn had one more story to close another circle.
When Circus Maximus closed in January 2000, featuring Steve Lawrence and Eydie Gorme, Wynn asked the powers that be at Caesars for a favor.
He asked to be seated, along with his then-wife Elaine, where he saw the show on opening night.
"We watched from the same booth," said Wynn.
Circus Maximus, the home of Frank Sinatra for decades, was closed for restaurant and villa expansion.
THE SCENE AND HEARD
Celine Dion is under her doctor's orders to take a week off — five shows — due to a sinus infection that turned into a severe swelling of her vocal cords. She is scheduled to return August 8.
SIGHTINGS
On Gucci Row, the courtside seats at the Thomas &Mack Center, on Friday for the USA Basketball showcase: Unbeaten boxing champ Floyd Mayweather Jr., Chris Mullin, a member of the original Dream Team, and Elaine Wynn, who sponsored a Team USA party at XS on Thursday … "Jersey Boys" castmates Graham Fenton, who plays Frankie Valli; Aaron DeJesus (Joe Pesci) and Buck Hujabre (Hank Majewski), teeing off at 10:30 p.m. Friday for a post-show round at TaylorMade Golf Experience. The Harrah's headliners played nine holes at the par-3 course … Food Network chef Robert Irvine, dining at Andrea's (Encore) on Friday night … At Surrender nightclub (Encore) on Friday: NBA standouts Kyrie Irving and Chandler Parsons, among a large group that stopped in to see Lil Jon; in a bungalow, Victor Oladipo, with friend Redfoo of LMFAO, at Tao nightclub (Venetian) on Friday with his Party Rock Crew, decked out in their signature animal prints and neon outfits … Alice Cooper's band joined the Sin City Sinners onstage at The Palms on Friday. The group played three songs, including "20th Century Boy" and "Ace of Spades."
THE PUNCH LINE
"Congress is now getting ready to take a month off. From what? To recharge their batteries for another year of gridlock?" – David Letterman
Norm Clarke's column appears Sunday, Monday, Wednesday and Friday. He can be reached at 702-383-0244 or email him at norm@reviewjournal.com. Find more online at www.normclarke.com. Follow Norm on Twitter @Norm_Clarke.