$1B Henderson high-rise project partners with Four Seasons
Updated May 24, 2023 - 10:08 am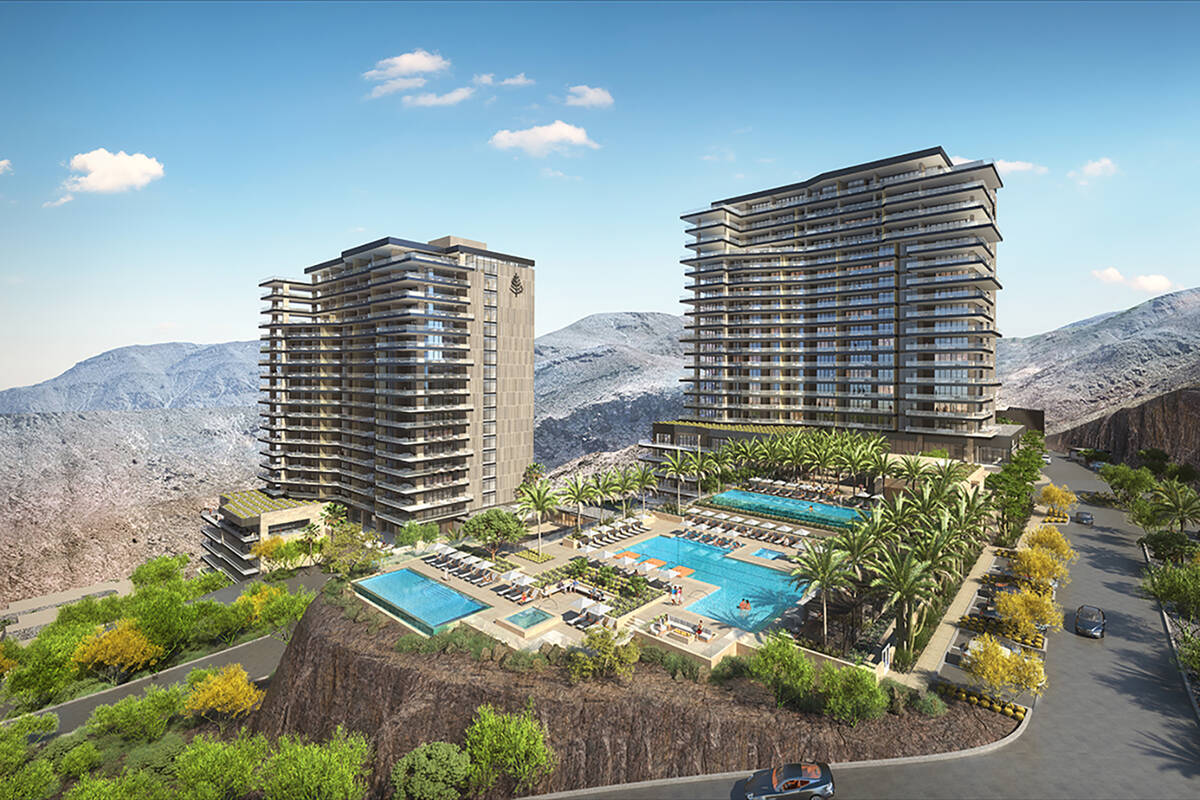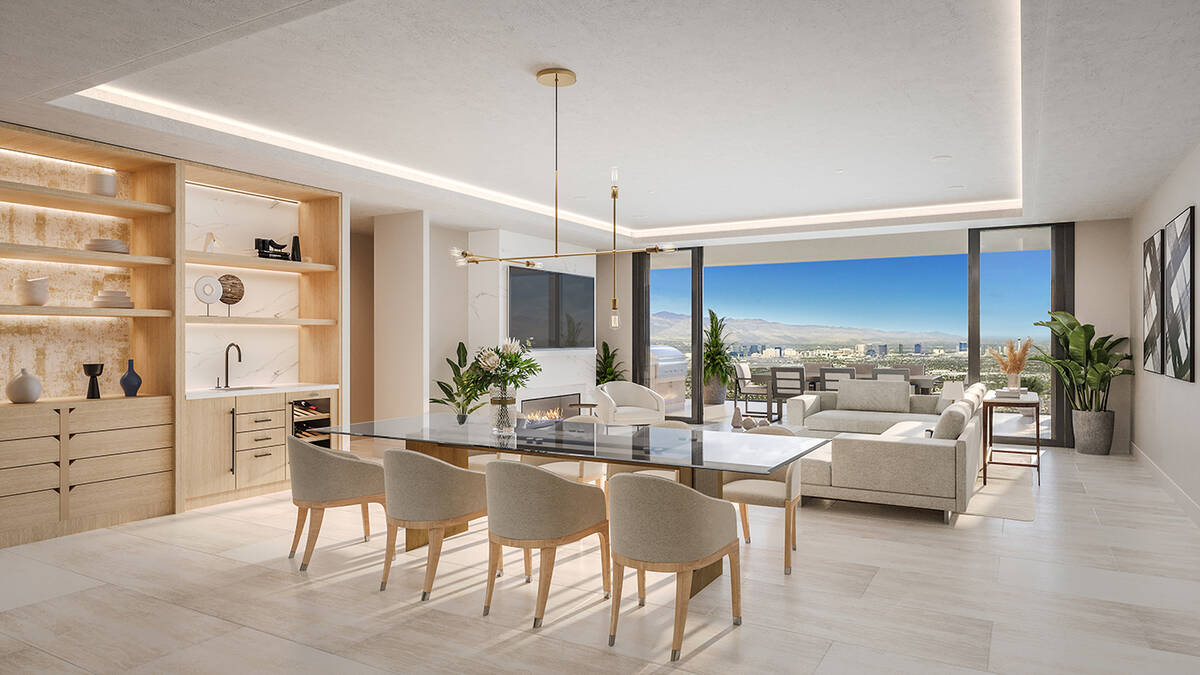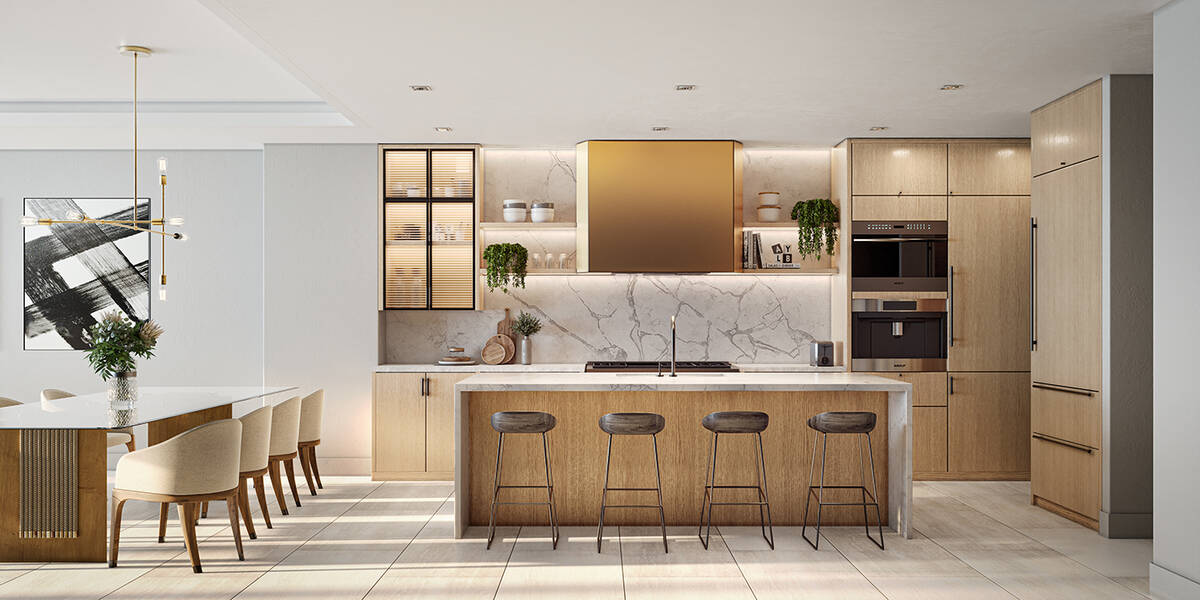 A $1 billion resort-style condominium project in MacDonald Highlands in Henderson has partnered with Four Seasons to provide its name brand and luxury management services to the 171 residences of two towers and six stand-alone villas.
Called Four Seasons Private Residences Las Vegas, the project is now moving forward after it was first unveiled by Real Estate Millions in November 2021. Previously named Pinnacle Residences, it will be the first high-rise built in Las Vegas since the Great Recession in the late 2000s.
The project is a development of Las Vegas- and Mexico-based Azure Resorts & Hotels and Canada- and New York-based Luxus Development.
The contemporary residences will range from 2,300 to 7,300 interior square feet and 500 to 5,000 exterior square feet, offering expansive indoor and outdoor living space with sweeping views of the Las Vegas Strip and McCullough mountain range, according to President of Azure Resorts & Hotels Jim Reilly.
"This has the potential to be North America's flagship project for us given its profile," said Paul White, senior vice president of residential development of Four Seasons Hotels and Resorts. "Las Vegas is a brand in and of itself and to be able to bring our brand to this market … They are using the verticality of the mountain to build this up. You're not looking at Las Vegas but down on Las Vegas. The views are insane. We even designed a negative-edge pool right out on the cliff, and I think it will be one of the most iconic swimming pools in North America. To be able to sit in that pool at sunset with a Four Seasons-delivered drink watching plane landings, there's nothing like it."
Reilly said they chose Four Seasons because it was important to elevate the overall experience in terms of amenities and operation with their 24-hour concierge. He said he's worked with Four Seasons in the past, and the deal is for 20 years with two 20-year renewals.
"We thought about how to make this project special because it's a once-in-a-lifetime opportunity," Reilly said.
"We looked at a bunch of luxury brands and came to the determination that the only one that would really make sense to delay our project six to nine months to make a few changes was the Four Seasons. It adds value and if we hit a downturn, having the Four Seasons brand provides security to our buyers and for the project to proceed with capital financing for construction. If you don't have a branded condominium project, you're probably not getting financed on the construction side unless you are 85 percent to 90 percent sold out. That's not feasible with most of these projects. Having a brand is a difference-maker and game-changer."
Site work and blasting is underway and the project will start going vertical by September. The construction will take 28 months and cost about $1 billion. That takes it to the end of 2025 or early 2026.
The project has mostly been refined around the operations with delivery of packages moved underground. Food delivery will be behind the scenes through service corridors. There will be lounge spaces and locker rooms for employees.
The Four Season Private Residences has had as many as 180 to 200 reservation holders over the last year-plus and Reilly said they have worked with them over the last month-plus to transition them into purchase and sales agreements. About 30 are under contract.
The response has been positive with many buyers transitioning out of homes in Las Vegas and looking to downsize since they have second, third or fourth homes elsewhere, he said. The project will also bring in regional, national and international buyers with the start of marketing. Much of the buyers so far range between 45 and 75.
Prices of condos have gone up with the Four Seasons branding and operation, Reilly said. The least expensive now starts at $3 million for two bedrooms and goes up to $27 million for penthouses. That's a 25 percent to 30 percent increase over an unbranded project, he said.
"It prices some people out who can afford a $2 million or $2.2 million condo but can't afford a $3 million or $3.5 million condo," Reilly said. "It's unfortunate, but that's what's best for the overall project."
Residences will feature turnkey touch points including semi-private elevators, private garages and fully furnished interiors. The residences feature designer finishes and fixtures with a palette of options, including epicurean kitchens and spa-inspired baths. Each residence will offer customizable terraces equipped with outdoor kitchens, social gathering spaces and dining areas, extending owners' seamless indoor-outdoor living and style, Reilly said.
The luxury residences will feature a signature restaurant and wine bar, Noble Heights, for everyday dining and special occasions. Curated by hospitality industry veterans Elizabeth Blau and Chef Kim Canteenwalla of Blau + Associates (of Honey Salt and Buddy V's Ristorante in Las Vegas and Crown Block Dallas), Noble Heights will have al fresco dining options and a culinary experience featuring ranch, farm and sea-centric cuisine alongside an elevated selection of cocktails.
Four Seasons Residences will offer amenities such as private chef services, private wine cellars, multilevel resort-style pools, cabanas, an on-site event lawn, catering services, pet spa, auto spa, community boardroom, library, screening room and wellness amenities including a full-service gym and spa with a sauna, steam room, whirlpool, lap pool, multiple private treatment rooms and personal training offerings.
There will be in-residence dining services, housekeeping and concierge services.
Four Seasons operates 53 branded private residence properties around the world, with more than 65 percent of future Four Seasons projects to include a residential component. The private residences started in 1985 in Boston.
Four Seasons has had a presence in Las Vegas for a number of years with its Four Seasons branded-hotel on the Strip owned by MGM Resorts International. The residential business has become more of a luxury brand, White said.
"It's an extremely important part of our growth strategy as well as being an incubator of innovation for the company by working with the best architects and designers in the world and creating some of the best real estate in the world," White said. "It fits with our core business, which is hospitality to expand into residential real estate."
Four Seasons has more than 5,000 residences under management. About eight to 10 years ago, Four Seasons started partnering with stand-alone projects where it's taking its brand where people work, live, shop, play and dine into pockets of wealth in residential areas around the world, White said.
Four Seasons' footprint is in London, Dubai and Los Angeles. Since they want to take their brand to super-prime real estate for high-net-worth individuals, White said that has led to projects in Florida, Texas, Tennessee and now, Nevada. It recently announced a $2 billion residential project on Lake Austin in Texas.
White said they identified Las Vegas years ago because they know that's where the customers want to be and buy real estate. He called MacDonald Highlands "the perfect pairing."
"This is a neighborhood that has some of the most expensive real estate in all of Nevada with a design that allows us to create a vertical community on the side of a mountain with views that can't be duplicated," White said.
"It's unlike the other side of town at The Summit Club (in Summerlin). That is more expansive around golf and single-family custom homes and some condos and is a fantastic project. Ours is going to bring an urban feel in a vertical integrated tower and create a sense of community in a suburban neighborhood. That excites us. We think that's where the world is trending."
Residents love luxury a la carte services such as getting their car detailed, dogs walked or an event catered so they can live another level, White said. That commands a premium that people are willing to pay for in addition to security, he said.
Four Seasons has trophy buyers of their properties around the world and expects that to be the same in Las Vegas, White said. There will be buyers who no longer want to live in a home with the hassles that brings and, instead, will want hotel-inspired amenities. Some people will live there full time. Others will spend four to six months in Las Vegas. Some will be investors.
Kristen Routh-Silberman of Douglas Elliman is the exclusive listing agent for the project.