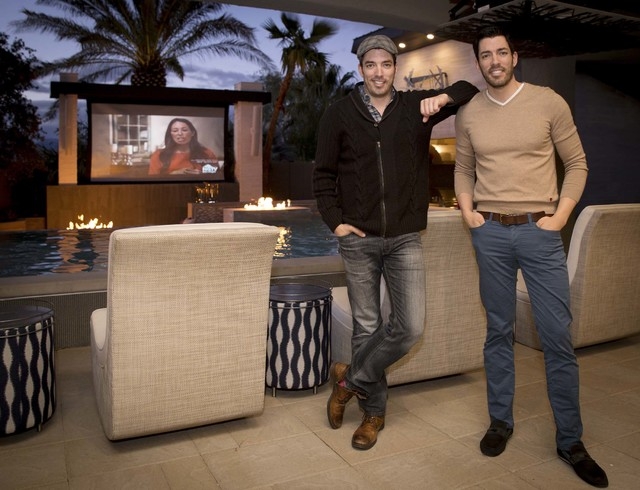 After five years of helping others realize their dream homes on four different HGTV shows, Las Vegas residents and rock stars of renovation Drew and Jonathan Scott have published their first book, "Dream Home: The Property Brothers' Ultimate Guide to Finding &Fixing Your Perfect House" (Houghton Mifflin Harcourt SRP: $30).
The pair appear on "Property Brothers," "Property Brothers at Home," "Buying and Selling" and "Brother vs. Brother," the last of which has been filmed here in Las Vegas for the past two seasons and has just wrapped up filming for airing in June.
If you're not familiar with the duo and don't have time to binge-watch every episode of their multiple shows, the book is a primer on everything necessary to decide if, how, when and why to buy, sell or remodel a home. It is well laid out with photo illustrations and the kind of information homeowners need to decide whether to either improve the home they have or sell it and move onto their next domicile.
Just as they appear in their multiple media outlets, the brothers banter convivially throughout the book. Drew is pegged as the fastidious organizer, and Jonathan is the one who can get comfortable in any man cave with enough space for his many plaid flannel shirts.
Although most of the shows are filmed around the eastern United States and parts of Canada, the brothers have undertaken multiple remodels in Southern Nevada.
In an email interview, Jonathan Scott told us just because our homes tend to be relatively newer doesn't mean they come with fewer headaches.
"Even for 'Brother vs. Brother,' Drew and I purchased very different houses built over 20 years apart, and both had different but equally financially jarring problems," he said. "We find more problems with homeowners who have done bad work or builders putting homes up too fast and cutting corners. I have purchased and renovated many houses in Vegas that I just wanted to do a light makeover on and ended up having to gut the whole place because the electrical, structural or plumbing were so bad. Many of the homes are also inadequately insulated, so that's something I always have to include in my budgets here. So regardless of where you are in the country, there are always various issues to deal with. That's why I recommend to clients that they research not just their city but specific neighborhood and see what they should expect," Jonathan Scott said.
The advice they offer is rooted in their pre-media lives as home flippers in their native Canada during their college years at The University of Calgary. The pair bought their first house, priced at $200,000 with a $250 down payment, renovated it and sold it a year later for a $50,000 profit.
Soon it made sense for Drew Scott to get his real estate license and Jonathan Scott to study construction and design, leading them to create a one-stop real estate enterprise. Eventually, they came to the attention of HGTV producers, who gave them a talent showcase on "The Property Brothers," their first series and one of the most popular shows on the network.
After many years working with many families to find and renovate their dream homes, they caution against undertaking a major renovation on a house when time is of the essence. "On TV, we often start the permitting process before the new owners have even closed on the property, which is why day one of work seems to start the day after the homeowners take possession. … Editing helps too. … Reality is harsh, TV is magic."
In the book they also explain how an entire home is bought and miraculously renovated in about six weeks or less. It's because they only show a few of the rooms completed, not the entire house, which is finished later, typically in 12 weeks.
The book details practical, easy-to-implement improvements they say will help maximize sales prices and before-and-after photos to illustrate their advice. Details include how high to place mirrors, what sizes standard replacement doors and windows are, and how replacing certain fixtures make a house seem to be better maintained.
They also offer enlightenment that many homeowners seem to lack when evaluating the condition of their houses, according to Realtors, such as when too many different types of flooring are too much: "If you can stand anywhere in your home and see more than two types of flooring, then there's something wrong. If you see four or more types of flooring, then the situation just got critical."
The book includes renovating advice like how to decide what projects you can reasonably take on yourself and what projects you should hire a licensed contractor for. Typically easy projects they suggest include removing a popcorn ceiling and adding a tile backsplash to a kitchen or bathroom.
For owners who have decided to move on, the brothers offer detailed advice on staging and pricing the home to make selling it faster and for the most money, including pointing out what you can't see or elements that could be easily overlooked, like a tankless water heater or energy-efficient windows.
For buyers, they caution, know your target neighborhood. If you're planning on flipping in Las Vegas, Drew Scott said, "we recommend always running the numbers and keep your estimates on the conservative side. We recommend when looking for an investment, buy something and fix it up so you can rent it out and plan to hold onto it for a good five years."
According to Drew Scott, "flipping is a difficult thing in Las Vegas because the margins are very low. There's not a lot of inventory so houses are selling, but you're not seeing a big demand in the mid- to low- priced homes. … Strangely the mega-mansion market has exploded in Las Vegas, and homes between $5 (million) and $25 million are flying off the shelves," he said.
They include a translation guide in the book to interpret commonly deceptive real estate terminology, such as "prestigious" equals overpriced; "natural landscaping" means no landscaping.
Whatever your residential plans are, the brothers hope their book will inspire you to go further with them. "You can do it!" they write. "You'd be surprised what you can accomplish with a positive attitude. One of our favorite sayings is, 'Doubt kills more dreams than failure ever will.'"