Couple builds LEED residence in Spanish Trial
November 23, 2018 - 12:32 pm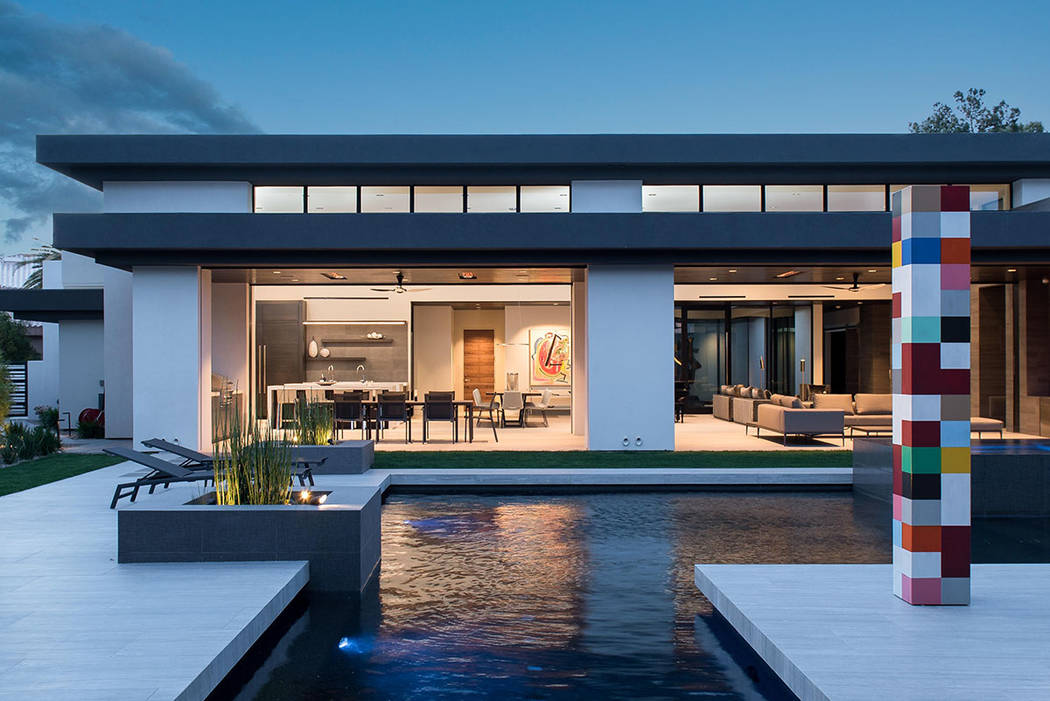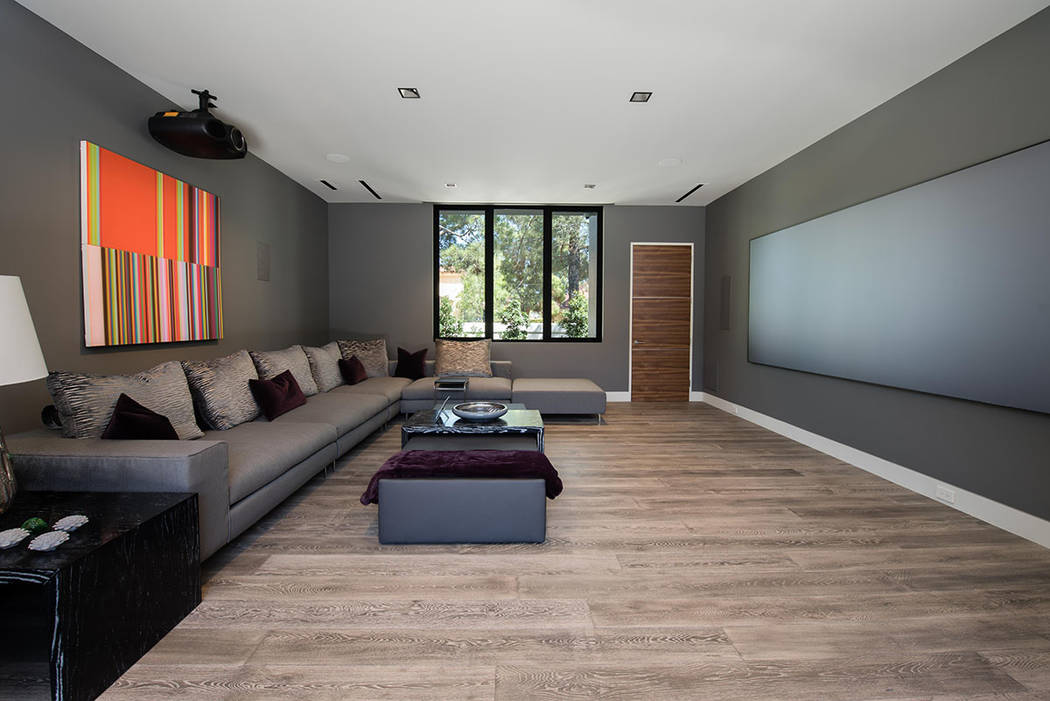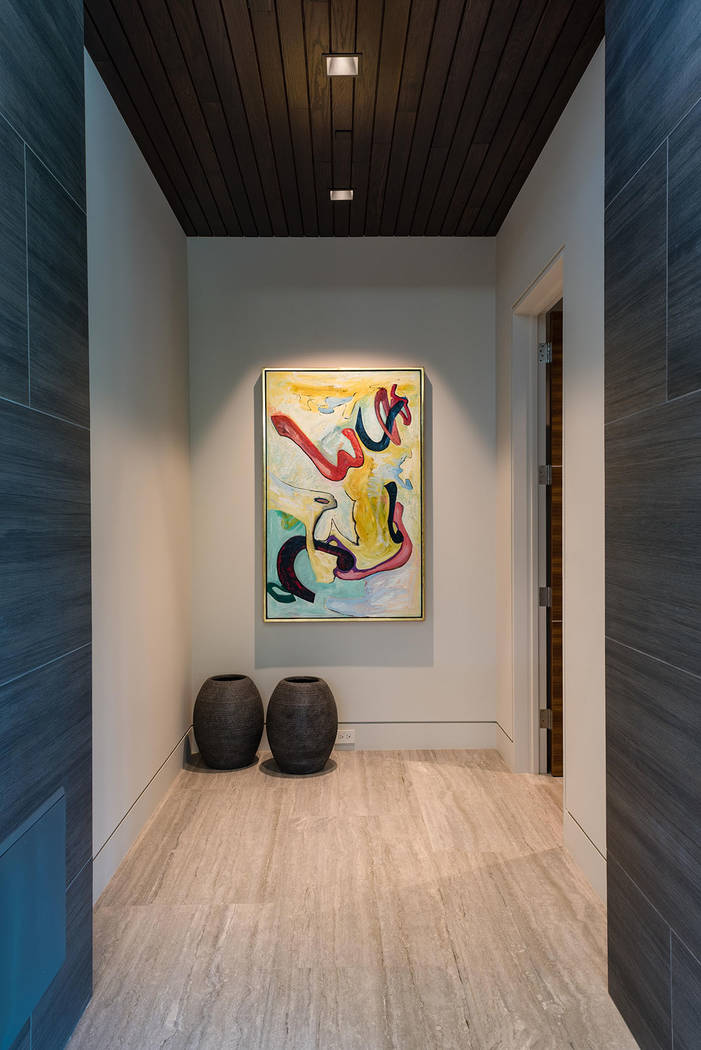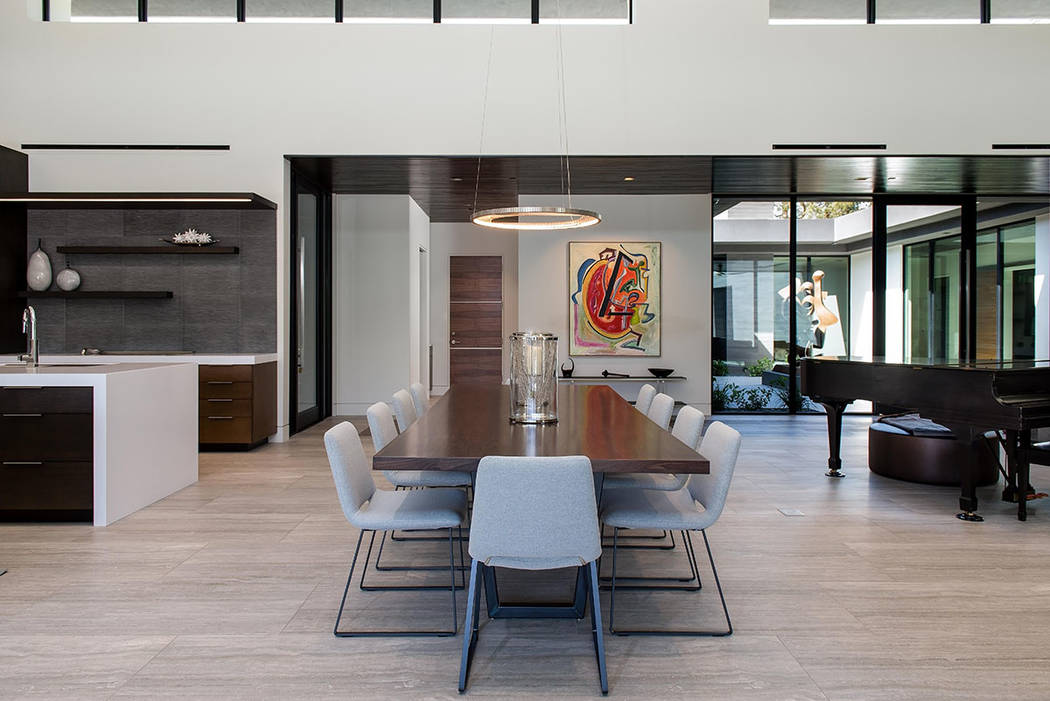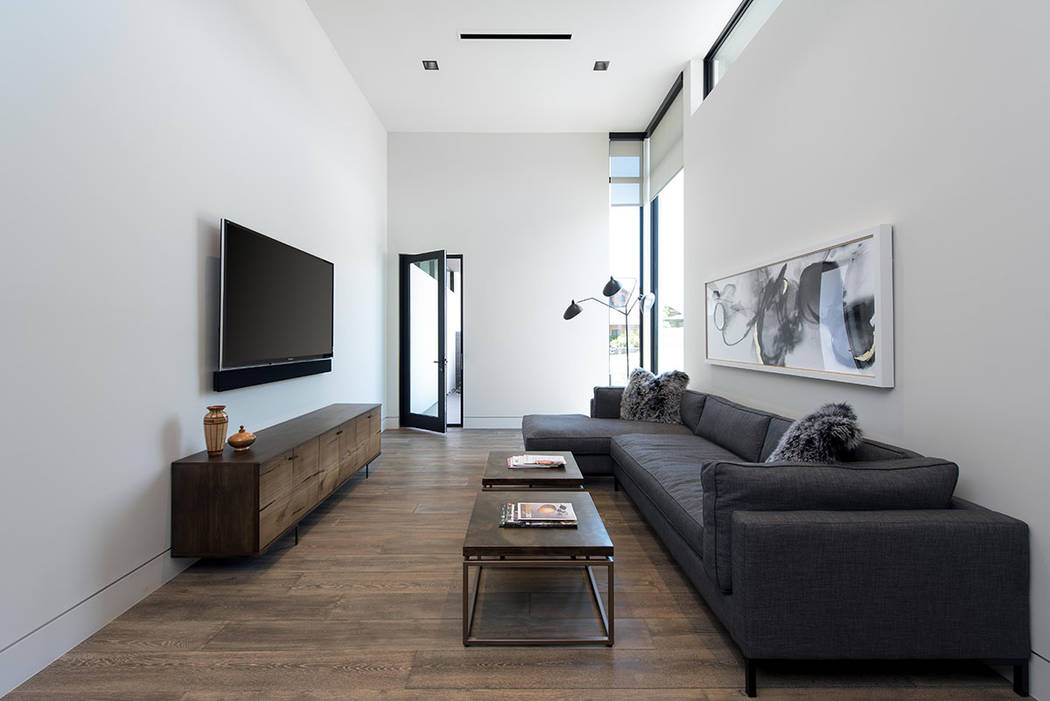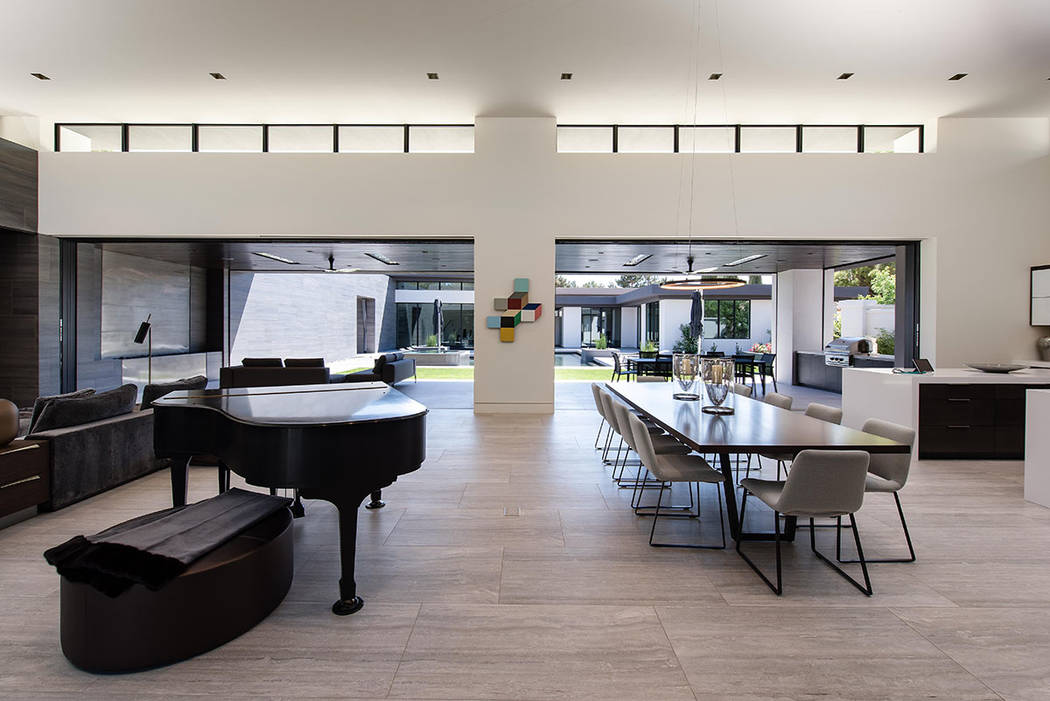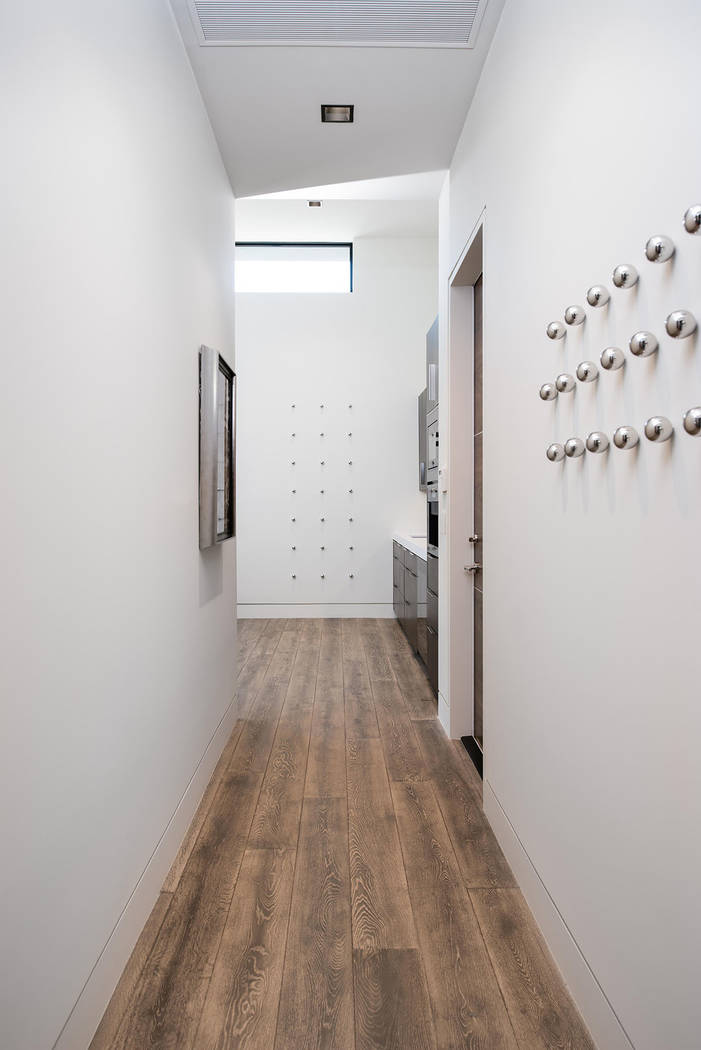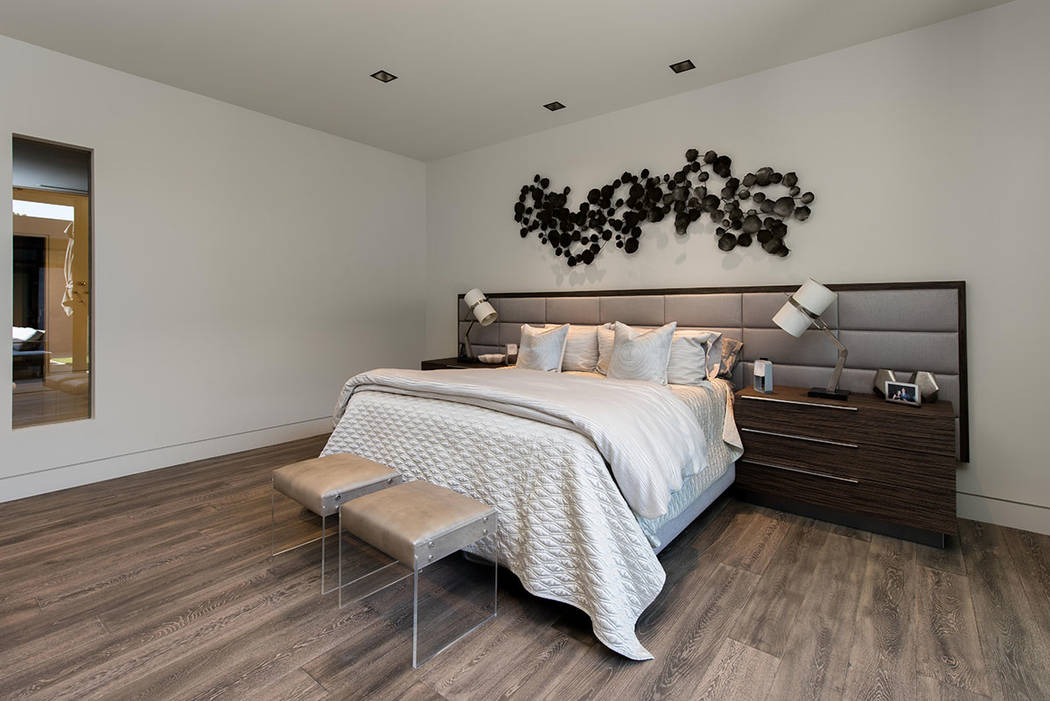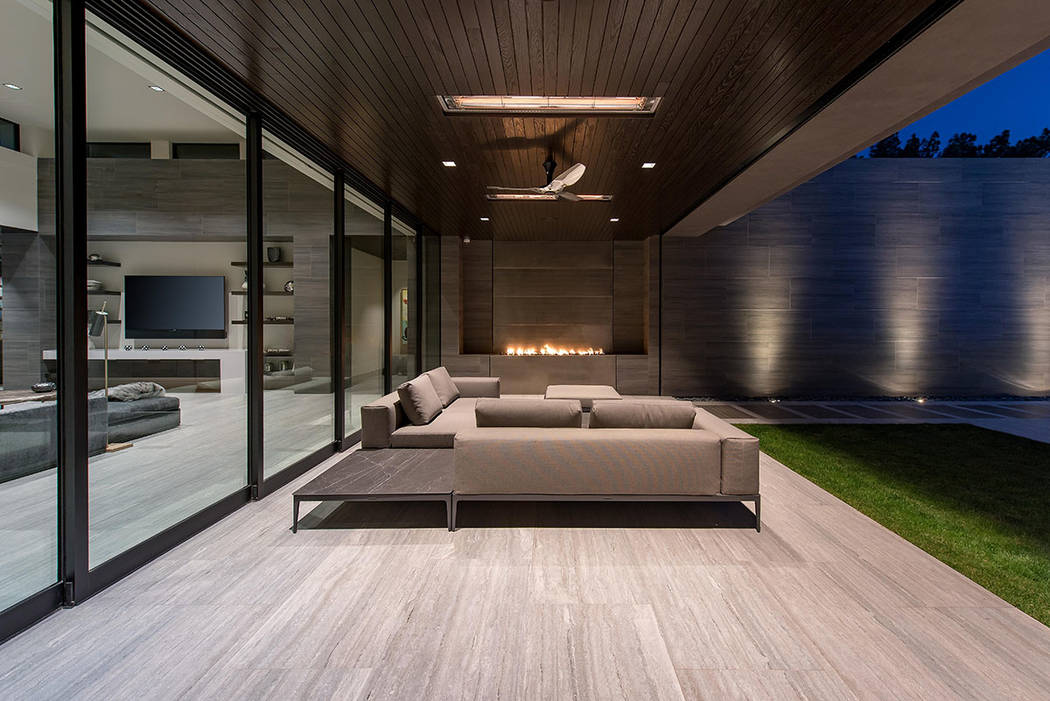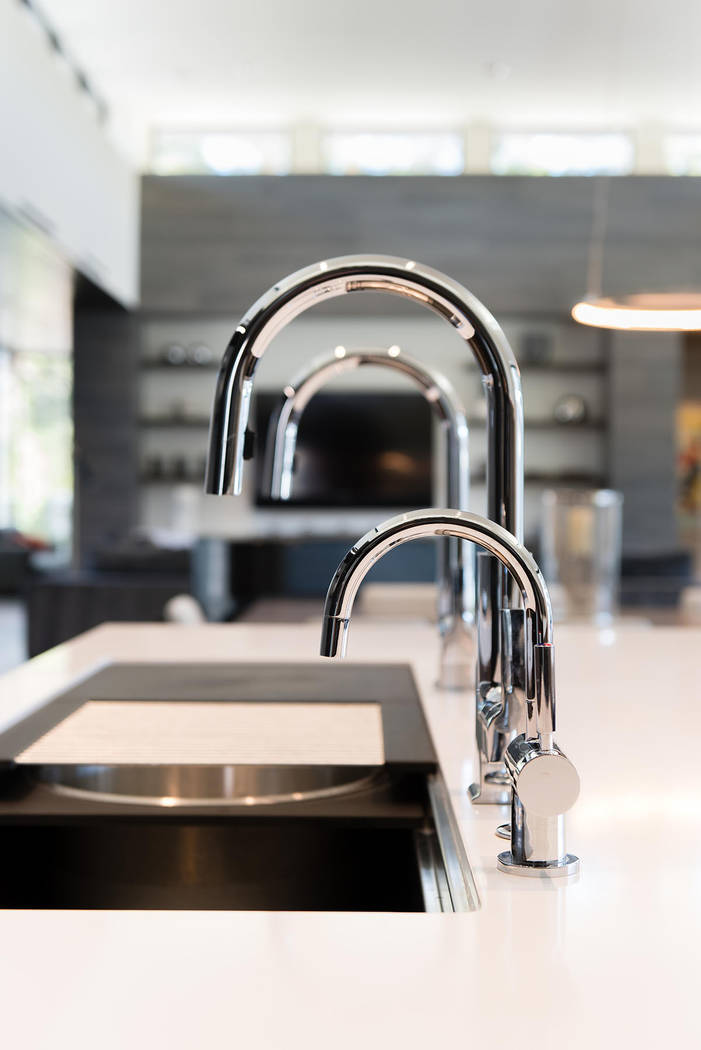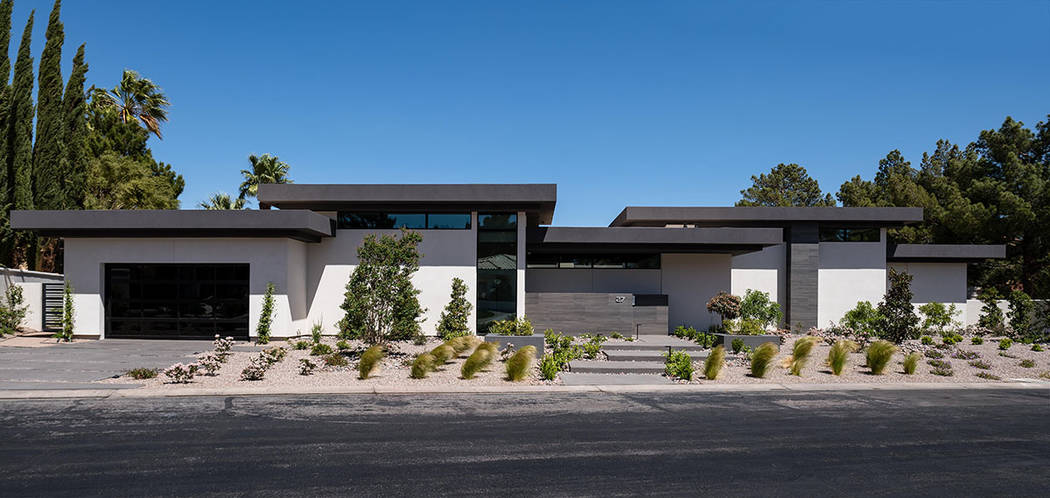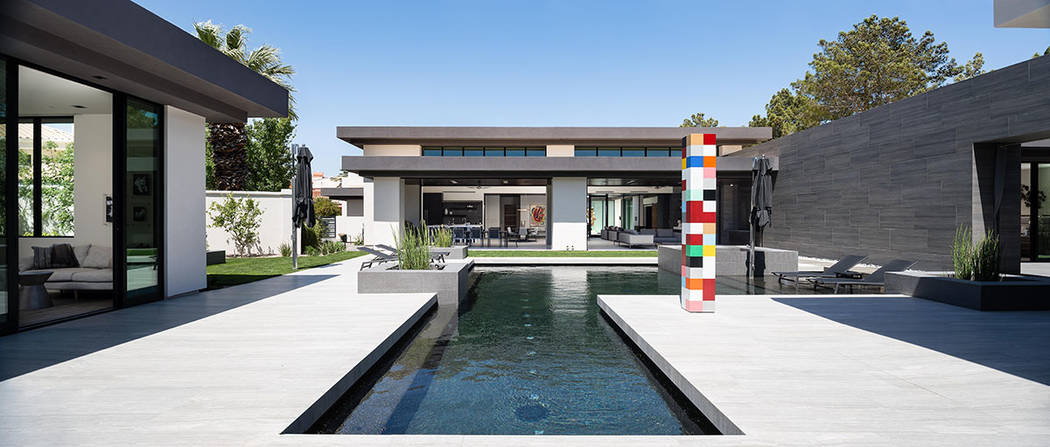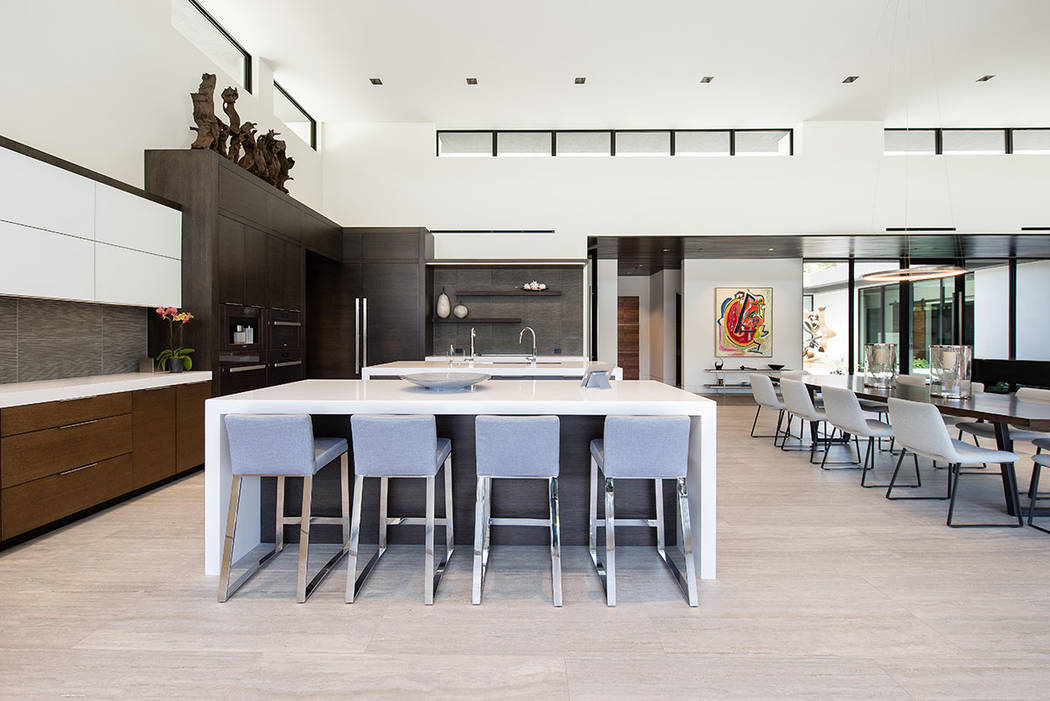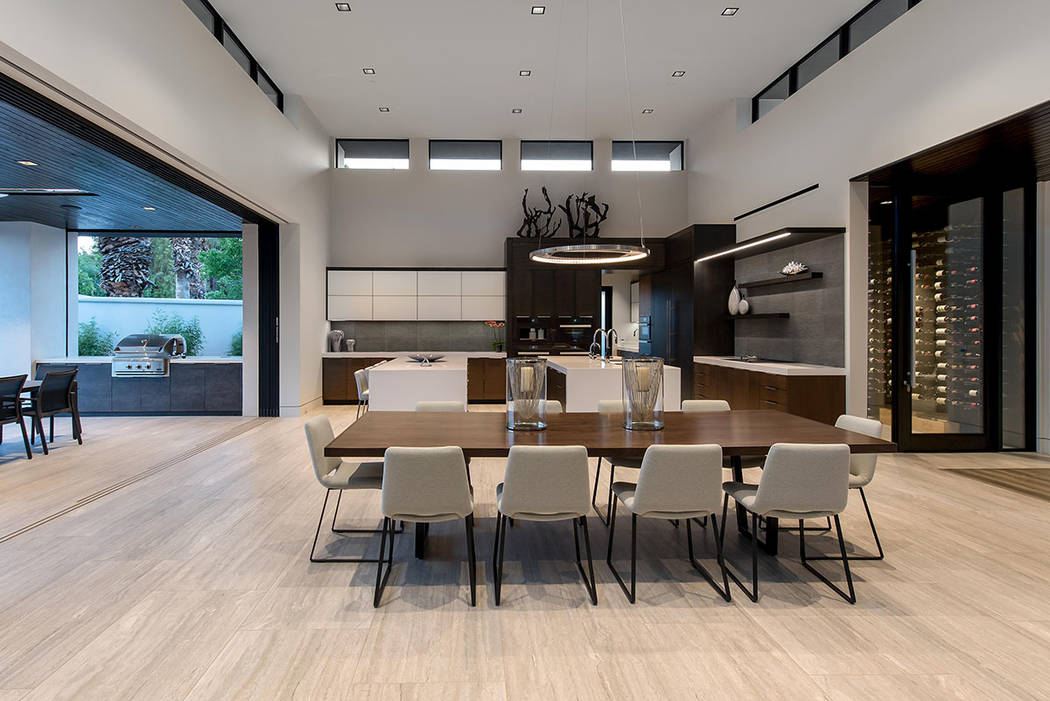 New home construction is rare in Spanish Trial. A modern design in the mature community really stands out, and one that embraces green, even more so.
The home is a project of Michael Gardner, principal of Henderson-based firm Studio g Architecture, and built on behalf of Jamie and Sara Costello, who have their own investment advisory business.
The home at 27 Burning Tree Court in the golf course community is one of about 70 Southern Nevada homes with Leadership in Energy and Environmental Design (LEED) designation, a national green building certification for energy-efficient design and construction, Gardner said.
Two lots, including one where a home was demolished, were combined to build the 8,120-square-foot, single-story residence, which includes three bedrooms, library, media room and wine room in one section of the property. In a separate structure there are two offices, gym and bedroom. A spa and pool are between the two buildings, and there's a four-car garage connected to the main house and separate two-car garage connected to the back house.
"The home was designed with a modern aesthetic, which is not common for a home in Spanish Trail," Gardner said. "The single-story design enabled us to make great use of the space and provided better opportunities for energy-saving elements. It's almost full doughnut-shaped. We wanted to maintain that privacy and this layering of space. Every space you are in is tied to the outdoors. That was one of the critical designs."
It was a challenge educating the homeowners association to get approval, Gardner said. Its members were reserved about doing contemporary, but they saw what's happening around the valley and knew Spanish Trail had to evolve, he said.
"We felt that one of the big challenges was in keeping with the design principles originally here but giving it that contemporary feel — that indoor-and-outdoor feel with large, expansive glass. That's why getting the property behind us allowed us to go to a single-story and feel more layered."
Unlike a lot of modern architecture around town, there are multiple rooflines in this home, Gardner said. The great room has an 18-foot ceiling, and there are five to six rooflines that pay homage to more of the traditional-style architecture. But the form overhangs and materials are more in line with contemporary modern design, he said. Gardner said the Costellos saw the value in building a LEED-certified home.
The home was built with a ventilation system that brings outdoor air inside to provide cleaner air, and there's indoor moisture control along with high-efficiency air filters to prevent allergens from forming, Gardner said. Sealing and insulation throughout the home helped offset the costs of heating and cooling. All materials used are nontoxic and sourced within a 500-mile radius.
"The homeowners wanted to ensure that only healthy, nontoxic construction materials were used throughout the home," he said. "A LEED home is put together with the goal of creating a healthy living space. We were able to create that environment by adhering to several criteria that encompass a green lifestyle."
Gardner started his firm in 2010 after moving to Las Vegas from California. He's been an advocate for more modern, green architecture over the Tuscan and Mediterranean style.
This level of green-home construction can add about 5 percent to the cost, and some of that is recovered in utility costs, he said.
Gardner was selected this year to design and build the 2019 New American Remodel, a 5,258-square-foot, state-of-the-art home debuting at The National Association of Home Builders International Builder's Show in February.
The Costellos, who grew up in Spanish Trail, lived in a one-story, three-bedroom home for 14 years. After Jamie Costello's parents died, the couple looked to remodel their two-story home, which measured about 6,000 square feet and was built in the 1990s.
"We wanted to keep the address from the family perspective, and we liked the neighborhood because we knew everyone in it," Sara Costello said.
Because there was an emotional attachment to the home, they had sought to keep the infrastructure but bring it up-to-date. It was too difficult to do in the end, especially when new construction can be done at a similar cost. Halfway through the planned remodel, the couple purchased the lot behind it; Gardner said that made it easier to build a new home, because there was only a 20-foot backyard. A remodel wasn't as conducive to indoor and outdoor living, he said.
The added land enabled a front courtyard and allowed the house to sit back farther from the street and be situated lower, Gardner said.
"I wanted a clean, nontoxic home that was healthier," Sara Costello said. "We wanted one-story and low maintenance, and privacy was a main driver."
Gardner said it was an exciting project as the only new contemporary home in Spanish Trail and the only home with two addresses.
Sara Costello said they chose a modern design because they liked its aesthetic appeal and the flow of the home.
Adding the lot allowed the home to stay on a single-story and feel more layered, Gardner said. Unlike a lot of modern architecture in Las Vegas, there are multiple rooflines on this property, he said.
"We have five to six different rooflines, which pays homage to more of the traditional style of architecture, but the form and overhangs and materials are much more in line with contemporary modern design."
A green home is something clients have to buy into, Gardner said. It's not about going to Home Depot and picking out products but spending time on research for the right products to achieve it, he said. They created a thermal envelope on the whole exterior of the home so heat doesn't enter.
Lumber was purchased from sustainable forests, and fly ash was added to the concrete, rather than aggregate and limestone. The drywall they used pulls toxins from the air.
Sara Costello said it didn't add significantly to the cost, and it's just a matter of people not requesting it from builders. There was a lot of homework to find the right products, she said.
The most expensive portion of the project was putting in the right windows and doors, she said.
"We have all south-facing glass, and you don't feel the heat and the patio is covered," Gardner said. "You can do things to help compensate. These high transom windows allow the natural light, but you are not getting the sunlight directly."
The courtyard was installed to add privacy because there's so much glass in the house, and they didn't want a glass door as an entrance, Sara Costello said.
The courtyard acts like a central light well, rather than relying on "old-school skylights," Gardner said.
"There is no formal foyer in this house, and so the courtyard is your meet-and-greet space where you can go out and greet people," Gardner said. "The home starts there and not at the front door that everybody is used to by tradition."
There's a bifurcation between the public and private spaces, with the master bedroom and guest suites off their own hallway, Gardner said.
"We made sure every room has its own bathroom for a true guest experience and making sure it was generous in size to have a king bed so people can feel comfortable and it's a nice space to be in," Gardner said.
The library is one of the favorite rooms in the house, with one side all glass as part of a den-like retreat. There's a sense of privacy.
"You will see with a lot of our work that layering is very critical," Gardner said.
"We're trying to maximize square footages," Gardner said. "The home ended up with no more than 20 to 25 feet of hallway, and that allows us to have a bigger great room and more generous master bedroom and larger closest space that's important to the homeowner."
Element Building Co. was the general contractor. Sage Design Studios was the landscape architect. Greenscapes of Nevada was the landscape contractor. Two Trails was the sustainable building consultant. Taney Engineering was the civil engineer. HPA Consulting Engineers was the plumbing and electrical engineer. Comfort Engineering Inc. was the mechanical engineer. Rim Rock Engineering was the structural engineer, and Amore Interiors did the interior design.