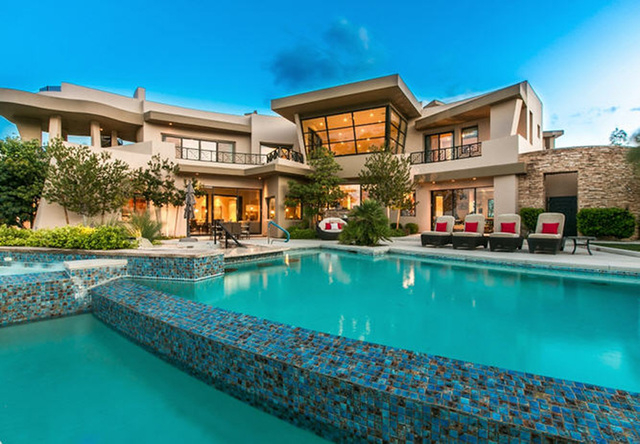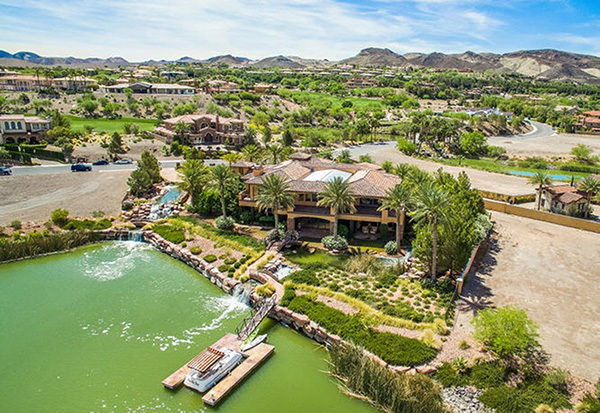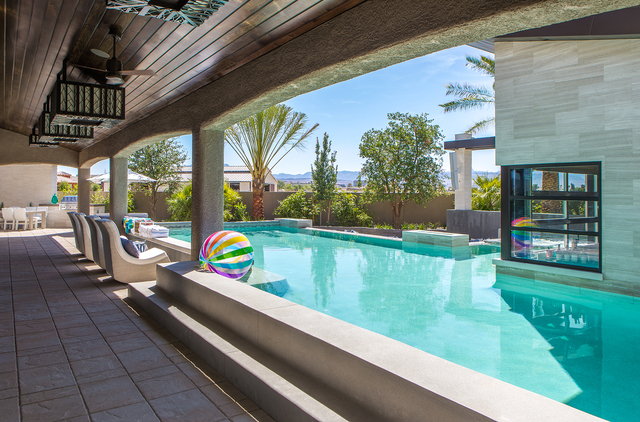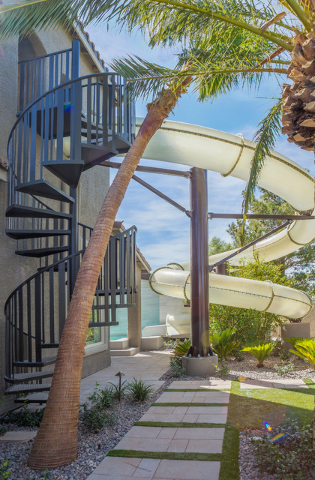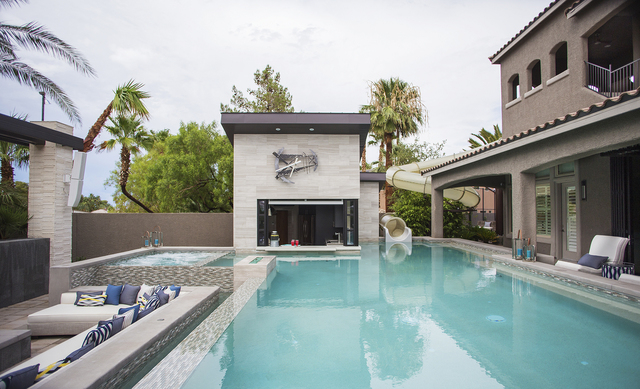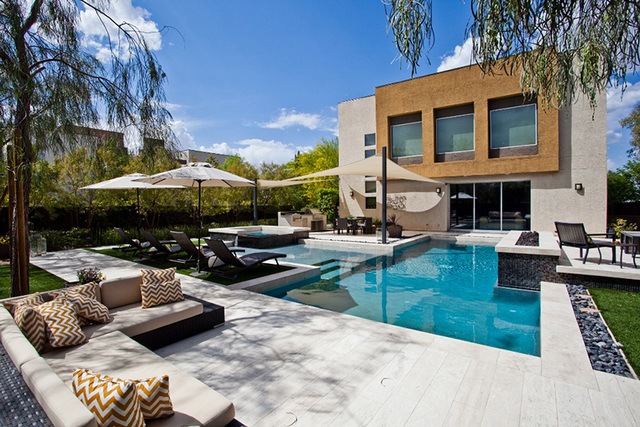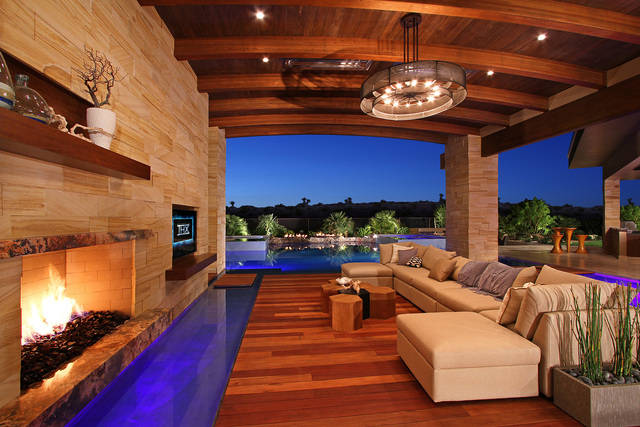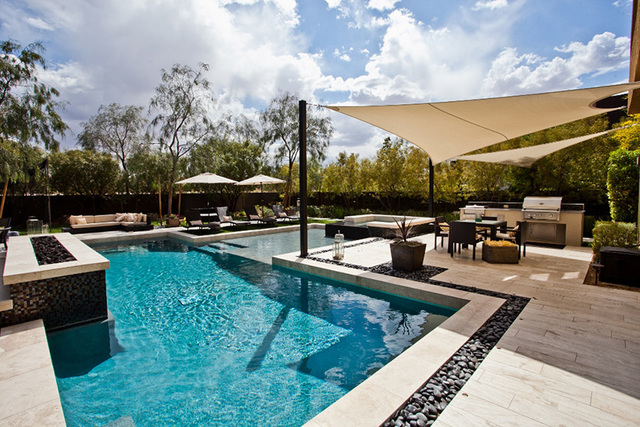 With Las Vegas enjoying a mild spring, al fresco living feels especially appealing these days.
The latest trends in pool and landscape design are all about finding new ways to bring the indoors out, while maintaining a sleek, contemporary look, Realtors and builders say. Luxury homeowners are diving into pools with dramatic features, from water slides to infinity edges, while amenities like outdoor kitchens —once confined to the high end of the market — are becoming widely popular.
A 3,800-square-foot modern, Blue Heron retreat in a small luxury enclave in the southwest valley exemplifies the movement. A glass panel wall in the living room slides open, offering access to a T-shaped pool flanked by smooth pavers, channels filled with loose stone and a water-efficient artificial lawn. Three separate seating areas on multiple levels, an elegant oblong fire pit and a putting green combine to give the yard a resort-like ambiance. A shallow wading area takes up one arm of the pool, while a shade sail swoops over a dining area with kitchen island.
The home, listed at $1,149,000, also offers a roof terrace reached by a circular outdoor staircase, with a fireplace and Strip views. The maximization of exterior space makes the home feel larger than its square footage would suggest.
"It's really not just about the backyard, but creating that indoor-outdoor feel in all areas of the house," said the listing agent, Robyn Yates of Windermere Real Estate. "The look is very youthful and sexy. Everyone wants this lifestyle — young buyers, retired people."
Wealthy homeowners are becoming more adventurous with their water features, said Gordon Miles, president of Berkshire Hathaway HomeServices Nevada Properties.
"The pool is not just for swimming anymore; it becomes a focal point of excitement," Miles said. "Everyone wants a mini-Bellagio in their backyard."
A $17.5 million home Miles' company is listing in Summerlin's The Ridges includes a spectacular waterfall that cascades from the second story into the pool below. At another recently sold property, a lazy river perfect for inner-tubing wound around the home, Miles said.
HGTV stars Jonathan and Drew Scott, of "Property Brothers" fame, obtained a special county permit to build an 18-foot, commercial-scale water slide at their personal home in Spring Valley.
The slide comes off a second-story turret and loops around some trees before landing in the pool.
"It's exactly what you would see at a water park, and man, is it fast!" Drew Scott said by email. "Originally, I did not want the slide but Jonathan really wanted it. In the end it was definitely worth it. We have created a staycation destination."
More common than eye-popping details like these are pools with vanishing edges, light-emitting-diode lights and solar heating. Salt water pools are becoming more popular, landscape designers say, as are clearwater filtration systems that purify without the use of chlorine or salt.
And it's not just about the pools. From outdoor dining rooms to backyard movie theaters, and even open-air sleeping areas, if you can do it inside you can do it outside — especially in Las Vegas' warm climes.
"The majority of my clients' outdoor kitchens are better than their indoor kitchens," said Damon Lang, owner of design-build firm Green Planet Landscaping, which provides a one-stop shop for outdoor projects.
Lang has built outdoor tandoori ovens, pizza ovens, and an outdoor bar with a built-in ice rail to keep drinks cold. Simpler patio kitchens are becoming more common in moderately priced homes in the $300,000 to $500,000 range, Miles said.
Bathrooms with exterior entrances have become de rigueur in luxury homes, said Yates, joining the list of other must-haves, such as a beautiful pool and landscaping, covered patio and privacy or views.
A yard that hits all these high points can add between $75,000 and $100,000 to a home's value, depending on the size of the pool and space, Yates said.
Landscape designers are continuing to eschew grass in favor of desert-friendly alternatives, including native plants and, yes, those artificial lawns.
"My clients are becoming educated and realizing how low Lake Mead is and the issues we have with it," Lang said. "I'll come to their homes and they'll say, 'We want grass, but we want the fake stuff,' whereas before I really had to show them the samples and discuss why they should consider doing it, how much money they'd save."
You don't need grass to create a lush backyard, said Dennis Vang, a local landscaper who consulted on the Property Brothers project. "The key is to get those green plants that you know do well in the desert and layer them, then add a spiky plant to give it that textured look," he said. "The ocotillos and saguaros that people think of when they think of desert landscaping don't actually grow here. I've been able to use rows of barrel cactuses to get that same contemporary, clean look."
More tips from Vang: "Plant smaller plants up front, larger in the back. If you've got a smaller backyard, if you can plant a vine on the back wall instead of a shrub, which takes up space. Don't skimp on the irrigation."
He recommends fertigation systems that release fertilizer with the water, keeping roots healthy and saving water in the long run.
Designers are also experimenting with shapes and materials to achieve a more sophisticated feel. Travertine pavers are hot, as is porcelain tile. Lang uses large, 12-inch-by-18-inch pool tiles, both for aesthetic reasons and because they are easier to clean key in a region with hard water.
Materials like porcelain can transition easily from indoors to out, Vang said.
"Porcelain is so diverse — you'd swear it was real stone," Vang said. "There's a whole spectrum of colors and it seems to be very durable in the desert."
Las Vegas homeowners expect a lot from their outdoor spaces, because they're inspired by the stylish environments they see at resorts and dayclubs here in town (and in the case of luxury consumers, worldwide), Miles said.
"As people go out and experience that indoor-outdoor concept, they want to enjoy (it) in their backyard," he said. "They go to someplace like Drai's and see the incredible job that's been done and it influences their design."
Then there are those only-in-Las-Vegas requests, like the combination stripper pole-table that Lang built for a recent client. "She wanted a stripper pole, and I said, 'You're supposed to be picking out a table.' She said, 'Well, figure it out,' so we had to custom-build something that was dual-purpose."
Now that's an amenity you won't find in every backyard.
Outdoor Living in Vegas: What's In and Out
In
Rectangular pools
Clean lines
Outdoor living rooms with fire pits and TVs
Outdoor beds
Window walls
High-tech systems and apps to control pool temperature, music and irrigation
Synthetic lawns
Edible gardens
Out
Misting systems
Stand-up bars
Fake lagoons and grottoes
Dry river beds
Tuscan-style formal pools