Lucky Dragon CEO puts home on market for $6.9M
February 7, 2017 - 8:50 am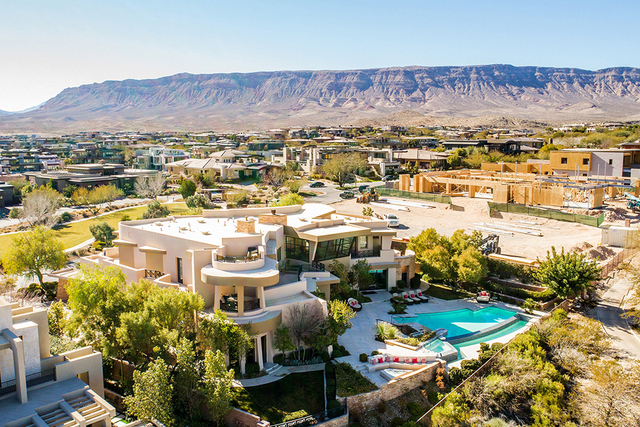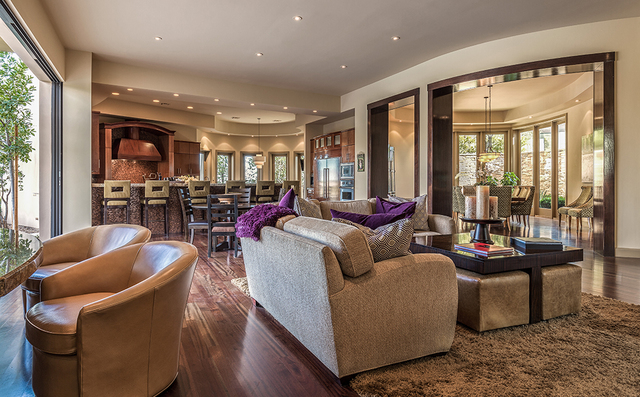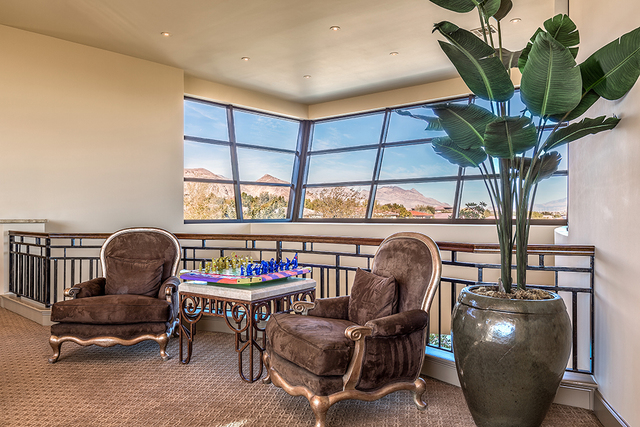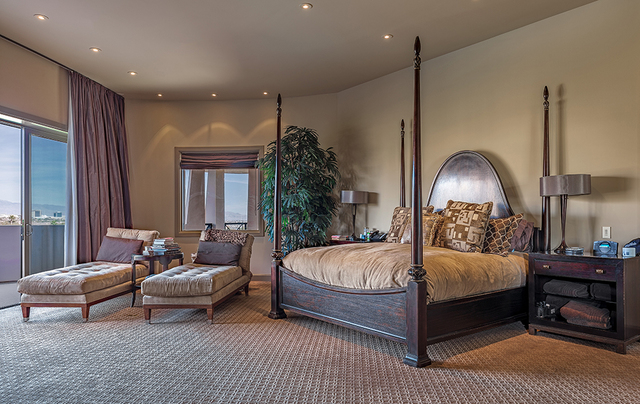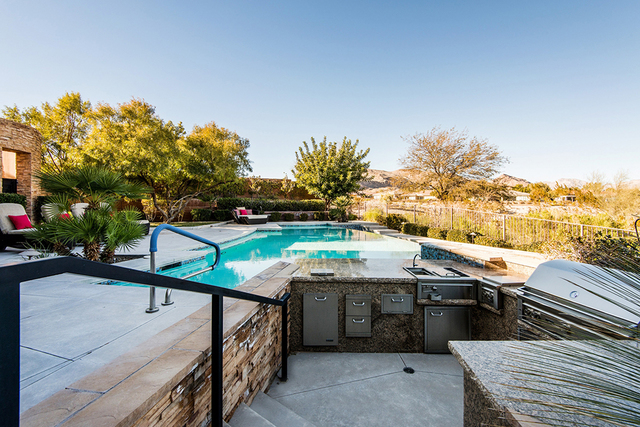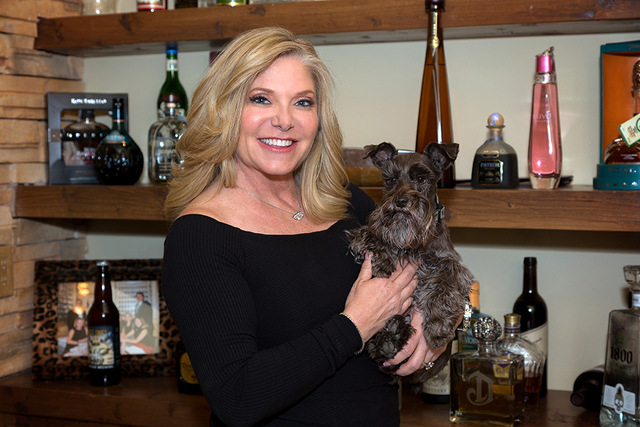 During the 1980s when Las Vegas was a much smaller community, Andrew and Jodi Fonfa met, married and worked hard at their respective careers. By the time the new millennium arrived, they were successful enough to build their dream house in The Ridges of Summerlin.
Jodi Fonfa is CEO and President of the Miss Nevada Scholarship Organization. She is a long-time fitness industry professional, starting as a UNLV Rebels cheerleader "back in the Tarkanian days," she recalled. She cultivated an A-list clientele, including Bette Midler and Sharon Stone, whom she trained during the filming of "Casino." She met her husband teaching at the old Sporting House, which in the '80s was the swankiest health club in town. "We got married in '87 at the Tropicana Hotel, which was 'the island of Las Vegas' at the time," she said.
Andrew Fonfa is CEO and managing partner of the new Lucky Dragon on the Strip. The casino is adjacent to The Allure condo tower, which Fonfa developed a decade ago and is now approximately 90 percent sold. He was successful in selling many Housing and Urban Development Department homes before switching to commercial real estate.
Their first home was in the Las Vegas Country Club; their second in Tournament Hills. Then they heard about an up-and-coming community called The Ridges.
"We chose to build in The Ridges because we knew the value was going to be here," Jodi Fonfa explained, and because of her husband's background in real estate sales, they selected a lot with golf course, city and mountain views. "Because we got in on the ground floor we were able to pick one of the best lots they offered."
Because their kids are now ages 20 to 25, the Fonfas have decided to put the house up for sale, Jodi said. "I have mixed emotions about leaving here. We built it. It was our dream home. We raised our kids here."
They live in the Arrowhead subdivision, which Jodi Fonfa said is great. "What I really love about it even more than Promontory (Point) or some of the others, which are all beautiful is that it's just one street, so there's a little community here."
It has just one wide street ending in a cul-de-sac, and has a center parklike area directly across the street from their house, giving it a more spacious feel than some other parts of The Ridges.
She also believes the surrounding area "is so well-developed. It's not patchy, everything you need is right there," she said, including Club Ridges, a community center with workout facilities where she used to teach. Membership in it is included with the association fees, according to Realtor Mary Thomas of Berkshire Hathaway Home Services, who has the listing. "It's a great value because most communities you have to pay for clubhouse and amenities at an extra cost, for example, Red Rock Country Club next door," Thomas said.
The house was built in 2007 with a design by architect Tom O'Neal that included no straight angles, just feminine curves and masculine lines uniting to present a happy desert dwelling. An ultrafine, smooth stucco on top and stacked stone base complete the façade.
The six-bedroom, six-bath house has a clean, contemporary design, with a nicely mixed desert landscape palate, including an array of vegetation at various heights and a dry creek bed. A dotted pergola provides partial shade over the front door. Visitors enter through a low front gate with an X pattern that is repeated across the patio railings.
Not only does every bedroom have a balcony, the one at the master bedroom wraps around half the house and provides a 360-degree view. A smaller third-story balcony faces the Strip. Its black iron, spiral staircase leads from it down the side yard. "We are one of the few homes that was approved for a third-story balcony with a 360-degree view," Andrew Fonfa said. "We were grandfathered in. The Ridges banned them many years ago," he said. This is their gathering spot during the many fireworks displays Las Vegas offers.
The home's entry area is a circular base; a two-story foyer with a stained concrete floor flowing outward to a mahogany hardwood in the adjacent areas. Your options at this point are to sit down, go left to a downstairs bedroom suite with office, go right into the family room and kitchen, or step down into the nine-seat media room.
The second-floor landing is a light-filled retreat with north/south windows slanted about 30 degrees for energy conservation. On one side are three bedroom suites where their children Brett, Evan and Haley, who work in the family business, currently live.
The master suite is on the opposite side. It includes a separate office with built-in cabinets and a door directly from the bedroom, with shared fireplace. A dumb waiter is built into the home, from the garage to the master bedroom's larger closet, which is large enough to be a bedroom and is filled with Jodi Fonfa's beautiful wardrobe, naturally.
The backyard is designed for entertaining and play. In fact, the couple host many parties for the Miss Nevada Organization, and can accommodate a 100 people and a 16-piece orchestra. The infinity-edge pool bumps against a sunken swim-up bar and has built-in seating.
"It's an amazing party house. We have had many, many dinner parties here … with cocktails by the fire pit, looking over the golf course toward the Strip," Jodi Fonfa said.
The combined family room and kitchen are excellent for entertaining as well, with multiple seating areas and a bar. Right next to it is the dining room, which is lined with full-length windows and French door to the side yard.
A small exterior courtyard near the front door leads to an 800-square-foot casita with fireplace, full kitchen, stacked washer/dryer and bath and a walk-in closet. It has a private entrance.
The couple is debating where to land next after they sell this house.
"I have a feeling we're going to work on getting the penthouse at The Allure," said Jodi Fonfa. "We have a place on the 40th floor, but the 41st-floor penthouse that we're thinking about has 360-degree views of the city. Plus, we can roll out of bed at be at work, which would be nice. And now that our kids are moving out, we might be able to enjoy more of the nightlife the city has to offer."
They're also considering buying in the new golf-course community, The Summit, which will be close to Red Rock Canyon. In a joint venture with The Howard Hughes Corp., California-based Discovery Land Co. is developing the ultra-luxury 555-acre country club community in Summerlin.
"There's a possibility we might build a one-story at Summit, but I'm not really feeling it," said Jodi Fonfa. "I think we need to have some fun at the Strip for a while."
About The Home
• Price: $6,888,888
• Location: 32 Painted Feather Way, Arrowhead, The Ridges of Summerlin
• 0.64 acre, 9,818 square feet, 5.5 baths, six bedrooms, plus office; one-bedroom casita with kitchen.
• Features: Every bedroom has a balcony, bath and walk-in closet; dumb waiter, third-story balcony with a 360-degree view, four-car garage, soundproof home theater, infinity-edge pool and casita. On the 15th green par 3 of Bears Best Golf Course
• History: Owner built in 2007
• Listing: Mary Thomas, Berkshire Hathaway Home Services, Nevada Properties