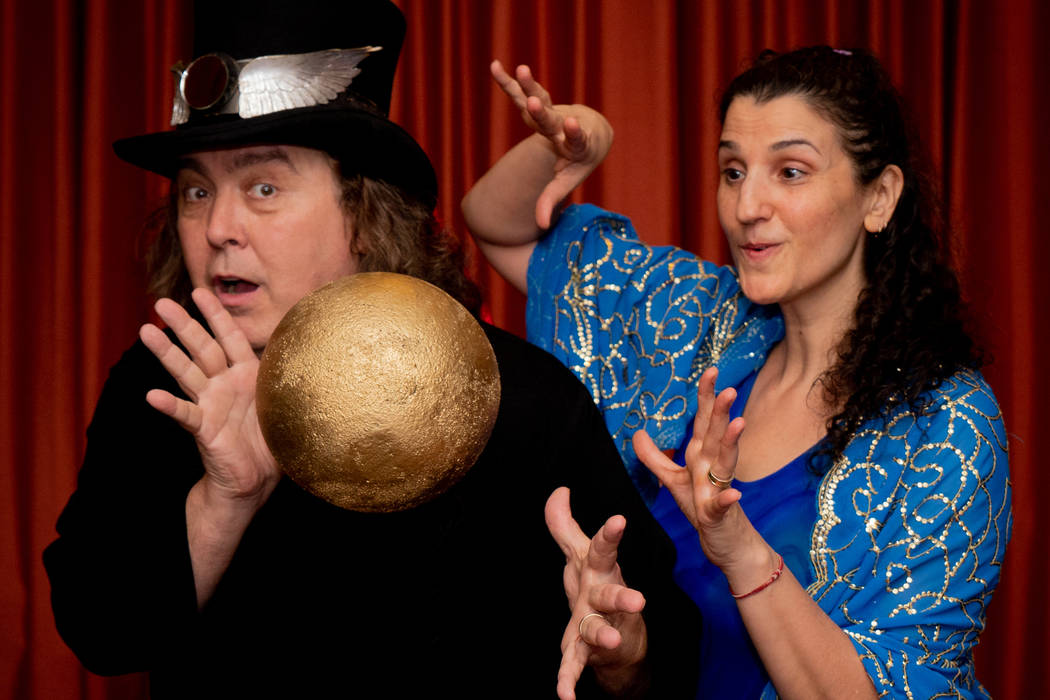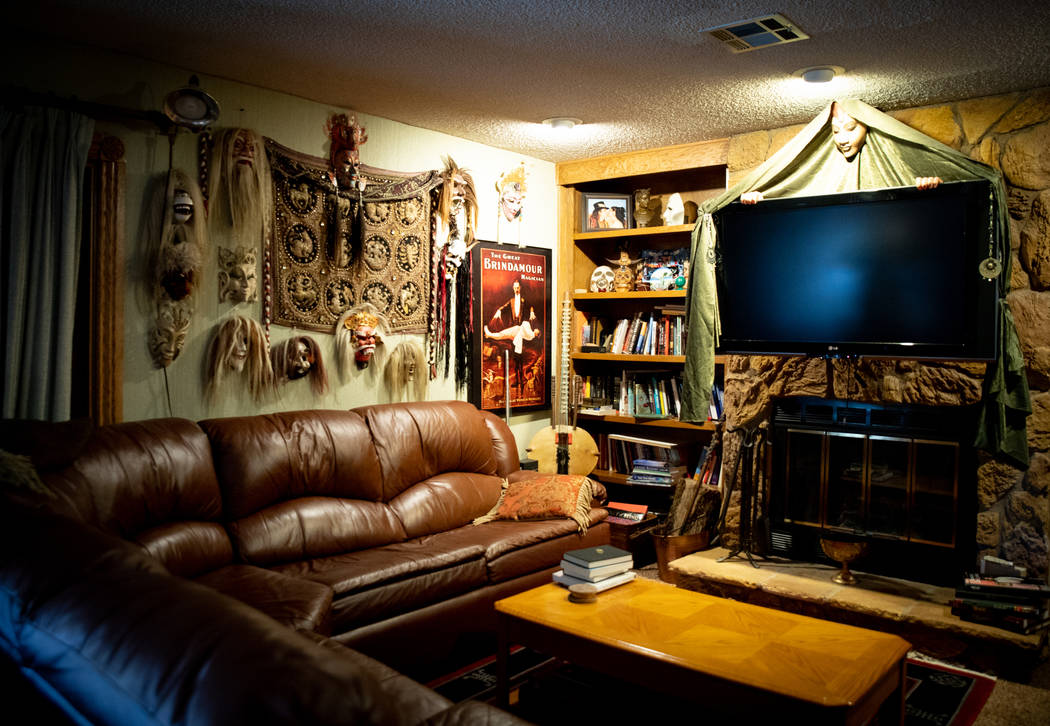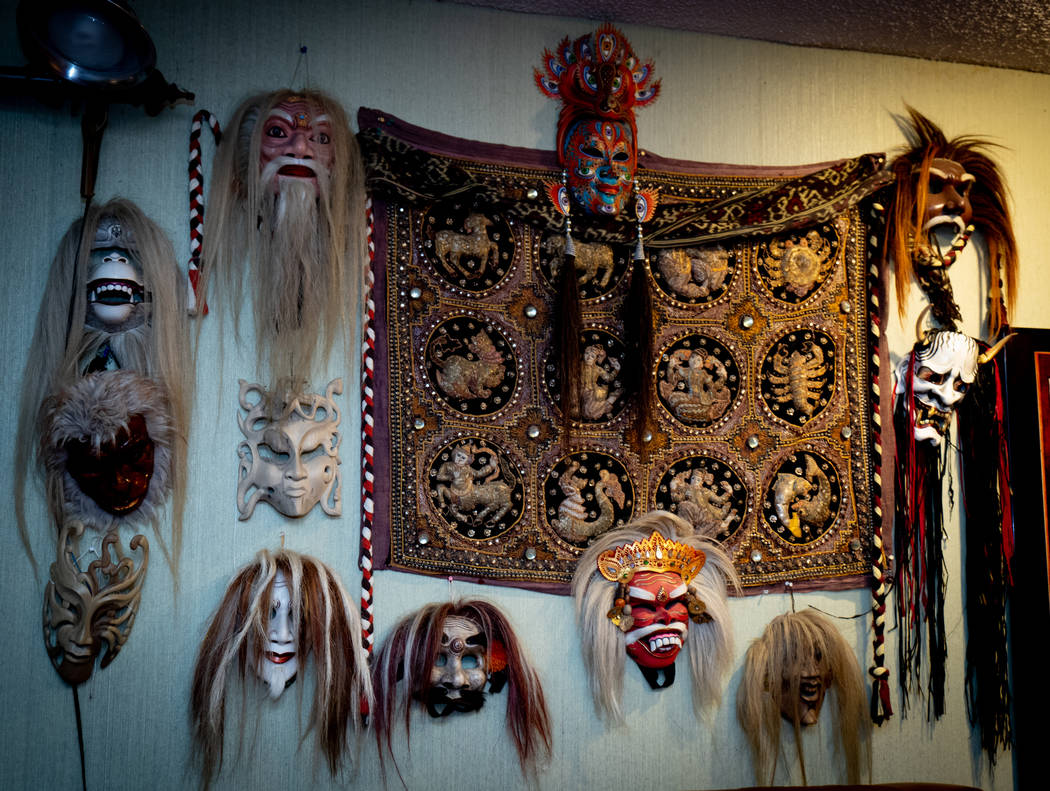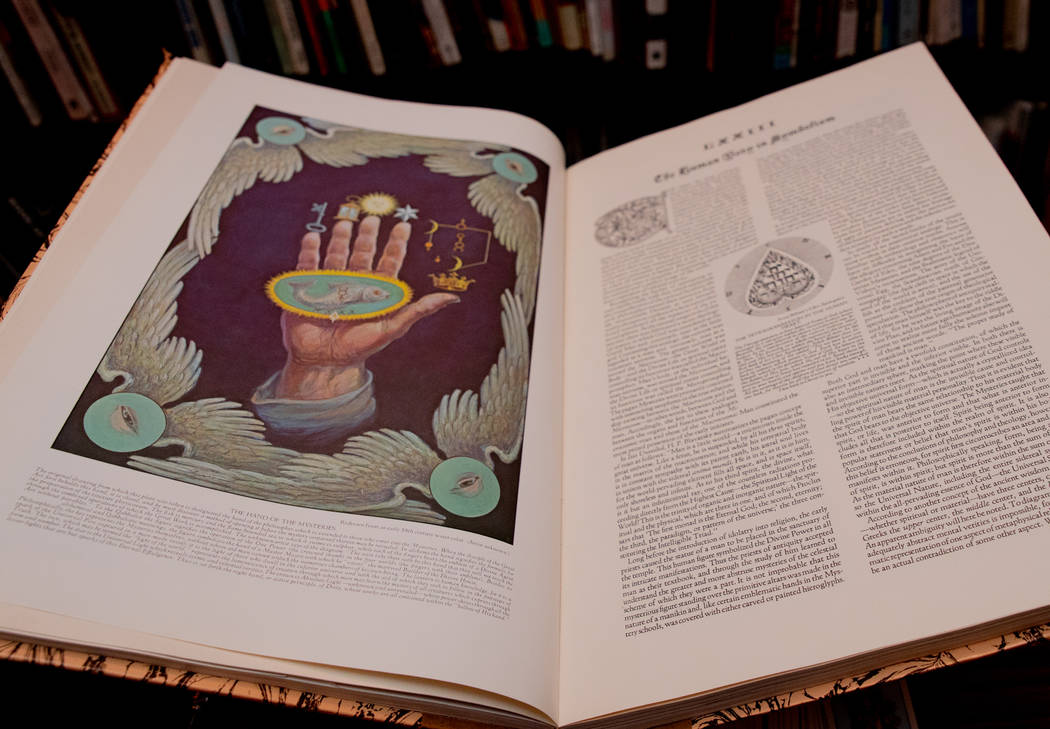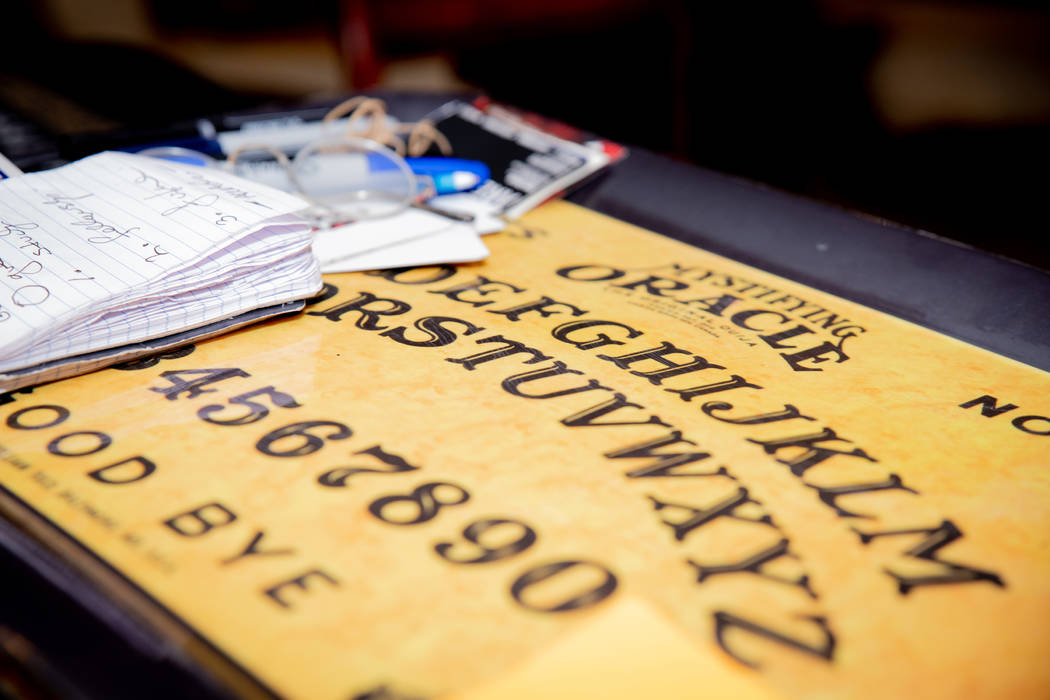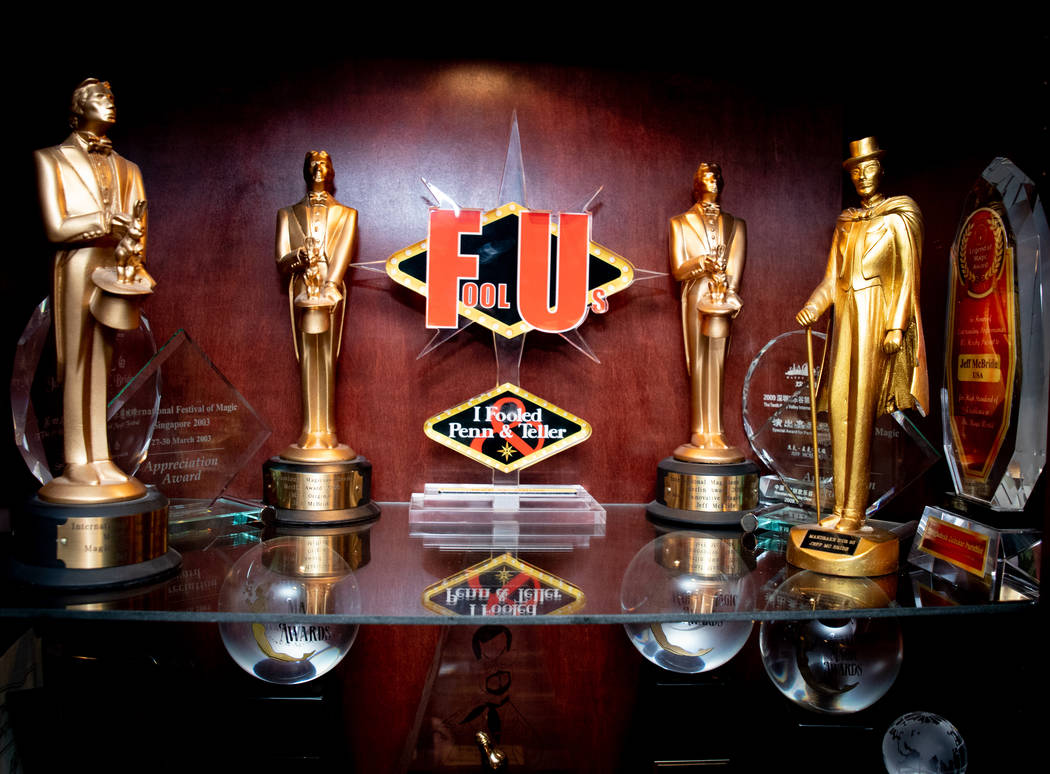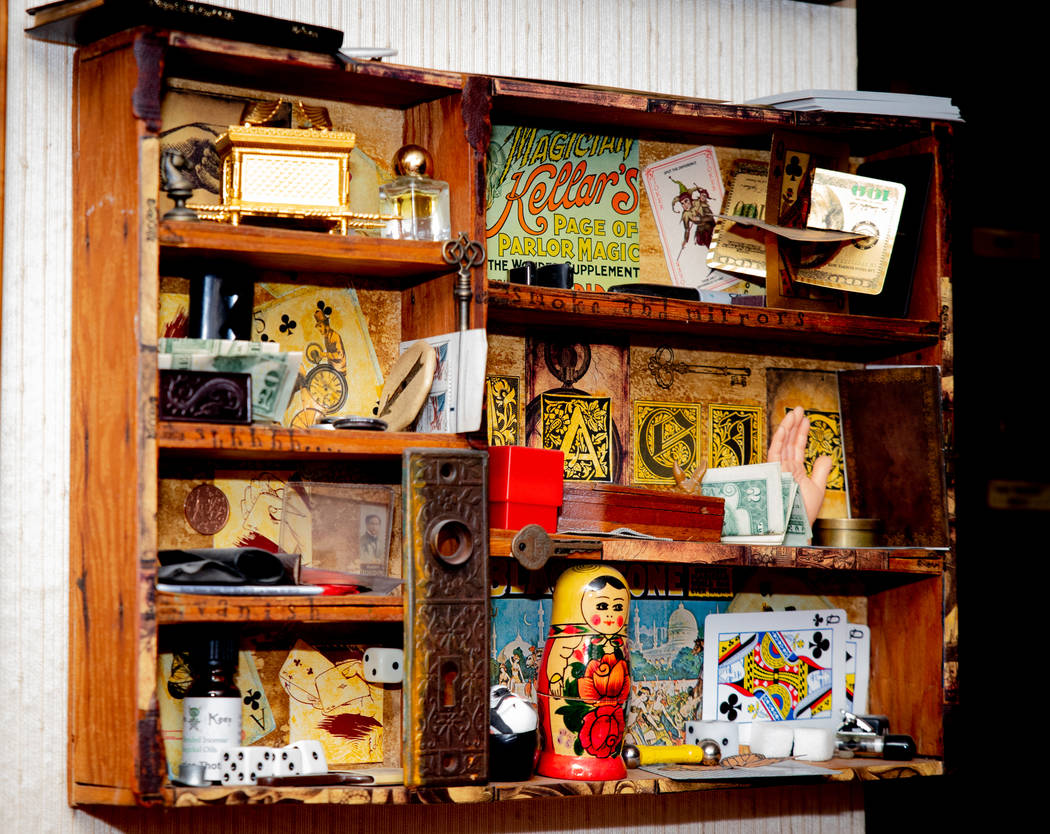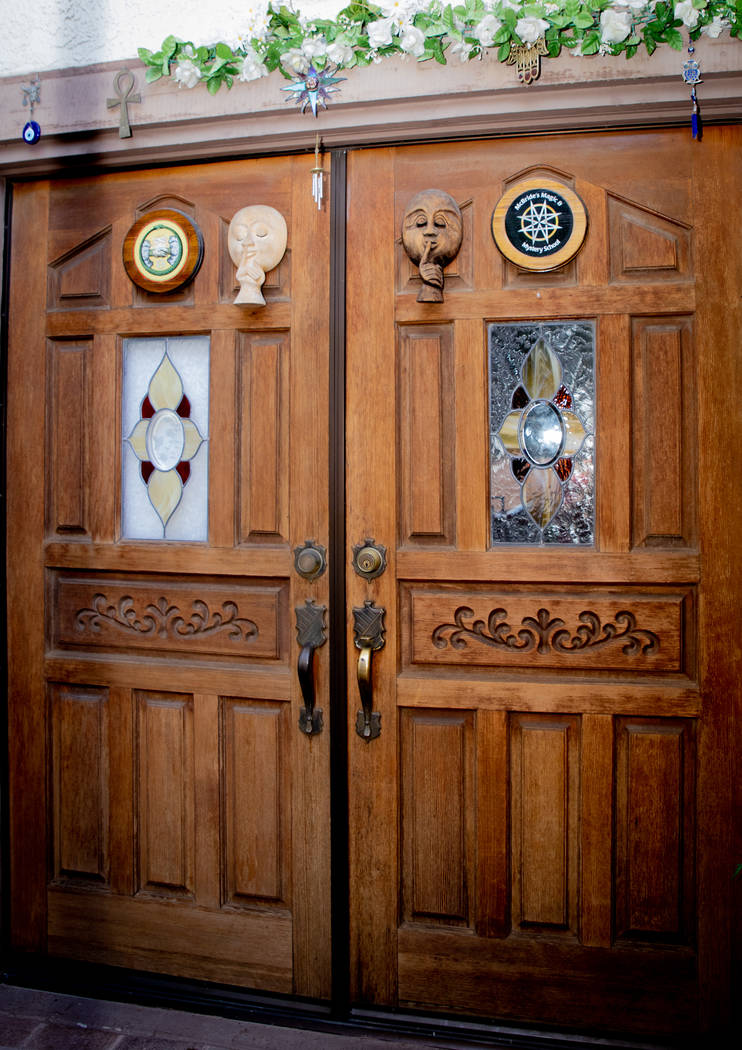 Master-illusionist Jeff McBride, who conducts extracurricular training consultations with both aspiring magicians and seasoned professionals, describes his eastside house in Shadow Hills as a museum of magic.
From the street, it projects the curb appeal of a TV sitcom family home (more "Addams Family" than "Modern Family"), featuring a large front lawn, a bushy olive tree and an oversized stained glass window. But that's just an illusion. Upon closer approach, the presence of some strategically placed "mystical" objects signal you are about to enter a cave of enchanting magical energy.
McBride and his wife and assistant, Abigail, have turned it into a creative sanctuary — sort of a think-tank for performance artists. Their visitors have included Strip headliners Lance Burton, Mat Franco, Criss Angel and David Copperfield.
What would be a dining room in a typical home serves as a stage in theirs, where an "audience" seated in the adjacent living room may be treated to an impromptu performance of McBride pulling cards seemingly from nowhere, demonstrating his forte — the ability "to pull magic out of thin air, and how to take the invisible and make it visible," he said. "That's magic."
To facilitate performances and videotaping, no light comes through the windows, which are completely covered by custom painted cloth shades.
There's another stage in the backyard flanked by two Chinese pillars from "The House of Mystery," a gift from Franz Harary, an internationally renowned magician. To one side is an oversized waterfall with soothing sounds that can be heard from the master bedroom. In the other corner rests a huge black statue — a woman with a lion's head, Sekhmet, "an Egyptian goddess related to magic and transformation," explained Abigail McBride.
From the vaulted entry to the backyard, the house is filled with treasures the couple found on trips to Asia, Europe and in Las Vegas stores. A round iron light fixture in the entry came from the now-defunct Odyssey store years ago. "I thought it looked like the type of fixture Merlin would have in his entryway," Abigail McBride said.
Their living room furniture is made from redwood trees, "the parts that are unusable to sell as lumber," Jeff McBride said, and treasure chests under the chairs are "filled with magic."
Every wall space is covered with masks or framed posters and artwork related to magic, mythology or show business. There are framed show reviews, along with certificates from the Guinness Book of World Records. Many of the items used for décor around the house do double duty in his shows.
He entertains at corporate events, theater festivals, magic festivals and on TV shows, including "Masters of Illusion" and "Fool Us," the Penn &Teller summer series that challenges magicians to pull the wool over the Rio headliners' proverbial eyes in order to win a coveted chance to perform with the duo and take home a nifty trophy proclaiming "I fooled Penn &Teller." McBride got his own "F U" trophy in the 2017 season.
But the real showstopper is the secret room behind a "pocket bookcase" that retracts to reveal a two-story addition the couple built. Its first floor houses their vast magic collection, and it is where Jeff McBride holds his training consultations. It contains many magic books, "the shrunken head" of "an agent who didn't pay us" and a poster from the movie "Bride of Chucky." The room also has a set of cabinets holding "the world's largest vintage magic collection" that was donated to the school by the partner of Ray Goulet from Magic Arts Studio in Watertown, Massachusetts, after he died.
"Archives of a lifetime of magic that have been passed down for us to share with future generations," Jeff McBride said.
The second floor, accessed by a separate staircase, is a wood-floored, mirrored dance studio used by Abigail McBride, a massage therapist and belly dancer. It holds the drum she uses in her group's performances, which includes the monthly magic club showcase "Wonderground," held at The Olive Mediterranean Grill and Hookah Bar.
"It's kind of like a jazz club for magicians," Jeff McBride said, where you can catch major Strip performers and international variety acts refining new routines. "It's the best kept secret in Las Vegas. We don't advertise, because it's always full."
From the studio, a pocket door leads into a guest bedroom with an Indian-style tapestry strategically draped and tacked to the ceiling to create a canopy above the bed. Like the second guestroom, both were designed to be quiet and dark.
"Guests say they're so peaceful and calming, and they sleep better here than they do anywhere," Abigail McBride said.
The master bedroom has an en suite bathroom featuring peacock wallpaper, walk-in closet, meditation space and roomy balcony overlooking the outside stage. Its centerpiece is the unique bed frame made from a fallen cherry tree from a friend's backyard. The friend made it into the bed, which Jeff McBride brought with him when he moved here, but the friend had to come along to assemble the numerous pieces together.
Jeff McBride bought the three-bedroom house in 1997, abandoning his rehearsal studio and magic warehouse back in New York City. It's full of writing spaces and has books everywhere, even on a bathroom shelf. Like many artists' homes Real Estate Millions visits, there is a noticeable absence of televisions in this one. The sole TV in the family room isn't even connected to any type of receiver.
Much of the original art collection they commission from local artist Joshua Levin, including a painting collage of 75 different comedians called "The Trickster." Everyone from Shakespeare to Russell Brand is represented. McBride uses the painting to engage visitors in a mind-reading trick, having them select one of the depicted comedians and ultimately guessing which one they chose.
The homes in the neighborhood appear to be well-tended. The lot is almost a quarter acre, or larger, as are the others. (Now, there's a magic trick we'd like to see him master! Reverse the county zoning requirements to be a quarter acre or larger for single-family homes.)
The couple profess to love Halloween, or "Samhain" in Celtic, Jeff McBride said. Visitors who drop by Oct. 31 can expect to receive a trick, not a treat.
"In this town, a trick can lead to a career," he said.
He should know, having parlayed a Catskills gig into opening for Diana Ross at Radio City Music Hall, followed by performances at many top Vegas venues, worldwide teaching and performing tours and performing for President George H. W. Bush. He also had a guest starring role on TV's "Star Trek: Deep Space Nine." A few months ago, he received the David Devant Award, an international honor for his contribution to advancing the art of magic.
These days McBride is content working as a performer and training new generations of talent to carry on the secrets he has learned through decades of practice.
"I have many magic students all over the world that I consider my children," he said.
The couple look forward to continuing their world travels, both for adventures and to treasure-hunt, he said.
"The house is a museum to magic, and for the past 50 years I've been involved in magic, and I keep adding pieces to the collection."