Outdoor kitchens a must for extravagant Las Vegas homes — PHOTOS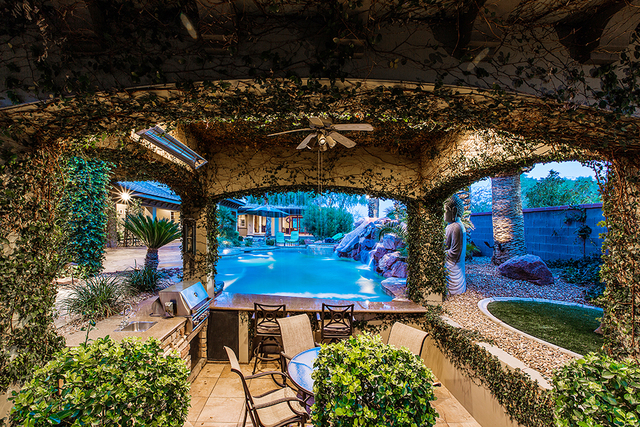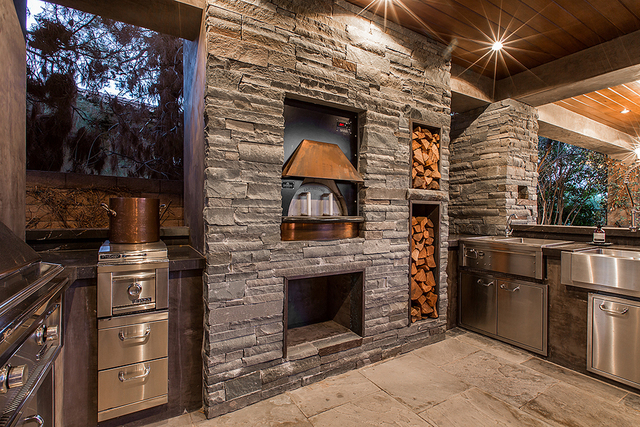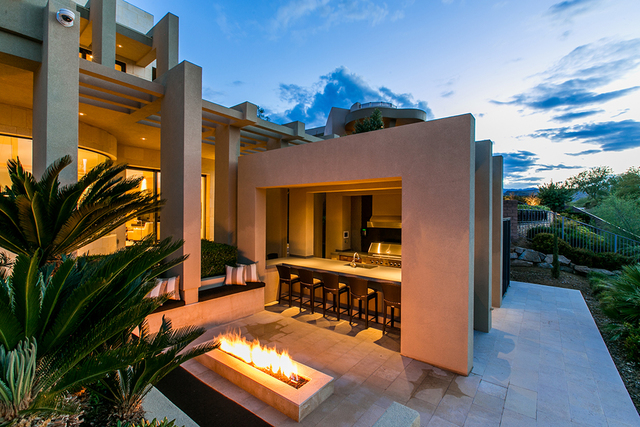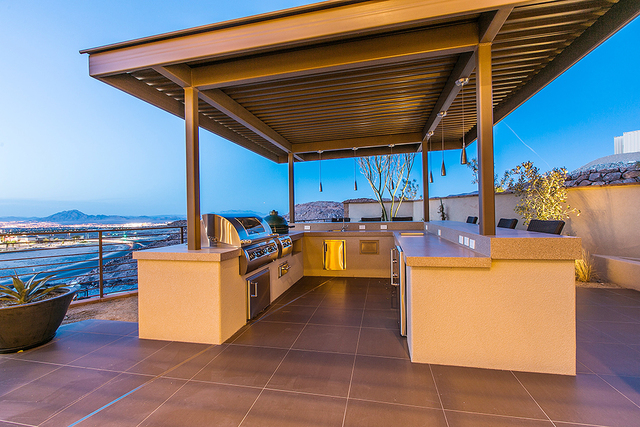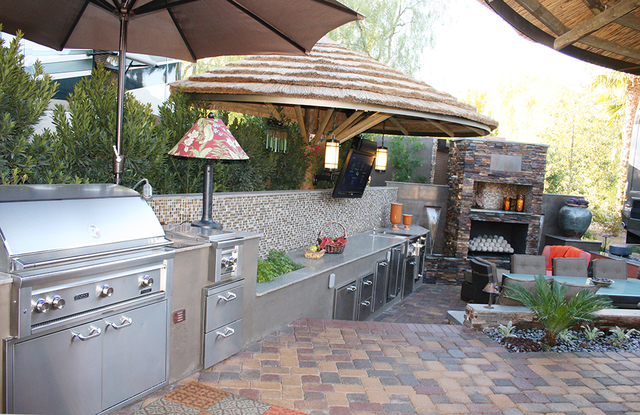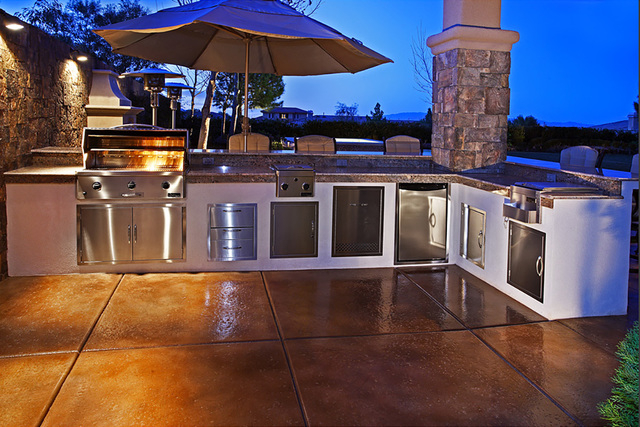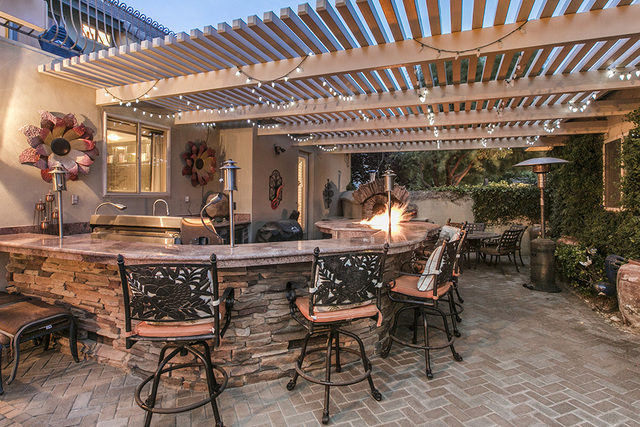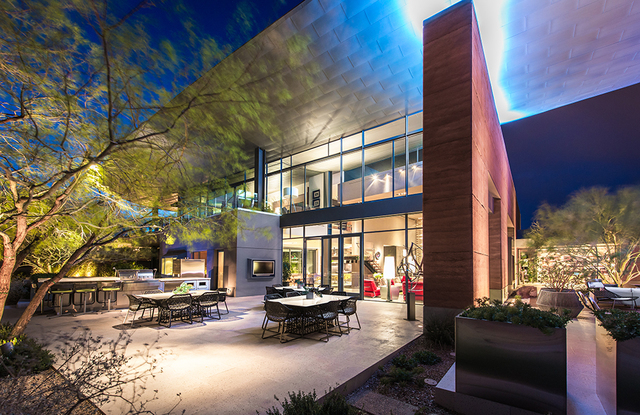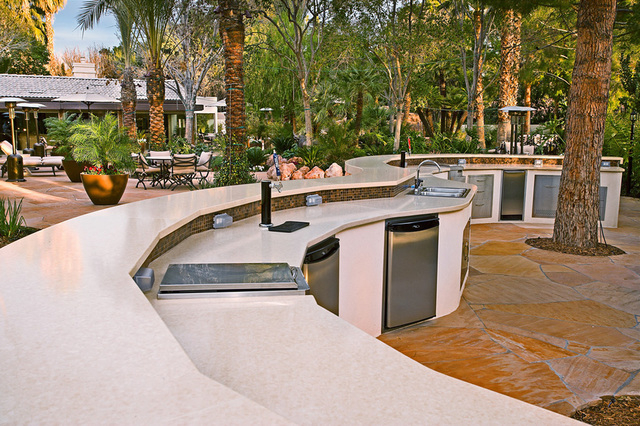 It's hard to find a luxury home in the Las Vegas Valley that's not equipped with an outdoor kitchen.
"Any high-end home has an outdoor kitchen," said Florence Shapiro, partner and luxury homes specialist at Shapiro & Sher Group, Berkshire Hathaway HomeServices, Nevada Properties. "It's an in-and-out way of living."
Shapiro said homes now often have disappearing windows and doors that open up the home into the outdoors.
"It's becoming easier to make the outdoors part of the house," she said. "They have living rooms outside, which makes having an outdoor kitchen perfect because you're able to serve food outside and enhance the in-out way of life."
Many of the homes for sale through the Shapiro & Sher Group boast outdoor kitchens that include a barbecue area, two sets of gas ranges, microwave and full stove.
"It's a complete kitchen outside and they use it often," Shapiro said. "Some even have televisions so their whole life happens outdoors."
Terence Thornton, kitchen and landscape designer at Las Vegas-based Laguna Pool & Spa and Landscaping, said nearly 80 percent of the homes he designs have an outdoor kitchen.
"When I'm talking to clients I always tell them how much easier outdoor kitchens are to cook and clean because once you're done cooking you can pull out the hose and clean everything up," he said. "Outdoor spaces are conducive to entertaining."
Thornton said outdoor kitchens can range in complexity from a grill and some counter space to three to four grills, side burners, sinks, built-in pizza ovens, a refrigerator and storage drawers.
"I'm seeing more people want to include sinks and kegerators to keep beer cold," he said.
Thornton added that he anticipates higher-end materials such as granite, travertine and glass tile to be incorporated in outdoor kitchens in the future.
"It's so much more convenient to cook outside especially in the summer when you don't want to turn on the stovetop in the house and want to be able to watch your kids while you cook," he said. "It also encourages people to get outdoors more and enjoy it. Creating a great outdoor space often costs much less than creating indoor space."
Casino architects Jon Sparer and John Klai have an oversized barbecue area, two-burner cooktop, a set of warming, refrigeration and freezer drawers, as well as recycle compartments and a wood-burning pizza oven in their outdoor kitchen at their mansion in The Ridges in Summerlin.
"(The outdoor kitchen) was part of the whole overall house project, which took nine years to design and construct," Sparer said. "My husband and I design resorts all over the world and we met weekly with a global architect for our home for over eight years so we overthought everything, which is really evident in our outdoor kitchen."
Sparer added that his outdoor kitchen has a custom stainless-steel sink with multiple compartments, which can be filled with ice and hold a commercial-size pan for salads or other cold food.
"It allows us the flexibility when hosting big parties," he said. "We do a lot of entertaining and host a lot of fundraising events at the house and it's always fun to see it being used by professionals."
The pizza oven, Sparer said, is one of the highlights of the outdoor kitchen.
"We're two guys who love to cook outside and the pizza oven is one of our favorite things to use when we have friends and family over," he said.
When it comes to designing an outdoor kitchen, Sparer has a few pieces of advice.
"Don't be afraid to do things outside that you'd normally do inside," he said. "It's great to have everything there when you're cooking and have special bins for recycling and warming drawers to keep things warm while you're cooking."
He added, "I also definitely recommend getting a pizza oven. Though you think you probably wouldn't use it, you'll be amazed how many times you do."
Contact reporter Ann Friedman at afriedman@reviewjournal.com or 702-380-4588. Follow @AnnFriedmanRJ on Twitter.