Owner hires childhood friend to build Ascaya home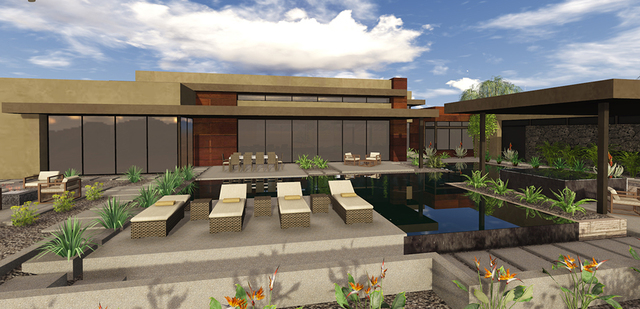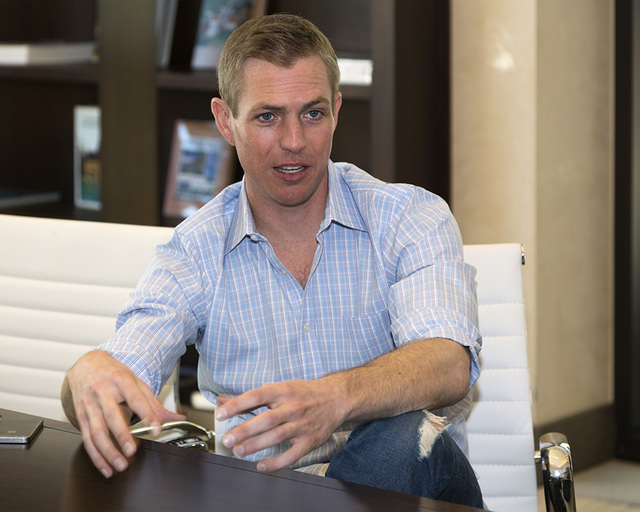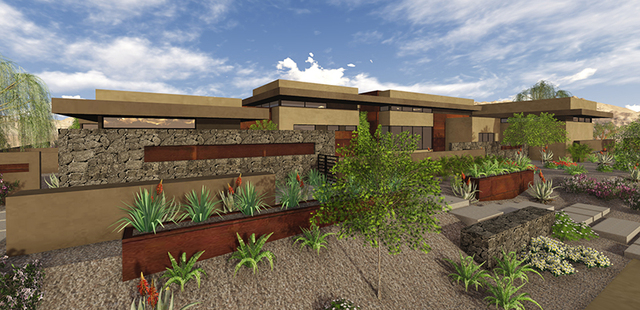 When John and Jackie Miller decided to build their custom dream home, they had already checked off "select architectural designer" from their to-do list. They were certain the only choice could be John Miller's childhood friend and co-founder of Blue Heron Design Build, Tyler Jones.
Both men were born and raised in Las Vegas. John Miller's parents built a custom house near Eastern Avenue and Serene Road. "It was a quiet ride to school," he recalled. "The first street light was at Tropicana when I was going (north) to St. Viator." At the time, the area was so undeveloped, they cautioned visitors that "you've gone too far if you get to the three light poles" at what is now the mega-intersection of Eastern and St. Rose Parkway.
The Millers' lot sale was the first in Henderson's Ascaya in December 2014. They paid $915,000 for a lot sized approximately three-quarters of an acre. It is not far from the main community gate and has a stunning 270-degree view.
John Miller said he preferred not to go higher up the McCullough Mountain Range location because of the inconvenience of having a longer drive on the only access road in and out of Ascaya.
"Plus our lot is in close proximity to the community club house, now being built," he said. "I think I got a good deal for what I bought. We really wanted a single-story home, so we needed a lot big enough to fit the square footage, and to still have a backyard was critical."
They chose Henderson over the opposite side of town's hottest luxury enclave, The Ridges, Miller explained, because "I identify with this side of town more, in that I like the mountain view as well as the Strip view. In The Ridges, you're close to the mountains but you don't get to see them from the same view. And I also like being close to the lake."
The family of six includes four children ages 1 to 10. They enjoy their 28-foot Sea Ray kept at Lake Mead. Miller is on two out-of-state bank boards and was a founder of what is now Valley Bank. He owns Cast Wines in Dry Creek Valley in California's Sonoma area, specializing in Italian varietal grapes.
Like all Blue Heron designs, the Millers' bears the company's "Vegas Contemporary" stamp. As of this writing, no homes have been completed yet in Ascaya, and theirs is in the early stages of construction.
Real Estate Millions was shown a virtual animation of the exterior finished home at various stages of the day. It thoroughly illustrated the climate changes to be experienced throughout the day, down to the reflection of the sun on the pool.
"It's a great representation of modern with contemporary, yet really connects with the landscape here through the choice of materials," said Miller of Tyler Jones' design.
Many homebuilders today toss around terms like green and intuitive to describe their designs, and this one appears to fit the description. Jones describes this house as having a "passive solar design."
They started by creating a shade study to implement the patio and window layout to determine how much light will be delivered through door and window placement, Jones said. The plan allows a maximum amount of indirect light yet will still be energy-efficient.
"It really does make you feel like you're living inside-outside. We have a great climate here in Southern Nevada but it's not always a great climate. In the winter it's cold, but it's also sunny and beautiful outside." So, Jones said, the use of higher-placed windows "kind of allows you to be outside and enjoy (the local weather) whether it's 110 or 38 (degrees)." They also designed the floor plan to block out wind to the pool and yard.
"John's lot is a great study for this because his orientation is north and west," Jones said. "North is great because you can have a lot of glass facing north and it's never going to get a lot of direct sunlight." But they gave it a western spin, too, to allow for the best views of the mountains and Strip.
That allowed them to position the master bedroom to screen off much of the afternoon sunlight that would otherwise have flooded the house.
The house will have five bedrooms with carpeting, but throughout the rest of the house they've chosen to install "exposed concrete (floors), so they polished the existing concrete and threw in some fossils and gemstones, which after they ground it down, you can actually see the gemstones," Miller said.
The colors will be dark toned, and of course, there will be a 3,000-bottle, climate-controlled wine room.
The couple has a home in Hawaii and lived in Seven Hills before building their home in Ascaya. It will be a drastic change moving to a community that will be almost 10 times larger. "That was the biggest change — going from a 33-home community to one of over 300 homes," Miller said.
The Millers expect the home to be finished in November, but for it to be an evolutionary process, Miller said. "My wife's a CPA (certified public accountant). She says we have to put 15 percent of the value back into the home every five years."
Their house will be equipped to accommodate a solar upgrade later but won't be installed because it "doesn't make sense" right now due to the recent reduction in economic incentives to install residential solar.
The couple is excited to be adopting an all-desert landscape, specific to the Mojave Desert, Miller said. "I like Joshua trees. Think they're really beautiful, with barrel cactus, ocotillos and creosote bushes."
Said Jones, "John and Jackie are going to have far less maintenance in their yard with drip irrigation and drought-tolerant plants, but it's going to be beautiful plant material that's been selected to work well with the architecture itself. It's all integrated to go together and be functional. Probably much less maintenance than the neighborhood he last lived in."
This pleases Miller immensely. "All those things in his design process … contribute to the efficiency of the home, and I think Tyler does a great job with it, and it's exciting to think we're getting everything we want plus those design aspects (of the shade study).
"It just feels efficient and straightforward, he said. "I think my generation realizes we don't want our parents' house. We want something that doesn't have certain issues and negativity surrounding it. It's not the past; it's forward-thinking."
ABOUT THE HOME
LOCATION: 11 Cloud Chaser Blvd., Ascaya, Henderson
OWNERS: John and Jackie Miller
COST: Under construction by Blue Heron Design Build; $915,000 for three-quarters of an acre
SIZE: Five bedrooms, seven baths