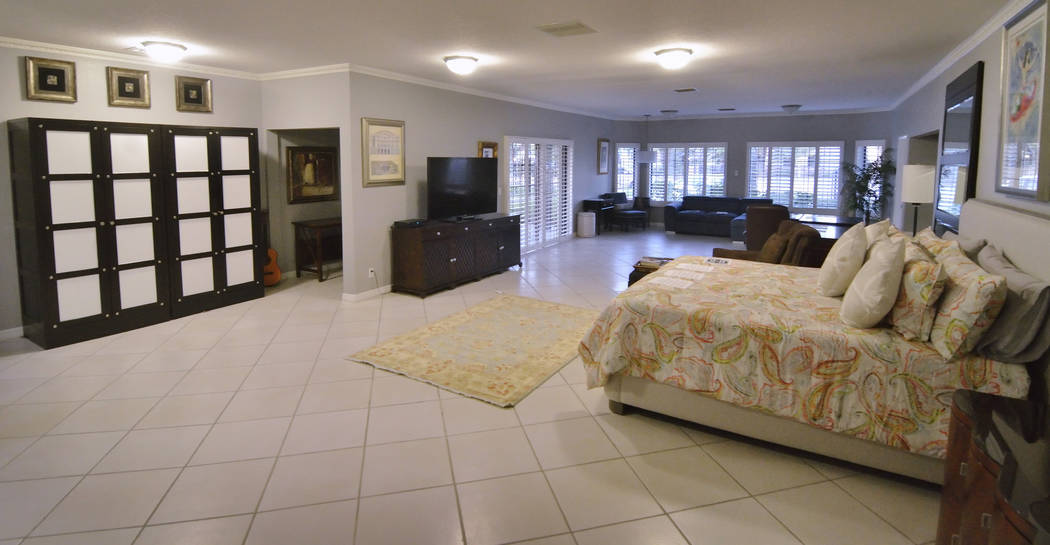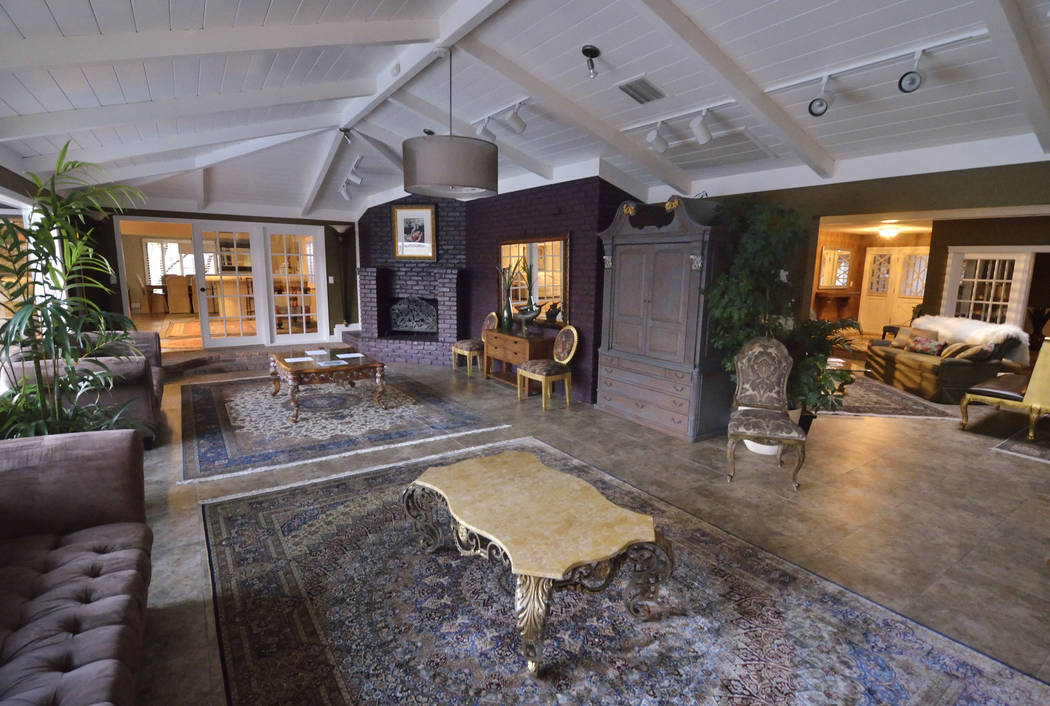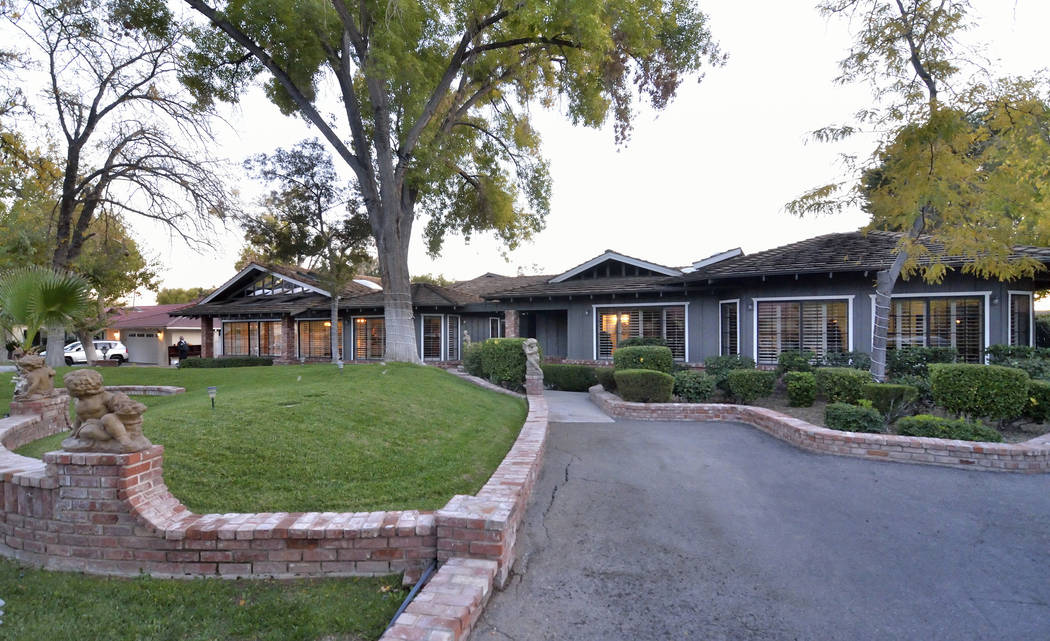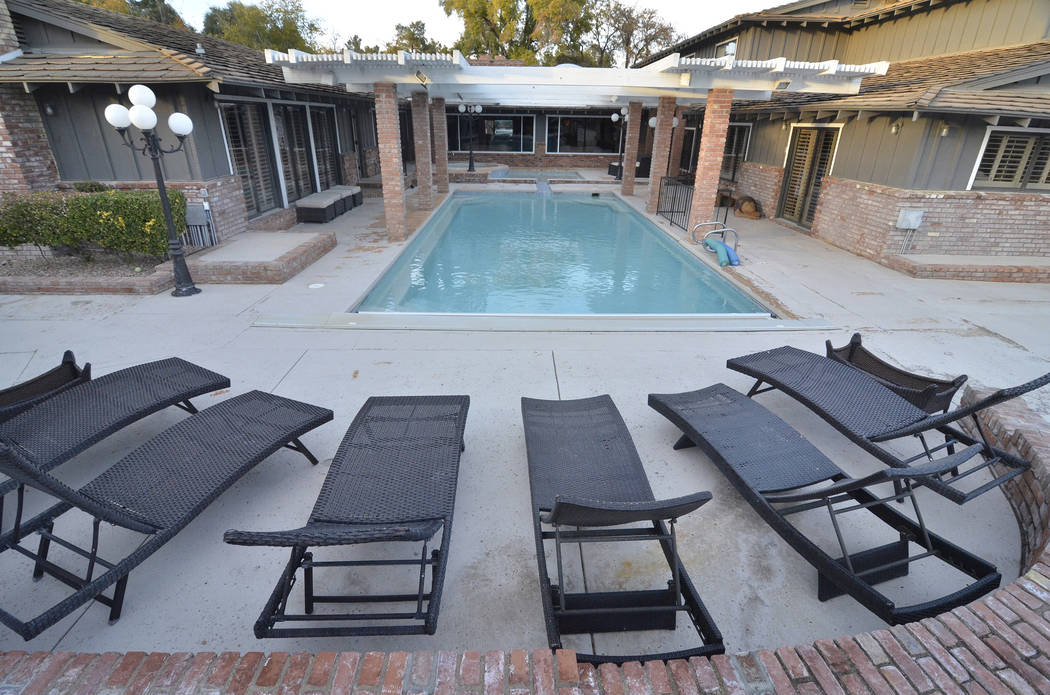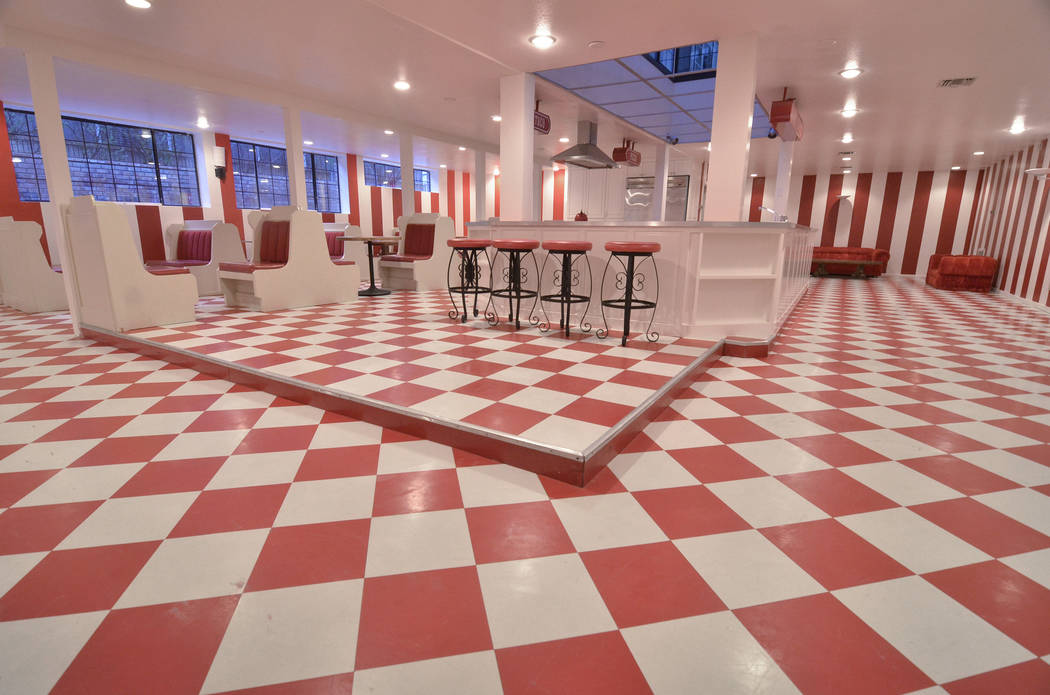 UPDATE: The house did not sell at auction this past weekend. Negotiations continue with bidders.
The home of the late Mexican singer and songwriter Juan Gabriel that includes a 1950s diner and nightclub and a place where Michael Jackson partied is up for auction this weekend along with its contents.
The mansion's address is 2801 Pinto Lane in the Las Vegas Historic District and sits on a 1.14-acre site in a neighborhood home to entertainers, politicians and athletes. It has a main house that's shaped in a U, a duplex and two other buildings behind the home that have living space. Overall, the configuration has at least 18 bedrooms and baths and can reach 21 bedrooms. There's 23,000 square feet in total.
The home had tax issues, been unoccupied and fallen into disrepair when real estate investor Jane Popple said she paid $850,000 for the property in 2014. She said she had to pay cash because banks would not lend because of the condition of the home that was
missing air conditioners and water heaters. She said she proceeded to put nearly $2 million to restore the home, which she said has since been appraised at $3.9 million.
"It took me two years to renovate it and about 98 percent of everything has been redone," Popple said. "I changed the floor. I painted the interior twice. It cost $30,000 to paint the outside. I changed the landscaping. I put in a whole new kitchen and all new lighting."
The auction conducted over Saturday and Sunday by Virginia-based Real Estate Resolution Corp. starts the bidding at $900,000, said Realtor Heather Neuwirth of Nevada Desert Realty.
The main house was built in 1960 and measures 12,242 square feet. It has nine bedrooms and nine baths. It's one story for most of the house, but the east side has a second story where there are four bedrooms and bath. There's a game room, theater room and a master bedroom in the home with a spa room, according to Neuwirth.
"With the main house, you can have multiple families," Neuwirth said. "You can block off different sections of the house if you wanted to. The main house is shaped in a U so you can see the fullness of the backyard and other buildings from the main house."
Popple renovated the entire interior of the main house to bring it up to date and make it more modern, Neuwirth said. For instance, the kitchen had several layers and step ups and down.
"She made it all one level," Neuwirth said. "There were tile countertops throughout the whole kitchen and she made it granite. There were brand new cabinets and appliances. She left it in the same configuration but redid the whole kitchen."
The green carpeting throughout the house was replaced with tile, Neuwirth said.
The property has a central courtyard with two pools and a Jacuzzi. One is a wading pool for kids.
The three buildings separate from the main house were built in 1980 and the diner and nightclub were reconfigured in the basements in the early 2000s by Gabriel, Neuwirth said.
"The Juan Gabriel mansion was rumored to be one of the most exotic and flamboyant estates in the historic celebrity district of Las Vegas," Neuwirth said. "Then next-door neighbor Michael Jackson would regularly drop by to celebrate, and they hosted many parties together."
Gabriel died of a heart attack in 2016.
There's a one-story duplex measuring 3,000 square feet that has three bedrooms, three full baths and two full kitchens, Popple said. It can serve as a guest house or a place a family may want elderly parents and their caretaker to live, Popple said.
Another building is two stories and a basement. The top floor has three bedrooms and a kitchen and ground floor has two bedrooms and gathering space. The basement has a 1950s-themed restaurant with a commercial kitchen and has a tunnel that connects to another building with a nightclub underground where Gabriel and his bands practiced. The nightclub building has three bedrooms and two baths and a kitchen on the top floor.
"He had used the house a lot," Popple said. "The band members would stay there, and they would play in the nightclub. They used the kitchen and many meals were served there. They enjoyed it and there was a lot of wear and tear."
Popple said no only did she refurbish and restore the home but she did the same to the nightclub and restaurant. She said, however, she retained the character by keeping Gabriel's colors of red and white in the kitchen in his Mexican heritage.
"It had a Mexican flair with big red and white signs that said taco, pizza and ice cream," Popple said.
Gabriel's furniture in the nightclub that he had custom made has been refurbished, Popple said. She said she retained his colors in the nightclub of red, purple and black.
"I kept his colors he used as a dedication to him and wanted to keep something that was pure Juan Gabriel," Popple said. "I did the restaurant in the same colors too because of who he was. I redid the commercial kitchen, and it's working beautifully."
Popple said the home will be attractive because there aren't many lots in Las Vegas that have more than one acre like her property does. It's geared for a family that likes to entertain and wouldn't be surprised if it's bought by someone in the music industry who would use the nightclub to practice.
It's a unique home to a specific buyer, either someone that's going to have a lot of family live there or an entertainer or someone of that status, Neuwirth said.
"You could house as many people there as you need to do," Neuwirth said. "We had it out there on the market, but it hasn't attracted the right buyer. The nightclub and the diner are what standout and is going to attract people."
Sunday is the last day for the home's auction and its contents. The bidding starts at 2 p.m.
About the compound
Price: Starting bid at $900,000 at auction this weekend. Owner real estate investor Jane Popple said it has appraised at $3.9 million.
Location: 2801 Pinto Lane, Las Vegas Historical District
Size: 1.14-acre site, a 12,242-square-foot main house, 3,000-square-foot duplex and two buildings for a total of 23,000 square feet, 18 bedrooms and baths
Features: Main house is in a U shape. A 1950s diner and nightclub are in the basement. Main house has a commercial kitchen, game room, theater, spa room, master bedroom. The property has a central courtyard, two pools and Jacuzzi.
History: Mexican singer and songwriter Juan Gabriel owned the property before it was sold to Popple. The main house was built in 1960 and the three additional buildings were constructed in 1980. The diner and nightclub were created by Gabriel in the early 2000s. The singer used to have parites with his neighbor at the time, Michael Jackson. Popple said she put nearly $2 million to restore the home
Listing: Realtor Heather Neuwirth of Nevada Desert Realty