Clark County DA Wolfson pressured to release campaign theft records
Updated April 19, 2018 - 3:54 pm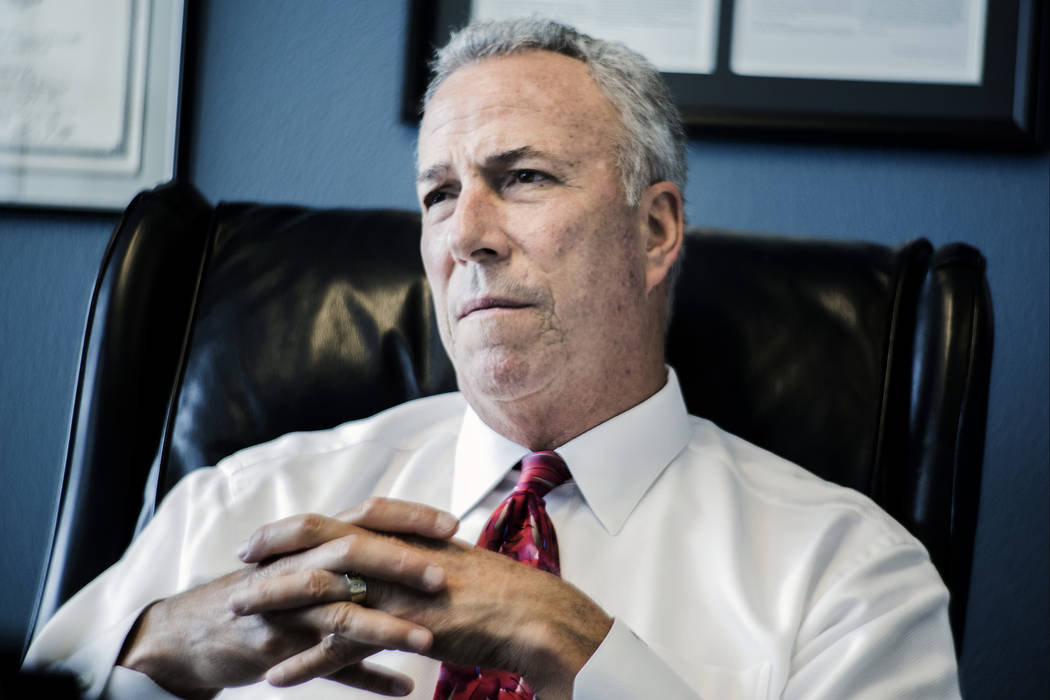 The opponent of Clark County District Attorney Steve Wolfson on Thursday called for him to release bank statements that show a nearly $42,000 campaign theft by his close aide.
Robert Langford, a longtime criminal defense lawyer, said voters deserve to know the details of the theft in 2014, which was not reported to police or disclosed on Wolfson's campaign reports.
"Wolfson is desperately trying to keep this matter private," Langford said in a statement released by his campaign. "These are campaign funds and their collection and disbursement are regulated and require legal disclosure. As in so many other areas of Wolfson's administration he needs to stop the secrecy and respond to the public's right to know."
Wolfson, who was appointed district attorney in 2012 and elected in 2014, did not respond to requests for comment.
A Las Vegas Review-Journal investigation found last month that Wolfson did not press charges against the aide, Audrie Locke, who acknowledged stealing the money from his campaign to cover a gambling habit. She has said she was addicted to video poker.
Wolfson fired Locke, 45, as his office spokeswoman and community liaison after he discovered the theft in August 2014. By then, she had paid back the money and agreed to enter a gambling treatment program. Wolfson said last month that he believed Locke's conduct was an "aberration" and that he exercised his right as a victim of the theft to not prosecute her.
The district attorney rehired Locke after she completed treatment in October 2014 and allowed her to handle cash in office fundraising efforts, including one for the victims of the Oct. 1 mass shooting outside Mandalay Bay.
Locke, who also helped maintain Wolfson's campaign finances, could not be reached for comment Thursday.
Wolfson's decision to not pursue potential felony criminal charges against Locke raised concerns within the legal community about whether she received favorable treatment because of her close personal relationship with the district attorney.
New records show that Locke, while earning more than $80,000 a year in her high-profile communications job with the district attorney's office, obtained additional money from the office during the Oct. 1 fundraising efforts under a private company with a revoked state license.
Between Oct. 3 and Jan. 31, she submitted more than $3,000 worth of invoices to the office on behalf of Gemini Graphics, records show. The invoices were for T-shirts, sweatshirts, polo shirts and caps that Locke's company helped produce with the VegasStrong logo. Locke has said she was only reimbursed for her company's expenses and did not profit from the fundraising venture.
The Nevada secretary of state's office had revoked the company's license in April 2016, more than a year before the Oct 1 fundraising campaign, for failing to provide an updated list of officers. Locke said last month that she started a new company, Karmic Thread, which records show received a license from Clark County on March 15. The company does not have a state license, records show.
Last month, the secretary of state's office said Wolfson was not obligated under Nevada law to explain the theft and reimbursement on his campaign reports. Wolfson said he contacted the office of former Secretary of state Ross Miller in 2014 and was told the same thing.
"Money stolen from a campaign account and then returned within a few weeks does not qualify as a reportable contribution or expense," said Jennifer Russell, a spokeswoman for Secretary of State Barbara Cegavske.
But that contrasts with guidelines established by the Federal Elections Commission to maintain transparency in Congressional races.
"As soon as a misappropriation is discovered, the (campaign) must notify law enforcement," the commission says on its website. "The committee also must notify the FEC and file amended reports to correct any reporting errors due to the misappropriation."
The FEC has a form for campaigns "to provide as much detail as possible concerning the embezzlement" to the federal agency.
"I don't see that many campaigns having money stolen," said Clark County Commission Chairman Steve Sisolak, a Democratic candidate for governor pushing campaign ethics reform. "But I'm in favor of as much transparency and openness as possible as it relates to campaign donations, expenditures and thefts."
The Wolfson campaign theft, hushed up for more than three years, became public last month after the Review-Journal had obtained personal emails between the district attorney and Locke discussing it on Aug. 8, 2014.
Wolfson provided the newspaper with a $41,792 check made out to his campaign from a bank in Hawaii that Locke used to pay back the money. The check was dated Aug. 12, 2014 and deposited in the campaign's bank account in Las Vegas six days later. Locke, who used her maiden name Audrie Dodge at the time, has said she got money from her family.
Locke acknowledged in a Review-Journal interview last month that she took the campaign's checkbook without Wolfson's knowledge and wrote a series of checks to herself in 2014.
Contact Jeff German at jgerman@reviewjournal.com or 702-380-4564. Follow @JGermanRJ on Twitter.