Court ruling could help Las Vegas shooting victims suing MGM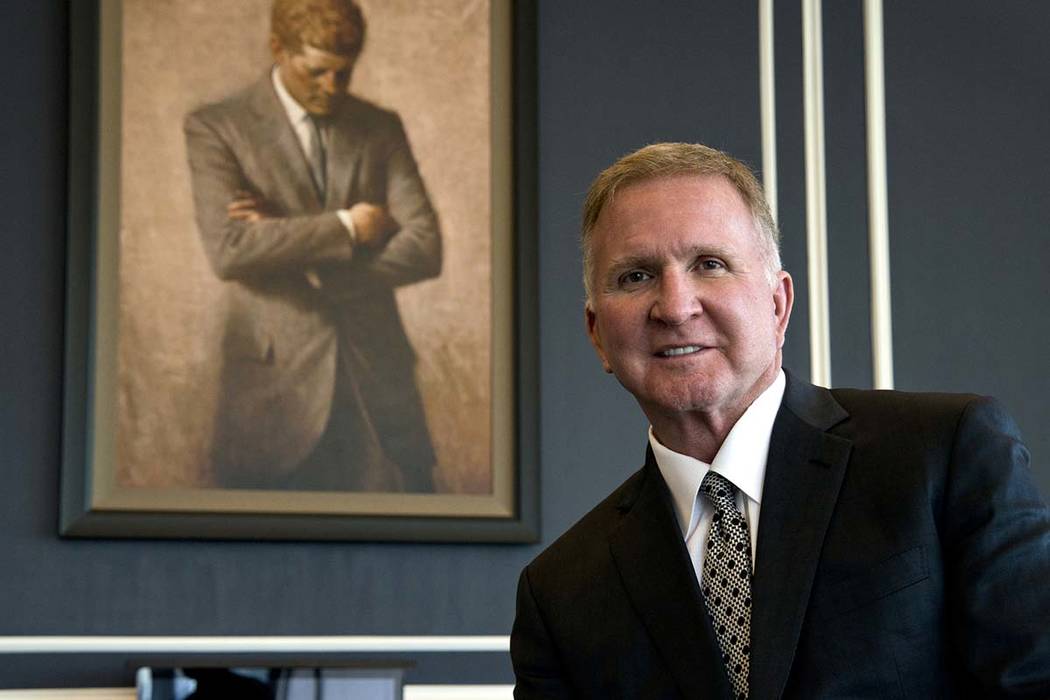 The Nevada Supreme Court has refused to consider overturning a decision that could make it more difficult for MGM Resorts International to fend off lawsuits over the Oct. 1 Mandalay Bay shooting.
In a 6 to 1 decision on Friday, the high court said a review by all seven justices was not warranted. Justice Kristina Pickering dissented.
The Supreme Court case stemmed from an assault in 2010 on a California couple, Carey Humphries and Lorenzo Rocha, inside the New York-New York, another MGM property. A lower court dismissed their lawsuit on grounds the resort had no knowledge the attack would occur.
But last October, a three-justice panel overturned that order, ruling that New York-New York should have known the attack was foreseeable because there had been other incidents of violence there. Humphries and Rocha were attacked by a man at the casino, and she suffered a fractured skull.
New York-New York lawyers asked the entire court to take up the Humphries case in January, arguing the panel's opinion presented substantial public policy issues beyond the case.
They also argued the opinion imposed "a near strict liability for owners and operators of this state's largest industry for the criminal misconduct of others."
Craig Drummond, one of the lawyers representing the California couple in the New York-New York case, said Monday that the Supreme Court decison could affect all Nevada companies open to the public.
"In order to show that a business had knowledge that a future incident would occur, you do not have to show that the exact same incident, like a shooting or a fight, previously occurred," Drummond said. "The standard is now that you only need to show a general likeness of prior events that would put the business owner on notice."
Robert Eglet, who is spearheading litigation against MGM Resorts, said the Supreme Court decision would benefit some victims of violence at Nevada casinos and impact litigation stemming from the Mandalay Bay massacre. A shooter killed 58 people and injured more than 700 others on Oct. 1 at a country music festival across the street from his 32nd-floor Mandalay Bay suite before taking his own life.
"It will be much more difficult for MGM and Mandalay Bay to resolve these cases without going to trial or settling," Eglet said. "We can show through the totality of the events at MGM properties around world that this is something that could happen and was reasonably foreseeable, and they had a duty to provide adequate security and didn't."
MGM Resorts spokeswoman Debra DeShong said the Supreme Court's decision will not harm the company's position in the Mandalay Bay case.
"The attack that took place on Oct. 1 was a terrible tragedy perpetrated by one evil man," she said. "We plan to defend ourselves against lawsuits resulting from October 1st and will give our responses through the appropriate legal channels. We do not believe the decision today in the Humphries case will impact our ability to defend ourselves."
Jean Sternlight, director of the Saltman Center for Conflict Resolution at UNLV's Boyd School of Law, said Mandalay Bay still has a strong defense under state law.
"Even with the Humphries decision plaintiffs will still face something of an uphill battle to prove that Mandalay Bay bears responsibility for the shooting," she said. "In particular, plaintiffs will have to show that the casino failed to take reasonable precautions to prevent an event the casino will argue was essentially unpredictable."
Contact Jeff German at jgerman@reviewjournal.com or 702-380-4564. Follow @JGermanRJ on Twitter.