Former Las Vegas tourism boss pursued time-off payout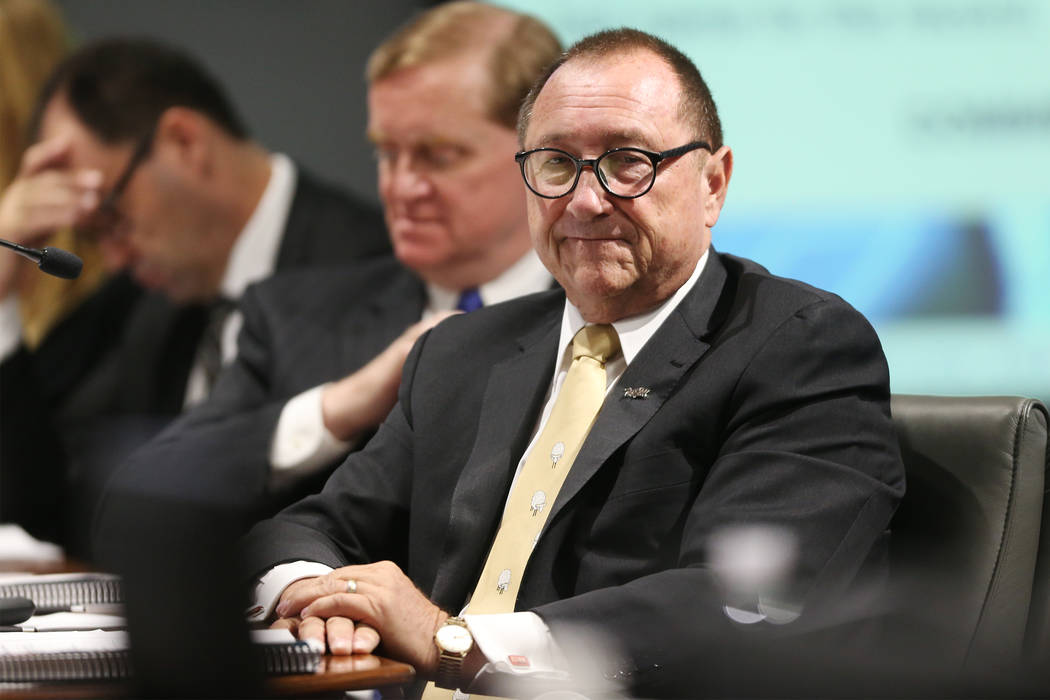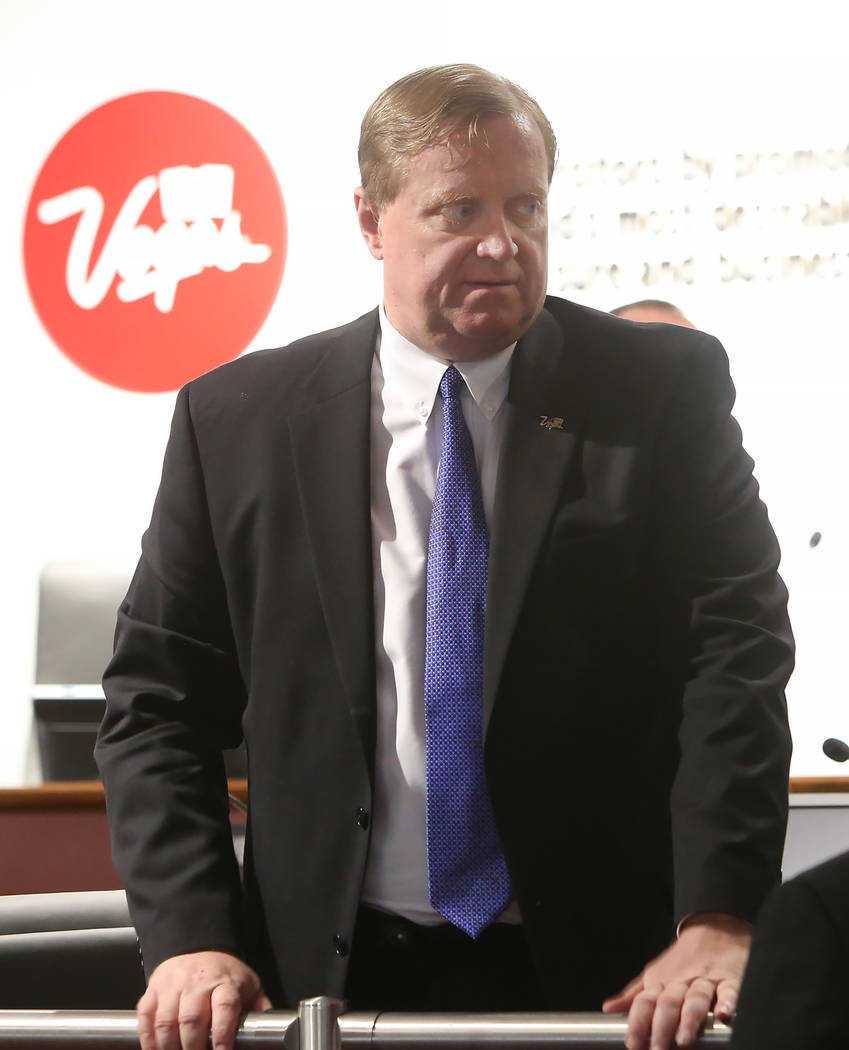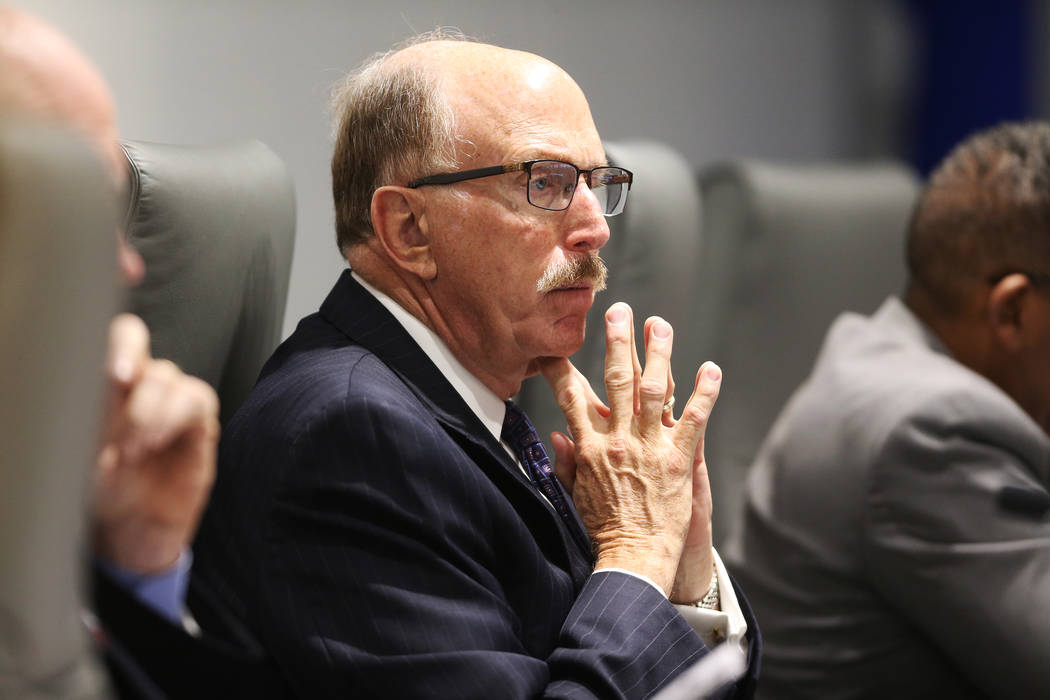 Retired Las Vegas tourism boss Rossi Ralenkotter said he did not intend to cash out his accrued paid time off, but newly released records show that his attorney asked for more than $234,000 in untaken leave as part of a nearly $1.2 million severance package.
That request included about 300 hours, worth $65,000, that Ralenkotter should have reported as personal, sick or vacation days but did not claim as paid time off, a Las Vegas Review-Journal analysis determined.
Ralenkotter, who retired as CEO of the publicly funded Las Vegas Convention and Visitors Authority on Aug. 31, declined to discuss his attorney's severance request letter.
"I have no intention of talking to you," he said when reached by phone last week.
The letter contradicted a statement he released last month in which he said he "never expected to be compensated" for his accrued paid time off. Ralenkotter ultimately received a retirement package worth about $700,000 less than his initial request.
Ralenkotter had no employment contract, and the agency had no obligation to pay him a retirement settlement. The agency also had a policy that prevented severance payouts. But board members still negotiated a retirement package that included part of his 2017 bonus, a consulting contract and separation pay.
The severance negotiations took place as Las Vegas police launched an investigation into the agency's handling of $90,000 in gift cards purchased from Southwest Airlines. An audit found that Ralenkotter had used about $17,000 in cards on personal travel for himself, his wife and other family members. He paid back the money and said he did not intend to commit wrongdoing.
The Nevada Commission on Ethics is also investigating the misuse of the gift cards.
Shifting the tax burden
During negotiations, authority legal counsel Luke Puschnig, whose annual goals and compensation were reviewed by Ralenkotter, suggested that the agency cover the taxes on Ralenkotter's severance pay.
Ralenkotter's attorney, Terry Coffing, had complained that paying his severance as wages instead of retirement would increase Ralenkotter's tax liability. Ralenkotter received $863,000 in total compensation in 2017, including $440,430 in base salary and a $208,000 bonus, and is now collecting a state pension worth at least $350,000 per year for the rest of his life.
Puschnig responded in an email to Coffing on May 24: "We can try to 'gross it up' for him, in other words, pay him the amount but also pay him for the taxes paid."
But Coffing, who was seeking more than $1 million in severance for Ralenkotter, recognized that shifting Ralenkotter's tax burden to taxpayers would look bad.
"The optics on a gross up are not good," Coffing wrote. Coffing did not return calls seeking comment.
Puschnig said in an interview that he was not proposing to pay for the taxes but was merely setting up parameters for the negotiations. His emails make clear that Puschnig could not "bind" the authority board to any severance proposal Puschnig and Coffing were discussing.
"Those were just discussions between attorneys," he said. "I don't believe the gross up would have worked."
Severance negotiations
On Aug. 14, the convention authority board approved a $455,000 retirement package that included a $15,000-a-month consulting contract for 18 months, separation pay and part of his 2017 bonus, records show.
At first, Ralenkotter wanted 52 weeks of salary with a 6 percent salary increase that he expected to receive next year worth $455,866. That would have been in addition to a $233,433 bonus, the paid time off and a longevity bonus of $41,318, a memo from Coffing shows. The request included a $10,000-a-month consulting contract and Ralenkotter's personal car, technology and other allowances.
Curtis Kalin, a spokesman for the Washington-based conservative watchdog group Citizens Against Government Waste, said a public official requesting that much severance is improper.
"The numbers in this case are completely over the top," he said. "For someone who was making around a million dollars a year in salary and benefits to demand hundreds of thousands of dollars more in retirement benefits should strike taxpayers as extraordinarily self-indulgent and not just a little bit greedy."
PTO payout
Ralenkotter's request included payment for more than seven weeks of paid time off that wasn't used when calendars and flight records show he was on vacation.
In May, Coffing requested in emails and memos that the agency pay for Ralenkotter's accrued leave time.
Steve Hill, who replaced Ralenkotter as CEO of the convention authority at the beginning of September, said staffers should report any vacation time they take.
"When they're off, they should claim PTO," he said.
Hill said he did not know any details about what Ralenkotter had requested in severance and paid time off.
"That's a conversation that I've not been involved in," Hill said during a Review-Journal editorial board meeting last week. It is "a conversation between Rossi and the board, and I'm not going to address that."
It is unclear when Ralenkotter backed off his request for a payout on his untaken leave. On May 29, the Review-Journal requested Ralenkotter's accrued paid time off.
There are no emails or memos that show Ralenkotter asked for any paid time off after the Review-Journal's records request. Nor do the documents indicate when he decided to drop the request for paid time off. But many of the released pages were heavily redacted because of what the agency said was attorney-client privilege.
LVCVA spokeswoman Jacqueline Peterson said staffers did not participate in the negotiations so she could not shed light on the discussions. Puschnig said he removed himself from the conversations in May.
Audit concerns
Amid the Southwest Airlines gift card scandal, auditors determined that authority staffers had secretly bought the cards with tax dollars.
At an agency where board criticism of Ralenkotter had been rare, audit committee chairman Bill Noonan, a gaming executive, openly chastised Ralenkotter for using the gift cards, saying it was "highly inappropriate."
On Aug. 9, Noonan also started to inquire about Ralenkotter's use of paid time off, emails show.
Barbara Bolender, authority human resources chief, sent Noonan an email with the severance policies as well as a note saying that the last time Ralenkotter had cashed out any paid leave was in 2015, when he received a check for $28,115.20.
But the email cited the wrong amount and included only one of three payouts in 2015. That year, Ralenkotter actually cashed out 340 hours, worth about $55,000.
Ralenkotter also received payments for 180 hours in 2014, records show.
LVCVA policy allows staffers to take pay for some of their accrued time off without leaving employment. But in July 2016, the agency eliminated severance pay to "remain competitive, fiscally responsible and consistent with industry practices" for anyone retiring or resigning from the agency, documents show.
On the same day that Noonan first asked about it, Ralenkotter issued the statement that he never contemplated cashing out his paid time off.
"I never expected to be compensated for my accrued paid time off, and such compensation is not contemplated in my retirement agreement," he said in a written statement. "In fact, I have hundreds of hours of accrued paid time off which will go uncompensated. In plain terms, your inquiry is about a moot point."
Conflict of interest
Puschnig's role in the early negotiations drew concern from Noonan.
Puschnig withdrew from the talks after Noonan asked outside attorney Todd Bice to take over, informed sources said.
Noonan, a member of the convention authority's executive committee, thought Puschnig had a conflict of interest because he had worked on a daily basis with Ralenkotter for years, a knowledgeable source said.
Bice had been hired by Noonan to oversee the audit of the Southwest Airlines gift cards.
On May 27, Puschnig wrote an email with the subject line "Please contact Todd Bice." Puschnig's email said only: "I am out."
Coffing replied: "Understood, ignore any attachments that we discussed. I hope this is not going south…"
Puschnig wrote back: "I did not send anything to Bice. As such, you need to send things and negotiate with him. I am out of the loop."
The Review-Journal is owned by the family of Las Vegas Sands Corp. Chairman and CEO Sheldon Adelson. Las Vegas Sands Corp. operates the Sands Expo & Convention Center, which competes with the Las Vegas Convention Center.
Contact Arthur Kane at akane@reviewjournal.com or 702-383-0286. Follow @ArthurMKane on Twitter. Contact Jeff German at jgerman@reviewjournal.com or 702-380-4564. Follow @JGerman on Twitter.
Timeline
Retired Las Vegas Convention and Visitors Authority CEO Rossi Ralenkotter wanted about $1.2 million in severance but received $455,000. Here are key dates in the negotiations:
April 25: Authority auditors determine that Ralenkotter misused agency gift cards for personal travel.
May 24: Authority legal counsel Luke Puschnig and Ralenkotter's attorney, Terry Coffing, start discussing how much to pay Ralenkotter upon retirement.
May 24: Coffing and Puschnig discuss the tax implications of the severance, and Puschnig writes that the agency might be able to pay taxes for Ralenkotter.
May 25: Coffing sends a formal letter requesting nearly $1.2 million in severance, including $234,000 in accrued PTO, 52 weeks of salary and a bonus.
May 29: The Las Vegas Review-Journal files a public records request seeking Ralenkotter's PTO information.
Aug. 9: In response to Review-Journal inquiries, Ralenkotter issues a statement saying he never contemplated cashing out his PTO.
Aug. 9: Authority staffers send audit committee chairman Bill Noonan information about Ralenkotter's PTO cash-outs and severance and PTO policies.
Aug. 31: Ralenkotter retires with $455,000 in retirement, including an 18-month consulting contract.
Source: LVCVA records and news stories
Warren of wrongdoing
The Review-Journal's ongoing investigation into spending practices by the Las Vegas Convention and Visitors Authority has found that:
— The tax-funded agency allowed lavish expenses on high-end entertainment, gifts for employees and first-class trips overseas for board members. Some of those expenditures had no business purpose.
— Las Vegas Convention Center security officers were directed to leave their posts to chauffeur retired CEO Rossi Ralenkotter and former Las Vegas Mayor Oscar Goodman to various locations, even though that wasn't authorized in Goodman's contract and Ralenkotter received a $9,000 annual vehicle allowance. Goodman serves as the agency's tourism ambassador.
— Convention authority warehouse staffers gave away thousands of dollars worth of iPads, Bose speakers and other gifts intended to promote tourism without noting the recipient or business purpose. Warehouse staffers also provided about $6,000 worth of gift baskets to Ralenkotter.
— Ralenkotter quietly modified Goodman's contract so he could approve pay raises and contract extensions without board scrutiny.
Related
Las Vegas tourism boss didn't record dozens of vacation days
Board member seeks more clarity about police probe of LVCVA
Nevada lawmaker takes aim at big payout for LVCVA boss
LVCVA boss pursues retirement payout amid criminal investigation
Las Vegas police investigating LVCVA airline gift card scandal
LVCVA CEO Rossi Ralenkotter announces plans to retire