5 places in Vegas to sip sangria and a recipe for home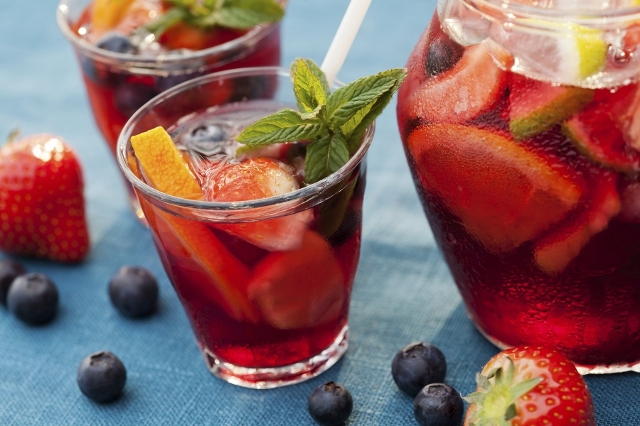 Sangria is among the best of summer drinks because it's fruity, refreshing and definitely goes down easily. In that spirit, we have recommendations for five off-Strip restaurants that serve sangria in the Las Vegas Valley (because you don't need our help finding alcoholic beverages on the Strip).
Barcelona Tapas Restaurant, 10690 Southern Highlands Parkway
Firefly Tapas Kitchen & Bar, 3824 Paradise Road
Khoury's Mediterranean Restaurant, 6115 S. Fort Apache Road
Sonrisa Grill, 30 Via Brianza, Lake Las Vegas, Henderson
Tapas by Alex Stratta, Tivoli Village, 440 S. Rampart Blvd.
You'd rather make your own sangria at home? In that case, we have a time-tested recipe.
THE BEST SANGRIA
2 large juice oranges, washed — one orange sliced, the remaining orange juiced
1 large lemon, washed and sliced
1/4 cup granulated sugar
1/4 cup Triple Sec
1 bottle inexpensive, fruity, medium-bodied red wine (750 milliliters), chilled
Add sliced orange, lemon and sugar to large pitcher; mash gently with wooden spoon until fruit releases some juice, but is not totally crushed, and sugar dissolves, about 1 minute. Stir in orange juice, Triple Sec and wine; refrigerate for at least 2, and as long as 8, hours.
Before serving, add 6 to 8 ice cubes and stir briskly to distribute settled fruit and pulp; serve immediately.
Note: The longer sangria sits before drinking, the more smooth and mellow it will taste. A full day is best, but if that's impossible, give it an absolute minimum of two hours to sit.
Serves 4.
Recipe from Cook's Illustrated.