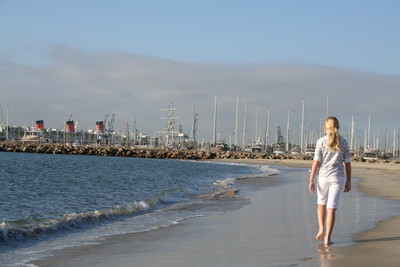 If you haven't been to Long Beach, Calif., in a few years, you will be surprised how much things have changed. For decades, Long Beach was a Navy town and catered to the appetites and interests of Navy men in their 20s. Amusement options surrounding its waterfront may have been appropriate for that clientele, but they weren't exactly family fare.
The need for change became evident in the 1990s, when the Long Beach Naval Station and the Long Beach Naval Shipyard closed. By 2008, more than a billion dollars had been invested to recast the area as a family-appropriate destination offering not merely fun, but the quaint charm usually found only in smaller seaside communities.
The main reason for my trip was to let my daughter Charlotte, 11, visit the ocean liner Queen Mary, now permanently and famously docked at Long Beach, and the fine Aquarium of the Pacific. But we also planned to take a harbor cruise, visit art galleries and do a little shopping.
Arriving from Las Vegas in mid-morning, we immediately headed to the most important of this port's pleasures: the Queen Mary. The finest ship of her time, from her maiden voyage in 1936, she made hundreds of Atlantic crossings. First-class passengers were served the finest food, had the most luxurious accommodations and experienced the most gracious service ever found aboard ship.
The aptly named Queen mostly served and pampered the world's elite, but her role changed dramatically when World War II broke out. Repainted to match the color of winter seas, and dubbed the Grey Ghost, she traveled 600,000 miles, transporting close to 800,000 troops. On one voyage, she set a world record that stands to this day, carrying more than 15,000 military personnel. After the war, she donned her colorful civilian dress again and resumed life as a passenger liner. She made her final voyage in 1967 and was purchased by the city of Long Beach.
For the price of a general admission ticket, $32.95 for adults, you can take a self-guided tour of the ship as well as join in the Ghost and Legends Tour. We tried the self-guided version first, visiting seven different decks and walking from bow to stern taking in the exhibits. We learned a lot of history, as well as some interesting statistics. At more than 1,000 feet in length and displacing 81,237 gross tons (equivalent to some 90,000 tons in non-nautical weight), the Queen Mary never had great fuel consumption, averaging somewhere about 13 feet per gallon. When the original smokestacks had to be removed during her conversion to a floating hotel and tourist attraction, they were found so corroded that the only thing holding them together was 110 coats of paint. The ones you see today are new.
The Ghost and Legends Tour turned out to be a lot more frightening than I had expected. The tour takes you to places where paranormal events have been reported on the ship. The creepiest place of all was the indoor art deco swimming pool, said to be one of the most haunted places on the ship. The place was dark, damp and had an eerie echo to begin with, and they've added chilling special effects. The lights went out and the area became full of fog. We heard a girl splashing around and then wet feet walking to the locker room. Then we heard terrifying screams. This was too much for one young girl in our group, who started crying. While Charlotte did keep dry eyes, she has never held my hand so tight or stood so close, a comfort to my nerves as well as her own.
Jet aircraft have replaced luxury liners as today's preferred travel method, but the Queen Mary still offers us the chance to see how it felt. Many visitors to Long Beach stay aboard ship; the Queen Mary offers 365 original staterooms and three award-winning restaurants.
We next headed a couple of miles away to the East Village Arts District of Long Beach and the Museum of Latin American Art. The museum, a Smithsonian affiliate, is the only one in the American West that showcases art solely from Mexico, Central and South America and the Spanish-speaking Caribbean. Charlotte was especially entranced by the works of Fernando Botero, a Colombian painter noted for pleasingly exaggerated rotund human figures. The newest exhibit features the work of Arnaldo Roche-Rabell, an internationally renowned artist from Puerto Rico, which runs through March 22.
Our next stop was the Long Beach Museum of Art, located on a bluff overlooking the beach and harbor area. Its current exhibit is "California, Seen: Landscapes Of A Changing California, 1930-1970," which runs through Jan. 11. It primarily features watercolors by some of the best known California scene practitioners. My eyes were drawn to the works of Phil Dike, who seemed to capture the quintessential California landscape. His 1950 scene, "Newport Jetty," depicts fisherman along the rugged coastline on a cloudy day. Below the painting, he is quoted as saying, "A painting is not good because it looks like something, but because it feels like something."
It was mid afternoon by the time we made our way over to the Hyatt Regency where we would stay for two nights. The location is unsurpassed and overlooks Rainbow Harbor, behind that Queensway Bay, including a direct view of the Queen Mary, and then out to the Pacific Ocean. It is also within walking distance to all of downtown's premiere attractions. We're not people to spend too much time lying about even in luxurious rooms, so we were soon on our way to Shoreline Village, only about five minutes away on foot.
This shopping area reminded me of many a New England seaside town, with a wooden boardwalk, small boutiques and a carousel, too small for adults but a delight for children. We strolled along, stopping at a dozen or so stores. We especially enjoyed a store that sold spicy foods and hot sauces, and the Village Hat Shop that let us try on every imaginable chapeau, from a cowboy Stetson to a fez with a tassel on top. It was the fun ones that caught our attention — hats built to resemble live chickens, roasted turkeys, moose and spaghetti. We tried dozens before selecting two as permanent additions to the Wall Collection of Occasional Headgear. One was a modern rendition of a Santa hat with a high spiral top, the other a non la, the conical straw hat of Southeast Asia.
We finished up by taking a ride on the carousel, and then we were hungry. There are 100 restaurants in eight city blocks, but we figured that much competition would force all of them to be pretty good, so we tried the first we came to, the Southwestern U.S. chain restaurant The Yard House. Since it was seasonally warm out, we were dining al fresco overlooking the boardwalk and inner harbor. Without planning it, just as we finished our meal, we were treated to the finest sunset I have seen yet on the West Coast.
We spent most of the next day at the Aquarium of the Pacific. The vast Pacific is so rich in life that California's various aquaria need never seem repetitive; this 10-year-old institution focuses on Southern California and Baja, the Northern Pacific and the tropical Pacific, and is home to more than 12,500 animals. Before we even toured all the exhibits, we took a behind-the-scenes tour and learned about food preparation, health care and water purification.
If you think fixing food for a family of picky humans is challenging, try it with a few hundred species. They all expect different foods, and all of them have to be fresh and clean as something you'd serve in a restaurant expecting a visit from the health department. Some critters, such as the hyperactive sea otters, are voracious eaters.
The food prep room includes a tank full of brine shrimp, what we know as sea monkeys. These are fed to sea horses and other small animals.
When we got to look at the diners instead of the dined-upon, one of the most interesting holding tanks held about 60 baby sea horses about one month old. We learned that in sea horses, the sex roles are reversed and the male carries the eggs.
This aquarium was the first in the world to successfully breed weedy sea dragons. Relatives of the sea horse, they are native to the kelp forests in Australia. Kelp has evolved round knobs that serve as floats to keep kelp stalks upright in the water; using camouflage as their primary defense, weedy sea horses have managed to evolve their own knobs to make them blend in with the kelp.
During our tour, we met Mel Cook, a volunteer diver who has been working at the aquarium for nine years. "In the ocean, we never get the opportunity to get that close to the fish because they are afraid of you," he explained.
Volunteers are important to the museum, and about 200 of them are divers. There are two places where you can watch divers under water — the tropical reef and the blue cavern.
The three-story blue cavern is patterned after a kelp forest that actually exists along the coast, near Santa Catalina Island. This exhibit includes the critically endangered species giant sea bass, leopard sharks, shovelnose guitarfish and the sinister-looking California moray eel.
The aquarium's largest exhibit and the one we enjoyed the most was the tropical reef habitat. It is patterned after the world-famous Blue Corner off the coast of Palau, considered by many as the most stunning underwater site on earth. The exhibit contains more than 1,000 animals, from semicircle angelfish to the Olive Ridley sea turtle to the blacktip reef shark.
One of the most exciting exhibits for Charlotte was the ray touchpool. Here, she touched both bat rays and shovelnose guitarfish as they swam around. Both of these species can be found just off the shoreline of Long Beach's sandy beaches. But in the aquarium, the ray's stingers have been painlessly clipped, so touching them is safe.
Long Beach also is a great place to take a harbor cruise, or even better, head out to the open ocean for whale watching. The ideal time to see gray whales is from December to March. This is when they make their annual migration from waters off Alaska and Siberia, south to Baja California in Mexico, for mating and calving. It is estimated there are more than 25,000 gray whales in the North American area of the Pacific Ocean. You also might see a variety of different dolphins, and there are occasional sightings of other whales, such as minke, humpback and killer whales. In summer, blue whales are seen.
During this Thursday's 2009 Tournament of Roses Parade, be sure to check out the float from the City of Long Beach. The float's theme this year is "Renaissance Revival." The literal meaning of "renaissance" is rebirth, and Long Beach has come so far to revive and reinvent its business and entertainment, it has truly earned the right to that label.
Contact Deborah Wall at deborabus@aol.com.
GETTING THERE
Location: Long Beach, Calif., about 282 miles southwest of Las Vegas and 20 miles south of Los Angeles.
Directions: From Las Vegas, take Interstate 15 south for about 222 miles. Merge onto California Route 210 west toward Pasadena. Drive for about 20 miles until it becomes Interstate 210 and continue 7.1 more miles. Exit to Interstate 605 south and follow for 17.4 miles. Merge onto Interstate 105 west and drive 4.2 miles. Merge onto Interstate 710 south and drive 10.8 miles to Long Beach. Follow signs for the Queen Mary and downtown area.
Long Beach Airport: JetBlue Airways has daily flights between Las Vegas and Long Beach starting at $140 round-trip, per person. jetblueairways.com.
Long Beach Convention and Visitor Bureau: For attractions, accommodations, and information beyond that given here, (800) 452-7829, www.visitlongbeach.com.
Local transportation: The Passport, a shuttle bus service, provides regular, complimentary transportation between all of downtown Long Beach's most popular attractions. The AqauBus, a water taxi service, takes visitors between the Queen Mary and the Aquarium of the Pacific for only $1.
Lodging: Hyatt Regency, 200 South Pine Ave., 522 guest rooms and suites, (562) 624-6100, www.hyattregencylongbeach.com. Queen Mary, 1126 Queens Highway, 365 staterooms and suites, (562) 499-1749, www.queenmary.com.
Museum of Latin American Art: Open Tuesdays-Fridays, 11:30 a.m.- 7 p.m.; Saturdays 11 a.m.-7 p.m.; Sundays, 11 a.m.- 6 p.m. Closed major holidays. 628 Alamitos Ave. (562) 437-1689, www.molaa.org.
Long Beach Museum of Art: Open Tuesdays-Sundays, 11 a.m.- 5 p.m. Closed major holidays. 2300 East Ocean Blvd. (562) 439-2119, www.lbma.org.
The Queen Mary: Guided and self-guided tours, haunted encounters and paranormal tours. Diverse restaurants, bars and souvenir shops as well as full-service hotel. Regular attractions open 10 a.m.-6 p.m. with extended hours for hotel, restaurants, bars and special tours. 1126 Queens Highway, (800) 437-2934, www.queenmary.com.
Aquarium of the Pacific: Open daily, except Christmas and also closed April 17-19, 2009 for Grand Prix of Long Beach. Most exhibits are wheelchair accessible. 100 Aquarium Way, (562) 590-3100, www.aquariumofpacific.org.
Whale watching and harbor cruises: Harbor Breeze Yacht Charters and Cruises, 100 Aquarium Way, Dock 2, next to Aquarium of the Pacific. (800) 900-8188, www.longbeachcruises.com.