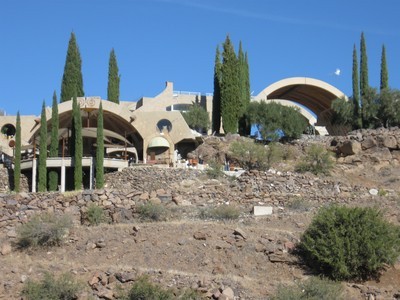 While I was attending Northern Arizona University, one of my professors arranged a field trip to some oddly named experimental city in the desert. Prof gushed about a place called Arcosanti, where people lived in a close-knit community, used natural resources and didn't need cars.
It sounded interesting, but all I really cared about was the opportunity to see genuine desert. College was my first venture west from Ohio, and I fell hard for the high-country pine forests surrounding the Flagstaff campus. Yet I longed to see more of Arizona, specifically the sun-blasted, wind-gnawed, coyote-infested corners, memorized from years of watching Western movies.
Located near Cordes Junction in the central portion of the state, Arcosanti looked like a Dr. Seuss construction site, with clustered modular residences, large circular windows and curving roof lines. While the rest of my class toured the grounds, I spent the afternoon scrambling among the rocky, cactus-strewn cliffs adjacent. So if you're keeping score, I played hooky from a day of playing hooky. But I did learn that the desert is a wildly beautiful place, worthy of protection.
Fast forward to the present. Now I'm a longtime desert dweller, and Arcosanti had been much on my mind lately. Since the eco-friendly principles of conservation and sustainability — the very foundation of Arcosanti — have muscled their way into America's general consciousness, it seemed a good time to pay another, less distracted, visit.
Arcosanti lies 65 miles north of Phoenix, but the two towns could not be further apart in attitude. Phoenix, much like Las Vegas, tends to sprawl, gobble and encroach. That is the very problem Arcosanti tries to amend.
Searching for an antidote to land-ravenous development, Italian-born architect Paolo Soleri, a former student of Frank Lloyd Wright, broke ground on Arcosanti in 1970. He coined the term "arcology" to describe the concept of architecture shaped by ecology to create a new type of urban habitat, one that is compact, efficient and sensitive to the environment.
When it's complete, 5,000 people will live and work within a largely self-sustaining community perched on a mere 25 acres. Everything will be within walking distance from everything else, cradled by a large swath of pristine desert.
"A lot of people think the main goal of Arcosanti is just to build it, but really the goal is education," says Erin Jeffries, public relations coordinator. "This is an experiment, an urban laboratory where we're testing energy efficiency, construction techniques and space utilization. We've had more than 6,000 people participate in our educational workshop programs and another 30,000 to 50,000 visitors each year that come take a tour and sometimes spend the night just to see what we're doing."
Today, Arcosanti still looks like a Dr. Seuss construction site, consisting of a series of structures, both striking and fanciful, rising above a dry river gorge. Embracing the desert sun, Soleri makes the apse, or half-dome, a recurring theme. The design allows rays of warmth to penetrate during winter but provides shade from the more belligerent high-riding sun of summer. Soaring vaults create cooling wind tunnels, and strategic landscaping provides an extra layer of comfort and aesthetic beauty.
A diverse group of residents, usually numbering fewer than 100, keep Arcosanti humming. They ply their various trades in the ceramics workshop, foundry or on the many ongoing construction projects echoing throughout the community. They also operate a bakery and cafe that serves a tasty menu incorporating food grown on the property, and a gallery stocked with the famous Soleri windbells.
"The bells are really important to us here," says Jeffries. "Not only as an artistic handmade craft, but we derive a huge amount of our funding from the sales."
Even though the foundry had been quiet when my tour passed through earlier, Jeffries graciously ventured back when the workers began to cast the bronze bells. The process is a dramatic display of artisanship.
Using a propane furnace, the bronze is heated to 2,200 degrees. Bronze will melt at roughly 1,800 degrees, but the crew wants it to remain liquid for a 3- to 4-minute window of pouring time. The crucible holding the bronze is made of silicon carbide. Two people in heavy protective gear lift the crucible and move across the line of silt molds that were created that morning, carefully pouring the glowing molten bronze into the forms.
Since 1956, Soleri has been using silt as a casting medium for clay, plaster and concrete.
"Silt is just fine sand that's very consistent. We'll use it to make the bells, but also use it to make buildings, like the foundry and the Ceramic Apse," Jeffries says. "They formed a giant mountain of sand and carved designs directly into the top of it. Then they poured concrete over the sand braced with steel reinforcements. After about a month, the concrete cured and they dug all the sand away. So you have this very inexpensive structure made with reusable sand. Another advantage is the concrete will take on a lot of the color of the sand, so it blends more naturally into the desert environment we love so much."
After the tour, I hiked the trail behind Arcosanti, crossing the wash and curving through the cholla and prickly pear to the top of the mesa. This perch affords the best view of Soleri's lean urban laboratory and also a sweetly nostalgic glimpse of my own life path. It was among these very boulders, under this same sprawling beast of a sky, that I first felt my heart squeezed by the desert.
I knew even then, this was where I planned to live someday; to exist gently on harsh but reverent ground. It's a lesson I think Paolo Soleri and my poor unsung college professor would appreciate.
GETTING THERE
Location: Arcosanti, near Cordes Junction in central Arizona, about 332 miles from Las Vegas.
Directions: From Las Vegas, take U.S. Highway 93 south 105 miles to Kingman, Ariz. Take Interstate 40 east 147 miles to Flagstaff, Ariz. Turn south on Interstate 17 for 77 miles to Exit 262A, Cordes Lakes Road. Turn left on Stagecoach Trail and follow this unpaved road 3 miles.
General information: Arcosanti is open to public daily 9 a.m. to 5 p.m. Cafe serves three buffet meals, both meat and vegetarian. Besides breads and baked desserts, the bakery offers gourmet coffees, teas, juices and natural sodas. A gallery sells bells, other art work, books and gifts. Various arts programs including concerts, dance performances and poetry festivals are scheduled throughout the year. Wheelchair access is limited. (928) 632-7135 or www.arcosanti.org.
Tours: General tours are offered daily, on the hour, 10 a.m. to 4 p.m., except at noon. Suggested donation is $8. A variety of specialty tours, including ones focusing on architecture, organic gardening and bird watching, must be booked in advance.
Lodging: Overnight accommodations are available by reservation only. Greenhouse Guestrooms offer basic but comfortable accommodations, with shared or private bath, starting at $30 including breakfast. The Sky Suite is a two-bedroom unit with kitchenette, living room and patio; $100 nightly rate includes breakfast for two.
Workshops: One-day silt cast programs are available for $20. For more hands-on intensive learning, sign up for one-, two- or five-week workshops. These programs allow students to work at the complex in their field of interest, from construction to agriculture. Cost for the one-week seminar is $485, including tuition, meals and accommodations.