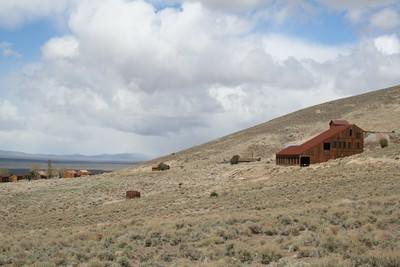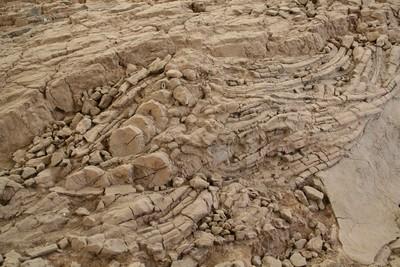 Of all Nevada's state parks, Berlin-Ichthyosaur is in a class by itself. Unlike others that spotlight one distinctive feature such as the red sandstone formations at Valley of Fire or the water at Lake Tahoe, this one highlights two very different characteristics: ancient ichthyosaur fossils and an historic mining town.
Returning from a trip north with my daughter, we decided to stop and take a look at the park. The weather wasn't perfect, but it would probably be some time before we were so close to this remote area in the middle of the state. If you are coming from Las Vegas, the closest town with any sizeable population would be Tonopah, with about 2,000 residents, and even that small town is 124 miles from the park by paved road.
Each of us had her own agenda in visiting this park: I enjoy ghost towns like Berlin, but 10-year-old Charlotte looks forward to seeing the fossilized remains of ichthyosaurs. She had learned about them at school, knew this formidable seagoing reptile is the official Nevada state fossil, and could even pronounce it correctly (ICK-thee-o-sor).
The park was established in 1957 to protect and display the fossils of the prehistoric marine reptiles. Berlin was incorporated into the park in 1970. Berlin-Ichthyosaur compasses 1,153 acres, surrounded by U.S. Forest Service land on the western slope of the Shoshone Mountains. With elevations ranging from 6,840 to 7,880 feet, visiting between spring and fall is best, as snowstorms and other extreme weather are common in winter.
In 1863, prospectors discovered what would be come to be known as the Union Ledge, the first major ore body found in the area. With additional discoveries nearby, the area was organized as the Union Mining District. The Berlin Mine was added in 1896 and thrived until 1908, when labor disputes and small yields led to closing the mine. Berlin was all but a ghost town by 1911.
As soon as we entered the park we were already in the townsite of Berlin so it was only natural to start our exploration there. We took a self-guided tour of most of the 73 historic sites and 14 buildings, each one identified by an interpretive plaque. They can all be accessed by well worn trails and depending on your route, over about one or two miles. The buildings are in amazing shape compared to other ghost towns, because of the protection of Nevada a state parks.
Even before that "several private parties occupied the town of Berlin …. typically working owned or private mining claims. They kept an eye on the town and prevented serious vandalism," said Jeff Morris, a park ranger.
There was also a forest ranger living there for some time, he said. Since it was added to the park, "the buildings have been stabilized and are left in a state of arrested decay, and repairs are made as necessary."
Although every site and building has its own historical significance, the Berlin Mill, the most prominent structure in the park, is especially worth taking a peek inside. From the large windows, Charlotte and I could see a bank of stamps, separating tables and other artifacts. It once housed 30 stamps, a primary crusher, five boilers and four steam engines.
After our stop in Berlin we headed up the gravel road to the Ichthyosaur quarry, on the way passing by the small townsite of Union. Over the years it didn't fare as well as Berlin.
At one time there were many houses, a school, stores, town hall, small mill and saloon. Now all are vanished or in ruins except one house, which is partly adobe and partly wood.
A one-half mile trail takes you by 22 sites marked by interpretive signs.
As we pulled up to the fossil shelter's parking area, we were in front of an artist's rendering of an ichthyosaur; it is done life-size, which is to say, impressive.
Other visitors who arrived before us were dwarfed when standing in front of it. The quarry containing Nevada's state fossils is protected from weathering by a shelter built in 1966.
The ichthyosaur fossils were first discovered in 1928 in a naturally eroded area by a professor from Stanford University. Excavation work wasn't started until 1954.
The appearance of their toothy fossils suggests they got their living in a way similar to today's dolphins and predatory fish. Other ichthyosaurs have been discovered on every continent but Antarctica. However, the ones here, reaching 50 feet in length, are some of the largest specimens in the world. All are still in the exact place they were found except for one, which is on display at the Nevada State Museum in Las Vegas.
We toured the site, which holds the remains of nine different ichthyosaurs. Specimens are incomplete, but many have a multitude of segments visible. Some of the fossils include skulls, jaws, flipper bones, backbones and tailbones. We needed to use our imagination to visualize some of the fossils as part of a once-living reptile. During the excavation they were purposely not cleaned to a fine detail. One of the most interesting was specimen seven, which has a well-preserved rib cage. A single rib was nine feet long.
A trip to Berlin- Ichthyosaur will take you the better part of three days and a five-hour drive each way, even if you hustle. A better method is to take your time, camping or staying in out-of-the-way motels, taking your meals from an ice cooler or in roadside cafes where the guys in cowboy hats have actually seen cows.
And for riding the high desert in the fair season of summer or early fall, seeing a fishy fossil is reason enough.
GETTING THERE
Location: Berlin-Ichthyosaur State Park is located in central Nevada, about 331 miles from Las Vegas.
Directions: From Las Vegas, take U.S. 95 north, passing through Tonopah for about 287 miles. Go right onto Nevada Route 361 and follow about 28 miles to Gabbs. Take a right onto Nevada Route 844 and drive about 16 miles to park.
Services: None available in park. Gasoline, food and medical care are available in Tonopah, about 124 miles south of the park.
Lodging: Tonopah Station-Ramada Inn, 1137 S. Main St., (775) 482-9777, www.ramada.com; Jim Butler Inn and Suites, 100 S. Main St., Tonopah, (775) 482-3577, www.jimbutlerinn.com.
Berlin-Ichthyosaur State Park: Open daily year-round, $4 per vehicle entry fee. (775) 687-4384, www.parks.nv.gov.
Camping in park: There are 14 well-spaced units, some suitable for RVs no longer than 25 foot. Each site has a fire ring, barbecue grill and covered table. Drinking water available mid-April to October. Restrooms, RV sanitary station available. $12 per night includes entry fee.
Fossil Shelter Tour: Memorial Day to Labor Day, 10 a.m. and 2 p.m, extra tour at noon Saturdays and Sundays. March 15-Memorial Day and Labor Day to Nov. 15, Saturdays and Sundays only, 10 a.m. and 2 p.m., or by advance reservation. Nov. 15-March 15, by reservation only. Tours last 40 minutes.
Nevada State Museum and Historical Society: One ichthyosaur from the park site is on display in this Las Vegas museum at 700 Twin Lakes Drive in the southwest corner of Lorenzi Park, 486-5205, open 9 a.m.-5 p.m. daily except major holidays.