At Toy Shack in Neonopolis, every day's a playdate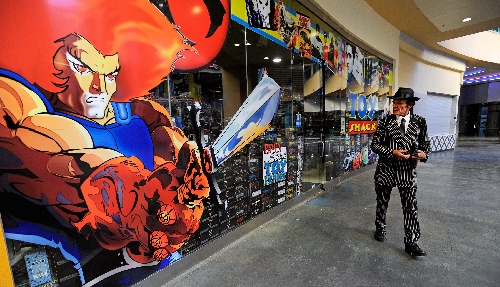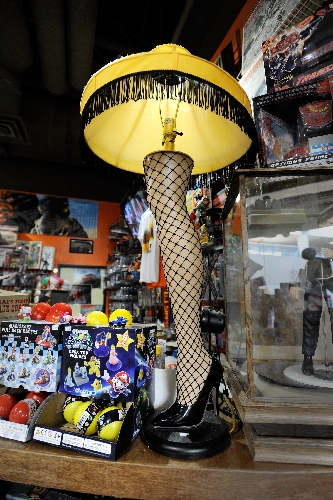 Johnny Jimenez leaned against a cabinet with a Scarface figure and memorabilia from "Buffy the Vampire Slayer." Hanging on the wall next to him were hundreds of Hot Wheels cars.
Among the popular hot rods and classic cars were those designed specifically for Easter, a few branded with the Flintstones and others perfect for Coca-Cola collectors. It's said to be one of the largest collections of Hot Wheels, and it's also one of the biggest sellers at Toy Shack, a popular attraction and retail shop at 450 Fremont St. in Neonopolis.
"There's not a kid that didn't grow up playing with cars," Jimenez said.
This is just a selection of the thousands of toys packed into Toy Shack.
"I've been collecting toys my whole life," said Jimenez, known as the toy expert from TV's "Pawn Stars," which also is based in Las Vegas.
What started out as a childhood hobby of visiting swap meets, digging through boxes for treasures and researching his finds has resulted in the toy store. And like the characters who wander Fremont Street, Toy Shack is eclectic and diverse.
"Our inventory changes almost weekly," he said. "One week 'Star Wars' is hot. The next week it could be superheroes."
The superheroes are now stealing the spotlight.
"We're selling a lot of Avengers stuff right now, and Thor is popular, too," said Gabie Castaneda, Jimenez's cousin and an employee at Toy Shack. Toys that have pop culture ties draw in some younger fans, but the vast majority of the customers – about 1,000 each day – are guys between the ages of 20 and 50.
"They collect stuff they grew up with," Jimenez said, whether they're dropping 69 cents on a toy car or several hundred dollars out of each paycheck on Army men or comic books.
If there is a vintage toy of interest, chances are high it can be found at Toy Shack. In addition to the packaged Hot Wheels cars hanging on the wall, a rainbow of cars sits on tracks in a front cabinet. There are several shelves filled with bobbleheads and a bin of Beanie Babies. The leg lamp from "A Christmas Story" is on display. Memorabilia related to "Lost," "Star Trek," Walt Disney, Mighty Mouse, Jackie Chan, Kiss, "Nightmare on Elm Street," Austin Powers, GI Joe, Dragon Ball Z and more fill every wall rack and shelving unit in the store.
Even the wall is covered in collectors' items: "Star Wars" posters, signed photos of football players, vintage Coca-Cola signs. Toys in the store date back nearly 100 years when they were cast iron, and they span a variety of genres and eras including German toys from the 1920s and 1930s, tin toys from the 1960s, Hot Wheels dating from 1968 and "Star Wars" collectibles from 1977.
One of the most unusual and most expensive items in Toy Shack is the Gilbert U-238 Atomic Energy Laboratory, which was sold between 1950 and 1951. It was sold with a Geiger-Muller counter, uranium-bearing ore samples and three low-level radiation sources.
"It's the world's most dangerous toy," Jimenez said. It sold for $49.50 (about $400 today), and now the set sits on a shelf on the back wall of the store. It retails for about $6,000.
Most customers don't notice the set in the store, and instead are drawn toward items from their childhoods. Anne Godin, a visitor from Nova Scotia, was checking out a collection of lunchboxes on her first visit to Toy Shack.
"I remember some of this from when I was a kid," she said, pointing at a box covered with "Sesame Street" characters.
Godin was familiar with the store from "Pawn Stars," which is common for many visitors. About 40 percent of customers are regulars, but word of mouth and the television show have put Toy Shack on the map for those who wouldn't normally happen upon it. Whether they seek it out or wander in, most people find the store a bit daunting on the first visit.
"People are overwhelmed by the quantity and diverse selection," Jimenez said. "They'll do laps over the course of two or three hours."
Whether they stay awhile and browse or are on a mission for a specific toy, Jimenez said one of the best things about Toy Shack is the sense of nostalgia it provides. He recalled a mother who was finally able to buy a 1984 Optimus Prime transformer for her son. She couldn't afford the toy when her son was a boy. Years later, when she found it at Toy Shack in the original box, she bought it for her adult son.
"Even after all those years, he never forgot it. She said he had tears in his eyes when she gave him the toy," Jimenez said. "People remember the toys they got, but they remember the toys they never had, too."