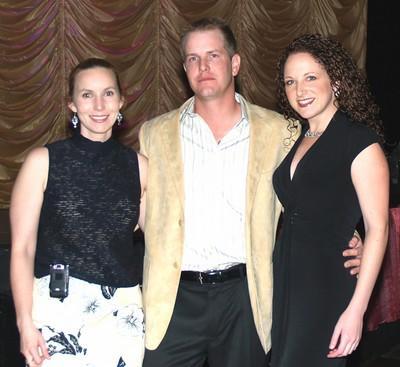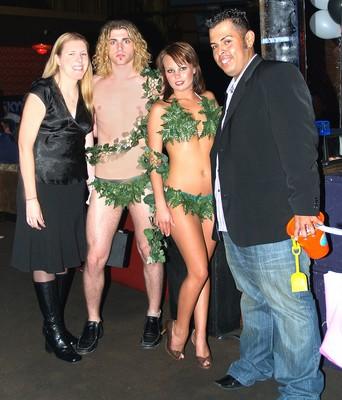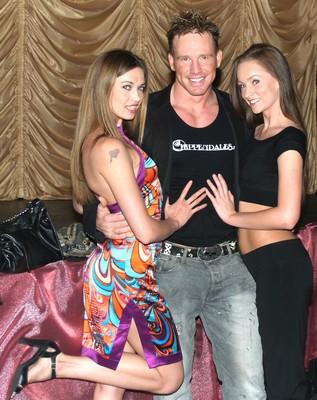 The fourth annual Adam & Eve Charity Love Fling bachelor and bachelorette auction to benefit New Vista Community took place July 12 at the Empire Ballroom.
New Vista Community offers a group home setting on a ranch on 15 acres of donated land in the northwest part of Las Vegas. Its professional staff is dedicated to improving life skills, maximizing awareness and reducing the effects of the stigma associated with people who are intellectually challenged.
At this year's benefit, 270 guests were greeted by Christopher McCombs as Adam and Tzigane Osborne as Eve.
Guests mingled with many of the event's bachelors and bachelorettes, including Lydia Owens, Steven Kennedy, Hayley Clark, Melissa Meyer, Crystol Ray, Adam Barthelmess, George Harvey and Brett Cooke.
A silent auction featured an autographed guitar, golf weekends, lunches and dinners at various restaurants.
Prior to bidding, the mistresses of ceremonies Steph McKenzie of KXPT-FM 97.1 and Rachel Smith of KVVU-TV, Channel 5 took the stage to talk about New Vista Community and show a video.
James McCoy served as the event's auctioneer.
Some of the date packages included:
A bid of $2,900 was paid for Paul Chaffee of Nevada Title Co. for a weekend in San Diego that included four tickets for SeaWorld, the Hornblower Cruise and the Chargers versus Raiders football game.
Xania Woodman, night life editor at LV Weekly, offered a package including VooDoo steakhouse, the Pussycat Dolls show, a VIP table at Pure nightclub and $50 gift certificates for four restaurants that raised $1,700 in the auction.
Playboy Bunny Jackie Unterreiner brought in a bid of $800 for a Palms package that included dinner at the Little Buddha Cafe, a two-night stay, and VIP entry to the Playboy Club and Moon.
Lindsay Johnson, producer of the "MORE Show" on Channel 5, offered a toast on the roof of Planet Hollywood, dinner at Planet Dailies and tickets to "Stomp Out Loud" that sold for $800.
Courtney Rogers, a chef at Simon Kitchen and Bar at the Hard Rock Hotel, offered a champagne and rose spa package for two at Petite Day Spa that sold for $700.
Juan Chararin, a remote tech and event coordinator, made $700 for his date that included a spa treatment at the Platinum Hotel, followed by dinner at Hannah's and a Cirque du Soleil show.
James Wilcox of "Chippendales: The Show" included front-row seats at his show, dinner at VooDoo Steakhouse and drinks with the Chippendales at the Flirt Lounge for $600.
From the "Crazy Girls" show at the Riviera, Summer Ferguson and Valentina Smirnova offered a date package consisting of dinner for four at Blackstone's Steak House and tickets for "Lance Burton, Master Magician," which brought in $400.
Dean Mauro, who plays the role of Tony in the show "The Sopranos Last Supper" at the Empire Ballroom, will take his $300 date to Blackstone's for steaks and a VIP experience at "Lance Burton, Master Magician."
Molly Smith coordinated the event for New Vista, and McKenzie served as the events chairwoman.
Summer nuptials: Las Vegas harpist Caryn Wunderlich Gott married Ronald Sterling Rohbock, a building contractor from St. George, Utah, Saturday at the old Church of Jesus Christ of Latter-day Saints in Panguitch, Utah.
The bride has purchased the old church, which she plans to turn into a summer venue for concerts.
The bride chose a pencil-slim, pink-hued lace wedding gown with a pearl and sequin fitted bodice and taffeta ruffled train. She carried pink lilies.
The maid of honor, the bride's daughter, Michelle Gott, and bridesmaids Nancy Starket, Danielle Romero, Karen Bonin and the groom's daughter, Clotille Rohbock, donned pink-hued taffeta-ruffled gowns.
Junior bridesmaids were Trish Rohbock and Cher Rohbock. Flower girls were Rose and Angel Rohbock, and the ring bearer was Troy Rohbock, all children of the groom.
Best man was Randy McCarthy and groomsmen were Thomas Rohbock, the groom's son, and Roe Malech, Rex Liu and the bride's son, Charlie Gott.
Two bagpipers played at the church's entrance and 20 harpists — students of the bride — lined the center aisle along with a string sextet.
The wedding was officiated by Dan Tebbs, LDS president at Panguitch Lake.
The newlyweds are honeymooning in New York City before flying to Torino, Italy, and a Mediterranean cruise.
DOROTHY HUFFEYMORE COLUMNS