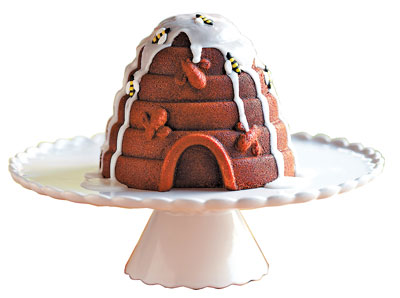 We don't know what it is about the arrival of summer that makes us think about fun foods.
Nonetheless, with summer at least unofficially here, we thought this Beehive Cake Pan from Williams-Sonoma would be a great way to put a cute picnic-season twist on your basic dessert.
Just fill both sides with batter and bake. Then press the two halves of the bee-studded cake together and decorate with icing.
The pan is 7 inches wide and 6 inches high, and the cast-aluminum nonstick finish makes for easy release. If you really want to go all out, Williams-Sonoma even stocks candy bees ($7.50 for 36 bees) you can affix to the cake.
The Beehive Cake Pan retails for $32 at Williams-Sonoma, which has stores at Rampart Commons, 1001 S. Rampart Blvd., The District at Green Valley Ranch, 2255 Village Walk Drive, Henderson, and Fashion Outlet Las Vegas in Primm.
Story by John Przybys. What's New is a weekly column about new products on the market.