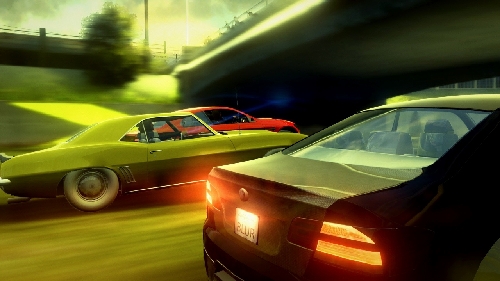 For eons, racing games have forced us to begin their journeys with economy cars. In the new "Blur," we must start with what? That's right, a Ford Focus. You drive it on the first track, which is riddled with grass clumps.
A Ford Focus is a fine automobile. But "Blur" is a futuristic fantasy game. It should start with a rocket car! However, game makers want us to work hard to win races, to unlock fast rides such as a Lotus Exige Cup 260 and a Shelby Mustang GT500. They think that will give us a sense of accomplishment.
But guess what. I rented "Blur" for a test drive to see if I wanted to buy it. Because of the shabby initial track, I almost ejected the game and took it back to the store.
I'm glad I stuck with "Blur." It's a spiritual descendant of the "Wipeout" series — a silly, beautiful, aerodynamic adventure. You drive very fast over many different tracks, steering your vehicle across floating, magical "pickups" that give you special abilities.
One magical pickup is a nitro boost, helping you to rocket past rivals for a few seconds. Most pickups are weapons, such as mines and bombs you fire at other cars.
This is a quicksilver, sometimes thrilling adventure. You can be in first place until someone bombs you into sixth place. But then you pick up a few turbos and bombs to sprint back into first place. And the online multiplayer couldn't move more fluidly.
Meanwhile, there's another new racing game, "Split/Second," that lets you blow up rivals, but not with bombs. In "Split/Second," you must drift around corners, and draft behind cars, and jump ramps, in order to earn points to call in airstrikes and other disasters that temporarily befall rivals. Weird, right?
You can blow up city towers, to collapse onto competitors. You can even force a docked naval ship to fall on a car in front of you. It's kind of cool.
"Split/Second" is fun, lovingly illustrated and (mostly) superbly designed. But the explosion methodology is slower-paced than "Blur."
Plus, stupidly, in the online multiplayer, you can only drive cars you've earned in the offline mission. So if you spend $60 on this game just to go online, you will be racing an economy car against other gamers' rocket cars. Yeah, that won't work out well.
Oddly, I've found "Split/Second" plays most fun if I ignore explosions and never take my foot off the gas. I win speedily that way, playing it as a straight-up racer.
Bottom line: If you're into crazy blow-up times, then sleek "Blur" may be your vehicle.
If you want to toil at earning explosion achievements, gritty "Split/Second" might be for you.
("Blur" by Activision retails for $60 for Xbox 360 and PS 3; $40 for PC — Plays very fun. Looks great. Moderately challenging. Rated "E 10+" for lyrics and mild language. Three and one-half stars out of four.)
("Split/Second" by Disney Interactive retails for $60 for Xbox 360 and PS 3; $40 for PC — Plays fun. Looks great. Moderately challenging. Rated "E 10+" for violence. Three stars.)
Contact Doug Elfman at delfman@reviewjournal.com. He blogs at reviewjournal.com/elfman.