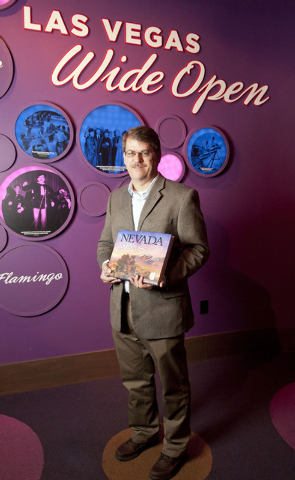 A century-and-a-half's worth of saints, sinners, winners, losers and just normal folk trying to make it through the day, inhabiting an area of 111,000 square miles, give or take, and doing what they do or did against a social, political and historical backdrop that's as colorful as any state in the union's and even, we daresay, many small countries.
We call it Nevada, and in honor of its 150th birthday, Geoff Schumacher and a collection of Nevada's finest writers and photographers have assembled "Nevada: 150 Years in the Silver State" ($29.95, Stephens Press, distributed by University of Nevada Press), the official commemorative volume of Nevada's sesquicentennial celebration.
Distilling 150 years of Nevada history into a single book is a tall order. Although it's not intended to be a comprehensive history of Nevada — really, what single book could be? — "Nevada: 150 Years in the Silver State" is a wide-ranging, highly readable book that long-timers and newcomers alike will find fascinating.
As the book's editor, it was Schumacher's challenge to meld the work of dozens of contributors — some of whom you probably know and others of whom you'll just be getting to know — into a manageable whole.
Schumacher came to the gig already well-versed in Nevada. His own books include "Sun, Sin and Suburbia: An Essential History of Modern Las Vegas" (as well as its update, "Sun, Sin &Suburbia: The History of Modern Las Vegas Revised and Expanded") and "Howard Hughes: Power, Paranoia &Palace Intrigue." He grew up in Southern Nevada, attended the University of Nevada, Reno, worked at the Las Vegas Sun, edited Las Vegas CityLife, and oversaw rural publications for Stephens Media (which also owns the Las Vegas Review-Journal).
Still, Schumacher calls the sesquicentennial book one of the most ambitious he has tackled, partly because of Nevada's complex diversity.
"I like to say there are three Nevadas," he says. "There's obviously, Las Vegas, and then there's the Reno-Sparks-Carson City corridor, and then there's rural Nevada — everything else — which constitutes by far the largest area geographically but represents about 5 percent of the state's population."
Planning for the book began in late 2012.
"I knew at the outset that I needed to solicit advice from a lot of people across the state to make sure that we cover our bases," Schumacher says.
Out of that grew the notion that the book would be written by a lot of people, he says.
"We'd look for authorities around the state — writers, journalists, historians — who had the best handle on certain topics," he says.
Ultimately, 75 writers contributed to the book. Each, he says, possessed a good understanding of certain aspects of state history and culture.
"In a lot of cases, I'd suggest topics to writers and they came back with something better or something different, based on their knowledge," Schumacher says. "So that whole interaction with writers played a role in how the book developed.
"We knew going into this that there really was no way we could be comprehensive and cover 150 years of Nevada history," Schumacher adds. "So we didn't try."
Instead, the goal was to offer readers stories about essential historical elements of Nevada's evolution and development, and augment those with interesting, sometimes personal, sidebars.
Take, for instance, University of Nevada, Reno journalism instructor Frank X. Mullen's rundown of how Reno became a mecca for divorces during the late '20s and '30s, paired with an offbeat sidebar by author Patricia Cooper-Smith about "Reno divorce literature," the stories and plays written by, or about, those soon-to-be-unwed souls who were stuck in Reno while waiting out the state's residency requirement.
The book covers the state's origins, civic life, education and Northern, Southern and rural Nevada. There's even a chapter about sports in Nevada, a topic, Schumacher notes, that's often ignored in history books.
The most idiosyncratic pieces are "My Nevada" essays in which writers chronicle their own Nevada experiences, ranging from University of Nevada, Las Vegas English professor and author John H. Irsfeld's ode to the days of convenient parking to Reno author Willy Vlautin's tale of "Christmas in McDermitt, Winnemucca and Elko," which hasn't been adapted into an Oscar-winning short film but needs to be.
"I think what we wanted to accomplish with the essays was to not make this completely a history book," Schumacher says. "Not everybody who is celebrating the sesquicentennial is obsessed with the state's history, so we wanted this book to have a contemporary aspect to it as well."
"The other part of the book that is contemporary is a section we call 'Destinations,' " Schumacher says. "It's a travel section. If you're looking for places to go in Nevada or to explore the natural environment, we have writers who, once again, knew these topics really well."
The most surprising thing is that, with all of the information it packs, the book comes in at just less than 300 colorful, well-designed pages.
"To be honest, the book was not supposed to be as long as it is," Schumacher says. "But being a writer and an editor and a journalist, I really wanted the writing to be good.
"A lot of other coffee table books, really, it's about the photos first and the text second. In this case, really, the text came first. We have some amazing photos, and I'm really proud of the collection of photos we have in the book that, I think, makes it into a coffee table book legitimately. But the text is really what drove it."
The book is perfect for — and, Schumacher says, designed for — repeated sessions of picking up, delving into for five or 10 or 15 minutes, and then putting down until the next encounter. Designer Sue Campbell "just did a brilliant job of taking this mishmash of text and photos that I threw at her and helping to turn that into an organized design," Schumacher says.
For Nevadans both Northern and Southern who never venture out of their own personal Nevadas, Schumacher hopes the book will provide an incentive to get out and see what the rest of the state has to offer.
"There are a lot of interesting parts of Nevada people, certainly in Las Vegas, have no clue about," he says, "and, conversely, people in Northern Nevada don't realize that Las Vegas has a lot of things happening beyond the Las Vegas Strip and beyond the gambling environment."
Contact reporter John Przybys at jprzybys@reviewjournal.com or 702-383-0280.
Contact reporter John Przybys at jprzybys@reviewjournal.com or 702-383-0280.