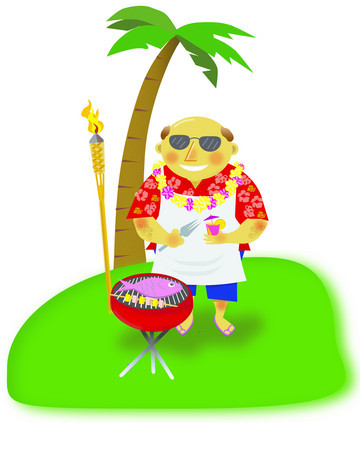 Summer's here, and that usually means throwing that backyard party you've been waiting all year to host.
But, this year, there's this recession. For many of us, downscaling our lives means giving our backyard entertaining budget a trimming, too.
Don't give up. It's still possible to throw a backyard, pool or patio party that will leave your guests talking.
Toward that end, we asked several entertaining pros for suggestions about staging three themed parties: the tropical party (think Frankie and Annette hit the beach in the Caribbean); what we're calling the "Sex and the City" to-do; and the classic All-American backyard cookout.
So send out the invitations and let the summer fun begin.
HIT THE BEACH
The idea: Re-create a barefoot, beachfront vibe, be it Zuma Beach or the Caribbean.
The decor: Start by pulling out those cheesy tiki lamps that hit your head every time you're looking for something in the garage, says cookbook author and chef Rick Moonen of RM Seafood at Mandalay Bay.
Then string up a decorative light set around the patio, suggests Joseph Romano, corporate executive chef for Golden Gaming. Add tiny fishbowls containing sand, seashells and those little drink umbrellas.
The food: Fish and seafood are naturals for a beach-themed party, and Moonen notes that glazes or a jerk rub can give even common fish a Polynesian or Caribbean flavor.
Fish can be grilled, skin on, in a foil packet with lemon and spices, or right on the grate using mayonnaise to prevent sticking, Moonen says.
Fish and seafood also take well to tropical salsas, Moonen notes. "There are a lot of recipes for different salsas — grilled pineapple salsa, for instance."
Romano says shrimp will be the highest-ticket item in a classic shrimp boil. Place shell-on shrimp, small potatoes, corn on the cob cut into three pieces and a mixture of sweet and spicy sausage in a poaching liquid flavored by Old Bay or Creole seasoning.
To serve, cover a table with a plastic tablecloth and newspapers, spread the bake out, and let guests serve themselves, Romano says.
Even if you can't stage a whole-pig luau, pulled pork is an easier and less expensive option. For a tropical party at his home, Romano braised a pork butt in orange and pineapple juice, pulled it apart and served it with hoagie rolls and a pineapple salsa.
Jamaican jerk chicken skewers with mango-pineapple salsa can be prepared ahead of time and grilled at the last minute, note Maggie Pallan and Malinda Kolias of Two Chefs to Go. Meanwhile, baby back ribs with a guava glaze, a lettuce wrap station where guests can build their own wraps, and cucumber-papaya salad offer other island tastes.
For dessert, Kolias and Pallan recommend tropical fruit skewers with creamy fondue and pineapple-rum upside-down cake.
The drink: Margaritas crafted from pineapple, orange and strawberry juices are possibilities, Romano says, as are classic pina coladas and other frozen drinks.
Or, fashion a fruit punch, served over crushed ice, made out of fruit juices and spiked with tequila or straight, flavored or spiced rums.
Watermelon and passion fruit Agua Frescas also would work well, say Pallan and Kolias, who recommend setting up a mixing station where guests can fashion their own frozen drinks.
The tunes: Don Ho and '60s-era beach music — Dick Dale, the Beach Boys, even Elvis' "Blue Hawaii" phase — are naturals. So, Pallan and Kolias say, would be just about anything from Jimmy Buffett's oeuvre. And don't forget a bit of reggae, via Bob Marley, perhaps.
The fun: Volleyball, of course, but crab races also would work well, says Bart King, author of "The Pocket Guide to Games" (Gibbs Smith, $9.99). Or how about this: Fill empty soda bottles with sand and enjoy a few frames of beach bowling.
PLAY 'SEX AND THE CITY' SOPHISTICATES
The idea: Host a sophisticated gathering for adults, right in your own backyard.
The decor: Create a romantic vibe with accents of large, clear vases filled with floating candles in teal-colored water surrounded by votives, Pallan and Kolias suggest. Leave outside lights on to ensure a subtly sultry mood, and place tropical tall flowers around buffets and the bar.
Because the idea is to see and be seen, ask guests to wear their classiest swimwear or loungewear (think The Hamptons).
The food: An assortment of sushi or sashimi would work well, Pallan and Kolias say, while Romano says "higher-end skewers" of shrimp and vegetables would be "still affordable (and) not crazy expensive."
Instead of grilling New York steak, "which is going to run a higher price, you can do flatiron steaks," Romano notes. For fish, try grilling a full side of halibut, cod or other fish, seasoned with olive oil, thyme and fennel in a foil wrap.
"It's incredible for a party, because you can take the sheet out and open the foil up and there it is," Romano says. "Cleanup is a breeze, but it's got a beautiful presentation."
Pallan and Kolias suggest grilled and chilled jumbo shrimp with spicy gazpacho shooters served in shot glasses, Pacific Rim salad, and a trio of hummus — hummus and pita is, they say, the new chips and salsa — featuring traditional, pesto and spicy red pepper, served with pita chips.
It's a stretch, but Pallan and Kolias also suggest filet mignon sliders served with either caramelized and blue cheese butter or Gouda and roasted red pepper.
Filet prices are actually "very good right now, compared to the past," Pallan notes. "If you buy the whole tenderloin and trim it yourself, you are saving money."
For dessert, Kolias and Pallan recommend chocolate-dipped strawberries, citrus-lemon drop cakes with warm Cointreau sauce, and frozen mint chocolate grasshopper sippers served in champagne glasses.
The drinks: Martinis and cosmopolitans, of course, along with "higher-end margaritas," Romano says.
Pallan and Kolias also recommend lemon drop martini punch and a selection of such summer beers as Hefeweisen.
The tunes: Such jazzy offerings as Harry Connick Jr., Pallan and Kolias suggest. Or, Romano adds, a bit of Fergie, a dash of Michael Buble and of course, some classic Sinatra.
The fun: A few simple games can serve as nice icebreakers. You can even, King jokes, alter the traditional sack race to an "In the sack race."
Seriously, he adds, Don't Walk this Way is a possibility. Have each guest walk in a cosmopolitan, sexy or cool way. Then each subsequent guest must walk in a way that doesn't mimic the ones before them, the more exaggerated the better.
Or, guests can blindfold themselves and try to figure out the identity of other guests by touch alone, King says.
Icebreakers, indeed.
CELEBRATE ALL-AMERICAN STYLE
The idea: Add a new twist to the classic backyard barbecue or picnic.
The decor: Pallan and Kolias note that the All-American party brings to mind a classic family reunion. Red, white and blue decorations are perfect.
The food: Hot dogs and burgers are naturals, particularly if kids are attending. But Pallan and Kolias say basic burgers can be dressed up by placing firm cheeses such as cheddar or blue cheese between two thin patties, sealing the edges well, and grilling until medium-well.
Pulled pork sliders are another twist on a classic. The pork shoulder is one of the most economical cuts of meat, Pallan notes, so just use a spice rub on one, roast in the oven (275 degrees for four to six hours), shred it, and serve it with sweet Carolina barbecue sauce on homemade minibuns or dinner rolls with sweet pickles.
Moonen says catfish and tilapia are just two of many species of fish that take well to the grill. He has even used both as the basis for burgers. Or, he adds, "buy some catfish and make sloppy Joes," served on toasted buns.
Pallan and Kolias suggest giving traditional sides a new flavor in the form of Yukon Gold potato salad served with a tangy vinaigrette, chilled summer tomato salad with balsamic dressing and fresh basil, or spicy corn and crab salad with a lime vinaigrette made from freshly shucked corn and a (relatively affordable) single can of good quality crab.
For dessert, Kolias and Pallan recommend summer berry tarts, chocolate chip blondies and offering guests a build-your-own strawberry shortcake bar.
The drink: Beer is a must. But Romano suggests sangrias, too.
"Just take an inexpensive, four- or five-dollar bottle of red wine, mix it with fresh fruit and a little bit of fruit juice," he says. Let it all marinate in the fridge overnight and serve.
Margaritas and frozen daiquiris are a welcome summertime libation. So, Romano says, are Arnold Palmers made from a mixture of lemonade and tea, spiced with a flavored vodka.
For teetotalers, Pallan and Kolias suggest classic lemonade (add fresh squeezed lemon juice and sugar to a frozen concentrate), raspberry lemonade (add to a frozen concentrate a syrup created by cooking down and then straining fresh or frozen raspberries with sugar) or iced sun tea.
The tunes: You can't go wrong with All-American classic rock, Romano offers, "Def Leppard and your hair band kind of stuff" spiced with a bit of Springsteen and a dash of Sinatra.
The fun: Break out the badminton, horseshoes or bocce sets that have been sitting in the garage forever. King says Fourth of July always was a time for dodgeball with his friends, and that tag, wheelbarrow races, Red Rover and baseball also fit well with an All-American vibe.
Contact reporter John Przybys at jprzybys@reviewjournal.com or 702-383-0280.