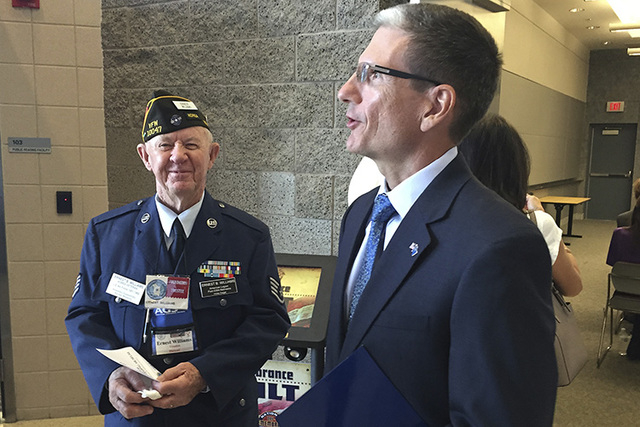 The National Atomic Testing Museum is unusual in that many of its docents are former workers from the Nevada Test Site, now named the Nevada National Security Site.
In some cases, they are also subjects of exhibits or had a great deal to do with the creation of the materials used at the exhibits. Richard Reed and Ernest B. Williams, former test site workers, are set to be interviewed on stage at 7 p.m. July 2 at the Clark County Library, 1401 E. Flamingo Road.
Reed came to the test site in 1964. The Nebraska native went to school in Colorado and worked in Denver in nontheatrical motion pictures, creating corporate and in-house films.
"I was just wrapping up a project when I saw an ad in the paper for a job at, of all places, Jackass Flats," Reed said. "Denver was going through one of its many downturns, so I decided to check it out, and I knew more than the people hiring, so I got the job. I figured I could work anywhere for a few years. I ended up retiring from the job 43 years later."
The Limited Test Ban Treaty had been signed the year before, so all of the weapons tests were underground by that point. Reed's first assignment was working on documenting the process and the events related to nuclear-powered rocket testing.
"This was all on film," Reed said. "The equipment was very different in those days. Portable meant that you only needed three people to carry it."
Many of the images in the museum come from Reed's work.
Williams has more than 60 years' experience in the nuclear weapons industry. From 1955 to 1983, he was an Atomic Energy Commission employee working in several positions. From 1986 to 1990, he was the public relations officer for Reynolds Electrical Engineering Co., one of the companies that worked on the test site.
When many people think of the above-ground tests, they picture test homes full of mannequins and images of a blazing wind searing the paint from the structure or turning the house into a pile of sticks and splinters. Part of Williams' duties in the early days was donning a containment suit and examining those sites after the blast.
In a 2011 Las Vegas Review-Journal interview, Williams recalled entering a test bank vault that had been in the blast radius of a 37-kiloton yield device. Concrete had been peeled away, and steel rebar rods looked like twisted spaghetti. Inside the vault, he found an intact gold bar, but silver coins had been blackened by the intense heat, and accounting papers were so brittle they crumbled at the touch.
Both former Test Site workers volunteer a day or two a week as docents, bringing their personal experiences and insights to visitors. Attendees to the July 2 event will have a chance to hear their stories and ask questions from men who don't just talk about history but lived it.
For more information about the event, visit nationalatomictestingmuseum.org.
To reach East Valley View reporter F. Andrew Taylor email ataylor@viewnews.com or call 702-380-4532.