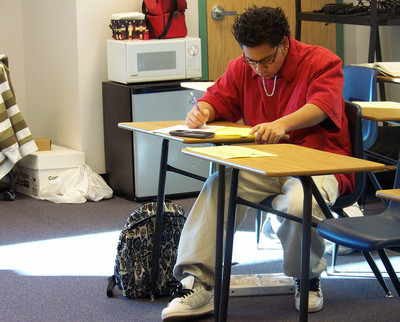 A dancing deaf mechanic.
It's not exactly an occupation you see on a business card.
But after growing up watching his father play "Mr. Fix-It" around the house and seeing his brother dance, that's all Esteven Gonzalez wants to be.
He began dancing at the age of 13, having been an avid spectator of his brother's break dancing since the age of 8 or 9. Now, it's one of his favorite hobbies. He even engages in dance competitions.
"(It's) good exercise and fun," Esteven says, using sign language. "Something I could potentially do for a career if I get my name out there."
But dancing isn't his only passion.
His father is a mechanic, and while growing up, Esteven took to watching and even helping him when it came to fixing or building.
"I've just always thought about it; I've always enjoyed it," he signs. "I think about what if, in the future, my friend and I are driving down the road and something happens, and then he doesn't know how to fix it and then I do and he's like 'Wow!' "
From dancing to mechanics, Esteven's interests are as diverse as those of any 16-year-old walking the halls of Liberty High School.
He goes by the name Trick's, not because of his mischievous smile, but because his favorite color is green, which represents St. Patrick's Day.
He's a boy of medium build with short black hair, black-and-cheetah spotted glasses and two studs in each ear.
He's enrolled in drivers education, confused by geometry and enamored of girls and hip-hop culture.
He cracks jokes and hangs out with friends at the lunch table, chatting away on his Sidekick or playing games on his PlayStation Portable.
He loves to watch movies — comedies, mostly, like "Jackass: The Movie."
At lunchtime, he grabs two cartons of chocolate milk, which he loves, and normally buys a slice of pizza, which he loves even more.
He busies himself with cleaning the house and hanging out with his friends, which consist of both hearing and hearing-impaired teens at school and mostly hearing-impaired outside of school.
In his third-period woodshop class — his favorite class — Esteven is a model student and hardly strays from his tasks, except maybe when his friends have something funny to say.
Just like any other teen.
"He's a good student most of the time," says John Mills, the woodshop teacher. "Sometimes he talks, but he's usually focused. I can't sign, so I can't really communicate with him, but he got an 'A' last quarter."
Esteven's best friend is Mark Bermudez, a lanky sophomore at Liberty.
Mark and Esteven almost always can be seen together and make the most of their time, for example, spending four hours on what ended up being a comedic minute-long video. In this clip, they communicate via Web cam and sign language and threaten each other, even throwing punches that come out of the computer screen.
Impressed by the quality, some teachers, such as study lab teacher Nicole Puza, suggested sending the video in for some type of competition or to be aired on the Liberty broadcast team's daily L6TV news.
During the clip, Esteven throws off his shirt and shows off his arms, a physical trait he's very happy with.
"I work out every day at home," he signs.
In gym, he gets picked first for his athletic talent. He considered trying out for the football team, because of the compliments he got on his abilities, but opted for joining a bowling team instead.
When his parents found out he was deaf at birth, there was a morose feeling in the air.
"My mom cried a lot," he signs. "(She) doesn't understand why I got it. She worries a lot."
But the laid back and chipper Esteven isn't worried at all.
"(I'm) totally happy with being deaf; it's normal for me."
That comes through in the bright smile he's inevitably wearing.
He's a simple boy with the aspiration of doing what he's always loved: dancing and fixing things.
A dancing deaf mechanic.
Make that a dancing mechanic.
Leave "deaf" out of the equation.
R-Jeneration