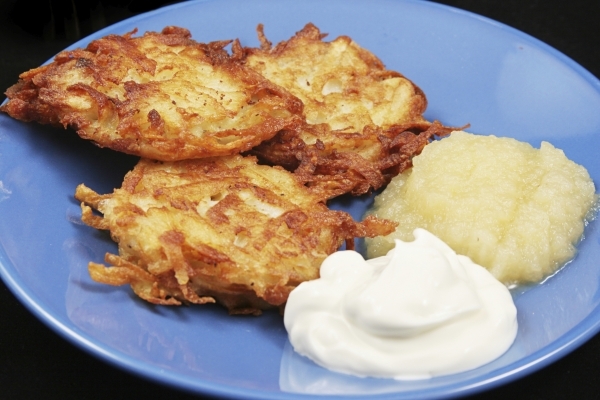 The holidays are all about family, togetherness, fun and — most important — food. Nothing brings people together in happiness and good cheer more than the holidays, but not everyone is relegated to nonspecific gingerbread cookies and big, cartoonish hams.
Winter holidays bring with them specialty foods from around the world, from specific Christmas dishes that change with each crossing of a European border, to beach barbecues in Australia, where winter holidays are marked by the warmest weather of the year. Hanukkah has a menu set with a mix of ancient and not-so-ancient dishes, but with every tradition, they are all molded by their environment.
Most of America's holiday traditions come from the English tradition (which were truly imported from German traditions during the Victorian times), immortalized by the Charles Dickens novella "A Christmas Carol." Decorated pine trees, surprise gifts and all manner of showy punch cocktails still mark Christmas in the Anglosphere, along with the tradition of a great feast, centered around a festive roast.
This is quite the contrast from Russian tradition, which takes direction from the Eastern Orthodox tradition of fasting. A typical Christmas dinner would come after fasting all day and be composed of vegetarian dishes, such as beetroot soup, spiced sauerkraut and small vegetable pot pies. The meal would end with a drink of dried fruit and honey, a drink associated with a baby shower, symbolizing their celebration of the birth of Jesus Christ.
Latino populations have always kept the Christmas spirit high, with festivities planned throughout mid-December until early January. One of the more widely known traditions is one that has emigrated into different cultures for different events, the Roscon de Reyes, otherwise known as the King Cake. Decorated with figs, quince and others "jewels," a candy or toy baby Jesus is hidden in this sweet bread "crown."
Whoever finds it is considered the "godfather" for that year and must host a party on Candlemas 40 days later, part of a Hebrew tradition of presenting a newborn infant at the temple 40 days after birth. Spanish-speaking communities in the United States may or may not keep this tradition as they adopt new traditions, but the new tradition of mass tamale-making is a fun and generous part of the holidays.
During the winter holidays, Jewish families celebrating Hanukkah have a rich tradition of food, centered around oil, the basis of the menorah miracle. The most widely known food is latke, fried grated potato, usually served with sour cream or applesauce. Specifically for children celebrating, chocolate coins, known as "gelt," are traded and bartered with in a game of chance, the dreidel.
Another dish associated with Hanukkah is a salty cheese — such as the Greek halloumi — and wine, regarding a story where a Hebrew widow lured an Assyrian enemy commander into becoming overly drunk by making him thirsty with salty cheese, to the point of unconsciousness, at which time the widow could behead him and break the Assyrian siege on the town.
When Christmas became part of Japanese culture, they put their own spin on it. Postwar Japan implanted some unique aspects of American culture, with their version of Christmas being more like Valentine's Day, a time for young couples to be together. The two dishes that make up their Christmas celebrations are Christmas cake and, oddly enough, fried chicken.
The Christmas cake is essentially a birthday cake, decorated with pictures of trees, Santa Claus (Mr. Santa in Japan) and other various Christmas imagery. Fried chicken is at an incredible premium on Christmas, specifically from KFC. A humble ad campaign in 1974 Japan exploded in popularity, cementing it as the holiday food, with families reserving a meal package (including a bottle of wine with their bucket of the Colonel's best) weeks and months ahead of time.
Perhaps the only culture with Christmas traditions more famous than the Anglosphere would be Italy. Expatriots reminisce about the weekslong celebrations, and Las Vegas has no shortage of Italians in the food and beverage industry, including Southern Wine and Spirit's executive director of mixology and spirits education, Francesco Lafranconi.
"Torrone and pannetone are a must in every Italian table, and at Christmas Eve, especially in northern and central Italy, seafood and fish are a must."
The Feast of the Seven Fishes, a custom rooted in Catholic abstaining from meats on certain holy days, is possibly the biggest tradition that has rooted itself in American kitchens.
"Vin brulè (mulled wine) and roasted chestnuts can be purchased in the cities' piazzas throughout the 12 days of Christmas," Francsco said.
Argentina has a large European community, so its Christmas is a mix of many traditions. Argentinians eat panettone, a light and dry cake, like the Italians do, and roast a big turkey like the English. But they have a few that are unique to them. Because of its location in the Southern Hemisphere, Argentina's winter is the hottest time of the year. Barbecues, fireworks and white wine mark family celebrations, quite similarly to Australia and South Africa.
New Zealand has a unique tradition: the Pavlova. Taken from Eastern Russia and named after the Russian ballerina who toured the country in the 1920s, it is a meringue-type dessert topped with cream, kiwis, strawberries and other tropical fruits.
The December holidays, whether hot or cold, stoic or epicurean, pious or secular, all serve a singular, noble purpose. They bring people together, allowing families to celebrate their love and friends to enjoy their time together.
A truly remarkable part of people is the greatness that comes with delayed gratification of waiting all year and respect toward the traditions of their forebears. Food ties these traditions together and compels people to collaborate, relax with one another and truly break bread in their own cultural heritage.