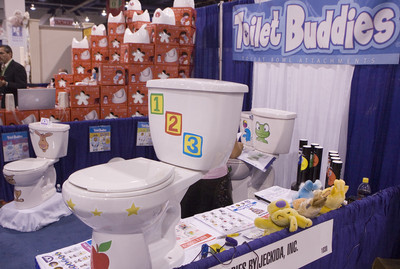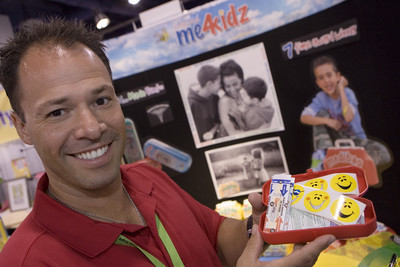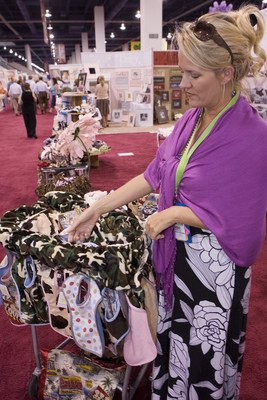 Organics are for babies.
That was the message from buyers and manufacturers attending last week's ABC Kids Expo, a trade show featuring the latest in juvenile products, from baby bottles to binkies and everything in between.
And that's not surprising, attendees say, in light of Mattel's recall last month. Millions of toys were recalled when it was discovered that they were tainted with lead, leading to a bigger demand for safer products, especially for babies.
"I came here last year and found very few organics. When I asked, people looked at me like I was crazy," said Cindy Adams, owner of O! baby boutique in San Francisco. "This year, it's looking a little greener, companies are going toward a lot more organic and eco-friendly products."
Safe cutlery and anything organic were on Adams' shopping list; she liked many of the choices she found. A baby bottle made by a new company called Thinkbaby was promising, she said.
Made with medical-grade plastic that doesn't leach toxins, the bottle is bisphenol A and PVC free, said company founder Kevin Broderick. It retails for about $20.
Those chemicals, found in most plastics, have been linked to cancer and other illnesses, he said.
"That is probably one of the hottest issues right now," Broderick says of organic baby products.
Even BabyLegs, a company that makes leg warmers for babies, launched an organic line this year.
They're made at fair trade factories with organic materials, says spokeswoman Heather Correa, and retail for about $15 a pair. They come in a variety of styles, from funky stripes to red and orange flames.
"I think organic in general has been such a growing trend. Now parents are thinking it's a healthier way to go," Correa said.
That explains the growing interest in cloth diapers, says Stephan Kalinski, spokesman for BabyKicks, a company that makes hemp cloth diapers. Once the only option, cloth diapers fell by the wayside as parents embraced the convenience of disposable diapers. Now, people are starting to use cloth again to help the environment and because they like the idea of their babies wearing natural materials, Kalinski said.
BabyKicks hemp diapers retail for $17 to $25 and come in a variety of colors and designs. Another cloth diaper manufacturer, Happy Heiny's, introduced the One Size Pocket diaper (about $17), designed to adjust as babies grow.
In addition to organics, the overall theme of this year's expo seemed to be "keep baby healthy and clean."
Though not new, shopping cart covers have reached new levels of popularity, says Shelley Bostrom, spokeswoman from Patricia Ann Designs. Her company recently launched a shopping cart cover ($80) in a variety of animal print and camouflage designs. Camo, pirates and animal prints are popular designs in everything this year.
"I think that parents are a lot more conscious of keeping their kids germ-free. The covers have been around for a while, but they haven't been cute," she said, adding that the covers are good for high chairs and park swings. "Now, it's keeping kids clean while making a fashion statement."
No one is reinventing the wheel, said Gary Kirschke, owner of Goo Goo Grandkids, but manufacturers at this year's expo seemed to have improved upon the standards.
Me4Kidz Medibag ($20) is a new take on a traditional first aid kit. In bright red and yellow colors, the bags look almost like a toy, which makes first aid fun, said spokesman Pete Nassos. They contain the traditional items found in first aid kits — gauze, bandages, eye wash — but it's "funified" with smiley face stickers and Crayon bandages. The newest product is a travel kit that retails for $6.
"An owie isn't so dramatic anymore," Nassos said.
The CPR Teddy ($79.95) from Trainikins, Inc. teaches parents CPR. Press a paw — left for infant, right for children — and the bear gives instructions on what to do if a child is choking. It then goes through the steps of CPR. Lights on the chest flash red or green to indicate whether the right amount of pressure is being applied during compressions. It also comes with an inflatable bag that allows you to practice rescue breathing.
"We have noticed a trend in parents who want to be more safety conscious," says company president Melissa Waugh. It comes with a training DVD and can be a great tool for testing baby sitters.