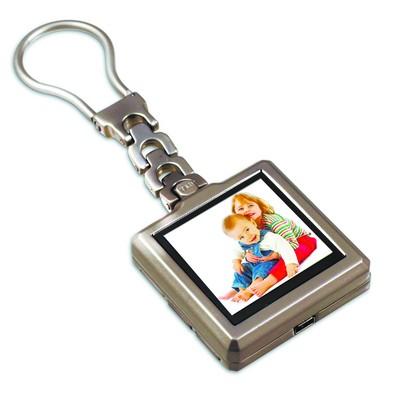 It's not unusual, and even expected, for proud parents to cram scads of family photos into their billfolds. But here's a new, functional and certainly cooler way to take photographic images of your loved ones wherever you go.
The TAO 1.5-inch Digital Photo Keychain can store as many as 31 photos in its eight-megabyte memory. User-friendly software lets you transfer photos from your personal computer or Mac via a mini-USB port, and once they've been loaded onto the key chain, you can watch them either individually or as a slide show.
Just charge up the key chain for 30 minutes and you have 2 1/2 hours of showing-off-to-everybody-you-know time.
The device retails for $49.95 at The Sharper Image, which has stores at the Fashion Show mall, 3200 Las Vegas Blvd. South; the Miracle Mile Shops at Planet Hollywood Resort, 3663 Las Vegas Blvd. South; Crossroads Commons, 8885 W. Charleston Blvd.; The Galleria at Sunset mall, 1300 W. Sunset Road, Henderson; and The District at Green Valley Ranch, 2225 Village Walk Drive, Henderson.
Story by John Przybys. What's New is a weekly column about new products on the market.