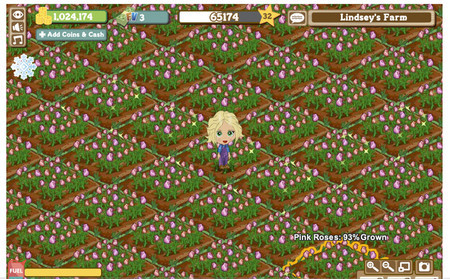 Keyboard clattering, Francis Slaughter, a Green Valley High School junior, logs into Facebook after he comes home from school.
His eyes reflect the flickering glow from the screen as he pulls up "Reign of Vampires," home to his virtual vampire, Count Fangulous.
"Playing this game gives me something to do when I don't feel like doing homework," Slaughter says after playing for half an hour. "It's really addicting and takes up a lot of my time, but it's nice having something to do to get away from life and everything."
Welcome to the virtual world of Facebook, a social networking site catering to older professionals. Facebook reaches more than 300 million active users, according to the Facebook Press Room.
Facebook houses a plethora of applications, such as "Reign of Vampires," available for the general public and collective users to play endlessly. Every month, more than 70 percent of Facebook users use platform applications, according to the site.
Slaughter recruits young vampires to join his clan and absent-mindedly smiles as his numbers climb steadily. With each click of the arrow buttons, Count Fangulous traipses through the vampire version of Las Vegas as he looks for humans to prey upon and missions to complete so he can bolster his status.
Coronado High School junior Nicole Ruffino's favorite games are "Mafia Wars" and "FarmVille."
"I love playing games when I'm on Facebook," Ruffino says. " 'FarmVille' is so cool because I can grow crops on a virtual farm and it's just rewarding when I make money on it. I just don't notice how fast time goes by when I play, though. It's like a whole new generation of video games."
Harvard graduate Mark Zuckerberg built Facebook to cater to Harvard students, which then expanded from all universities to a worldwide phenomenon. As the CEO of Facebook, Zuckerberg is responsible for the design of the site and its inner technology, including games.
"More than 6 billion minutes are spent on Facebook each day worldwide, and there are more than 350,000 active applications currently on Facebook Platform," the site says.
"I definitely feel the pressure to keep updating my Facebook," says Chelsea Mark, a junior at Coronado High School. "There's always these new games being created, and the ideas get better as they come along."
Mark also plays "Reign of Vampires."
"It's a whole virtual world of vampires, and you play to become the most powerful one in your town," Mark says. "I'd say it's pretty addicting, even my parents play it."
Facebook reports that its fastest growing demographic is those 35 years old and older.
Mark's parents, Brad and Ileana, both play Facebook applications interactively.
"It's just another way to stay in touch with my kids," Brad Mark says. "It feels like I have to keep updating my technology just to keep up with them and their advancements, you could say. Personally, I'd say the best game on Facebook is 'Mafia Wars,' hands down."
Among the favored games on Facebook, many users name "Reign of Vampires" and "Mafia Wars" as their games of choice.
"I rarely ever go on Facebook, but when I do, I play 'Mafia Wars' for a couple (of) hours," says Annelyse Brechler, a Coronado senior.
Devan Underwood, a Coronado junior, agrees. " 'Mafia Wars' is really time-consuming but so fun. I'd say it's higher over all the other Facebook applications. I mean, mafia wars, mobs, Al Pacino … what's not to love?"
R-Jeneration
POPULAR GAMES
"Animal Ranch"
"Cafe World"
"FarmVille"
"Farm Town"
"Fish World"
"Mafia Wars"
"PetVille"
"Reign Of Vampires"
"Sorority Life"
"Superheroes"
"Zoo World"
R-JENERATION